In this online, hands-on, practical "two-day plus" course you will learn from a highly skilled professional engraver.
About this event
Hand engraving is the embellishment of precious objects using traditional engraving tools known as gravers. British hand engravers are some of the best in the world – and it is crucial that we preserve this part of our heritage. The Hand Engravers Association of Great Britain was formed to raise the profile and preserve the skills of this specialist craft and its practitioners.
The Hand Engravers Association has been running courses introducing hand engraving to beginners for over ten years at London venues. Our courses are known for the quality of teaching and experience which we can deliver by using highly skilled professional engravers and keeping class sizes small. This ethos we carry through to our online courses, launched in 2020.
This online course, provided by the Hand Engravers Association, is aimed at complete beginners and those with limited experience of the craft. All tools and materials will be sent to you prior to the course*. Students must be aged 18 or over.
The course fee includes all the tools you need to start and carry on engraving; a graver, custom made scriber, sharpening plate and polishing paper.
** Members of the Hand Engravers Association can receive a £35 discount. Not a member? Join in minutes at https://membermojo.co.uk/handengravers **
Aims of the "two-day plus" course
- For beginners to develop a sound basic understanding of the tools, techniques and materials used in hand engraving, on which to progressively build skills and knowledge.
Basic Techniques Covered
- Holding methods.
- Marking out and transferring a design.
- Beginning to engrave supplied samples.
- Health and safety issues.
Format
- The course is taught by a professional engraver online and will run via Zoom.
- The course will run for two consecutive days plus an additional short follow-up session a couple of weeks later. Each full day will start promptly at 10am and finish at 4pm. The follow-up session will start at 10am on Saturday 20th November 2021
- A course WhatsApp group for all participants, the course tutor and the Hand Engravers admin staff will be set up, on which participants can ask questions and share work. This will be active for 2 months after the course.
- There is a maximum class size of 10 students to enable us, as far as we can, to tailor the course to the needs and level of the students
- Students will learn through watching live demonstrations and trying engraving for themselves. The tools will be set up for you and sent out with all materials prior to the course starting.
Tutor: Angus McFadyen
Angus McFadyen is a professional silversmith and engraver with over 25 years of experience producing tableware and working to commission. The majority of Angus's work is surface decorated with low relief pictorial engraving, often with gold or silver inlays. In recent years Angus has specialised in clock and watch engraving. Angus is an experienced workshop leader, having taught at the Goldsmiths' Centre and for the Creative Dimension Trust.
Course Requirements
- The online course will run by Zoom so you will require good, reliable internet connection. There will be demonstrations and videos so a laptop or tablet is advised. Access to a phone camera is recommended to enable participants to share photos of their work in progress with the tutor.
- We require all participants to join the WhatsApp group. We use this as a means of communicating with the group in the event of technical problems, and also for sharing images of work in progress and a forum for tips and advice.
- A workbench is not required but students will need to sit comfortably at a sturdy table or desk with good lighting, in a quiet area. Students should be able to see their laptop/tablet whilst engraving.
- We supply all tools and materials to enable you to start engraving and continue after the course.
* This is an online course but if you are NOT based in the UK, you must contact us before booking so we can check that it is possible to post the tools in time. Please contact info@handengravers.org.uk
For access purposes, if you require the booking form in a different format please email us at info@handengravers.org.uk and include your name and contact phone number and we will do our best to assist you.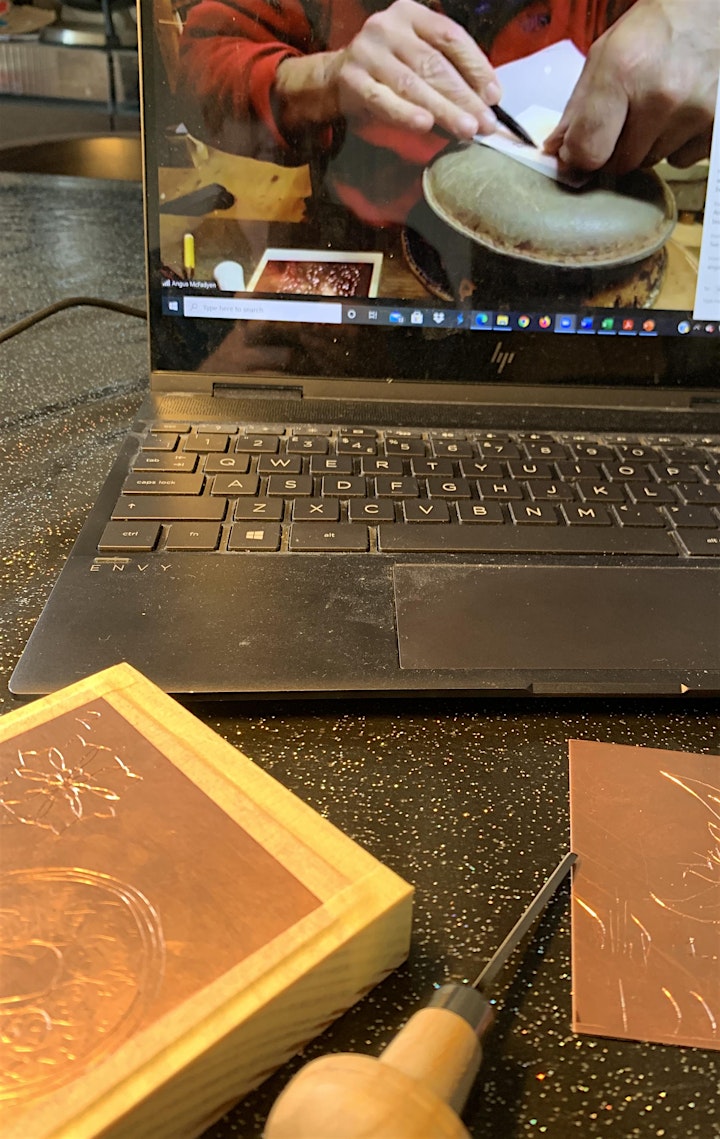 Date and time
Location
Refund policy