About this Event
This workshop is for beginner (cannot yet hold a handstand without a wall/never tried a handstand before) and intermediate (can hold a handstand ONLY for a few seconds away from the wall) participants.
During the workshop we will cover balancing techniques and drills used by professional hand balancers. You will be taught how to apply them to your own handstand practice at your own pace.
Whether you're just started thinking about kicking up into your first handstand or you want to improve your technique and hold a freestanding handstands consistently - this workshop is perfect for you.
After booking this workshop you will receive a free gift via email - Handstand Ebook for Beginners. 49 pages of thorough explanations with pictures and videos to boost your handstand progression after and before the workshop.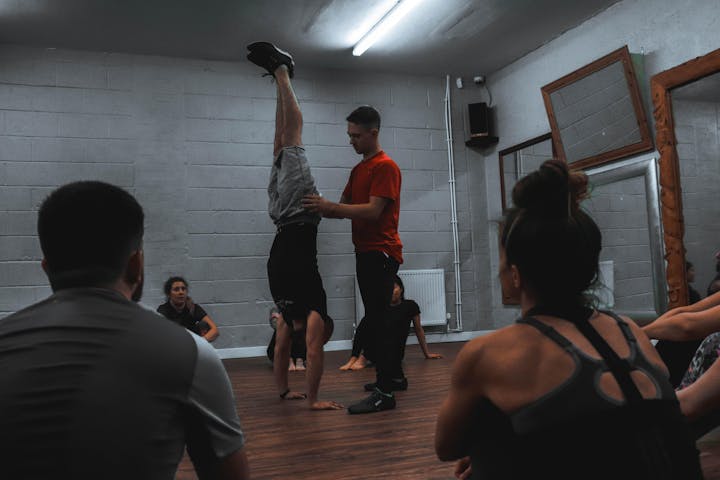 Content of this workshop will also help you to:
• Build upper body strength
• Improve flexibility & mobility
• Prevent and recover from handstand-related injuries.
• Overcome the fear of falling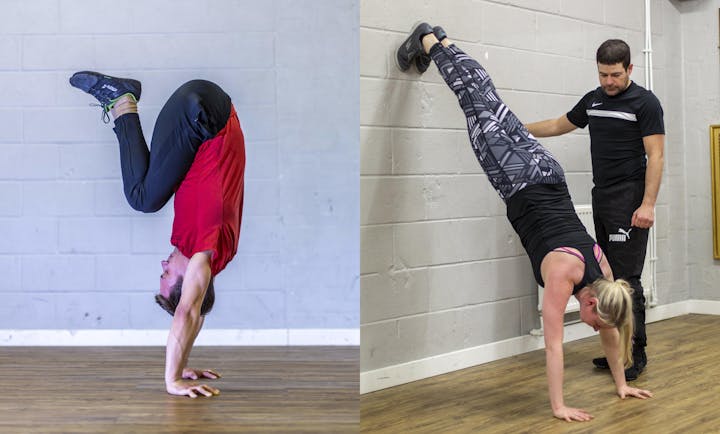 This handstand workshop is often attended by participants from various backgrounds such as: Yoga, Pole Dance, Gymnastics, Calisthenics, Crossfit, Climbing, Circus, Acro Yoga and Fitness Enthusiasts.
Various fitness professionals such as: Personal Trainers, Yoga and Pole Dance Teachers attended this workshop in the past to better understand techniques for practising, teaching and spotting handstands.
General Workshop Outline:
1st Part – 60-90 minutes:
- Warm-up Drills
- Correct handstand alignment technique and balance strategies
- Kicking up and jumping into a handstand
- Handstand against the wall, spotted handstand and freestanding handstand.
2nd Part – 30-60 minutes:
Apart from handstand practice itself the workshops is covering two or more of the following themes (depending on the facility/level of participants)
- Cartwheels
- Bridges and Elbow Levers
- Stretching and Mobility for Handstand
- Conditioning for Handstand
***The areas covered in the workshops are subject to change depending on the venue and the level of individuals attending the workshops.
***Themes may vary slightly.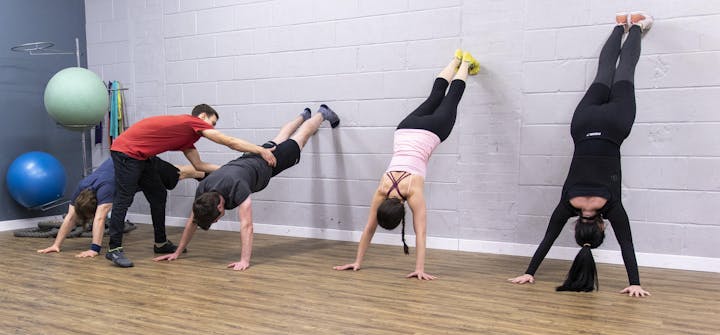 Cartwheels:
During this workshop the main emphasis will be on getting rid of the fear of falling through using a cartwheel when bailing out from handstand.
Bridges and Elbow Levers:
This section is focused on high bridge (used commonly in gymnastics), low bridge (used commonly in capoeira) and elbow levers (crow pose, elbow lever and QDR capoeira style transitions)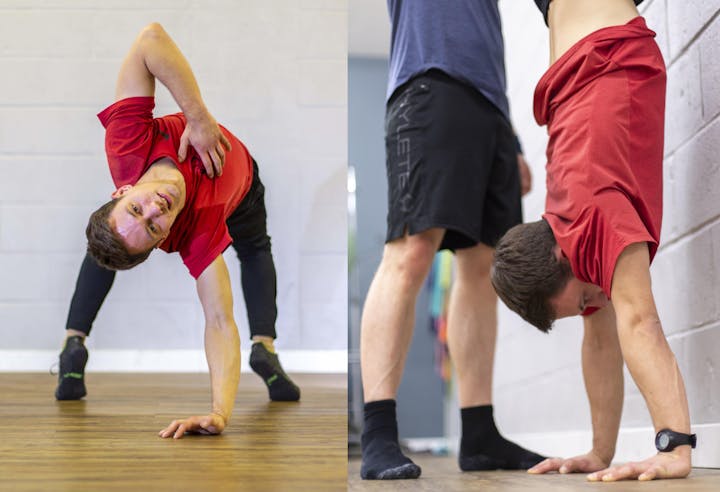 Stretching and Mobility for Handstand:
This section is best for those of you who need to work on your shoulder, wrist and hip mobility to achieve optimal handstand technique and alignment. You will be taught how to develop mobility that is required to execute a good stable handstand. You will be also shown additional maintenance stretches to reduce muscle soreness and minimise the risks of injuries.
Conditioning for Handstand:
This section is focused on additional strengthening drills that will help you to achieve stable and strong handstand. You will be also shown additional prehab and rehab exercises that will help you to prevent injuries and recover from any issues you may currently have that are related to handstand practice or past exercise activity.

Summary of the workshop learning outcomes
You will learn how to:
Balance without a wall
Use correct hand balancing technique to speed up your progression
Align your body correctly to improve balance and minimise the risk of injuries
Enter handstand
Spot handstand
Gain confidence in your ability to do handstands and overcome the fear of falling
Bail out of handstand safely
How to improve consistency of your handstand entries
Prevent and recover from handstand-relted injuries
Increase your mobility and flexibility
Perform other handstand related skills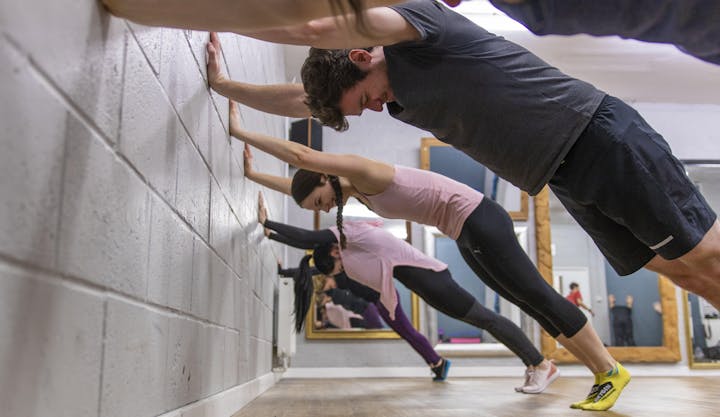 And lastly, this workshop is for you to enjoy it, learn something new and have some fun! There is plenty of opportunities during the workshop to meet like-minded people and potential handstand buddies to practice with!
I am not taking any responsibility if you will get obsessed about handstands after attending this workshop 🙃 (In fact, I think you will!)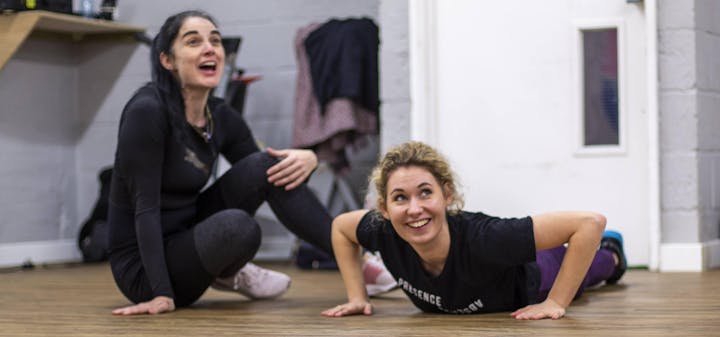 Frequently Asked Questions:
Is the handstand workshop suitable for beginners?
Yes it is! If you've ever tried a headstand, crow or kicking up into a handstand against the wall this will be ideal for you! We'll start from basic alignment drills and then move on to spotted and wall handstand.
What if I can already hold a handstand? Will I learn anything?
Yes. Many of the participants of my previous workshops come from gymnastics, pole dance or some sort of acrobatic background. The workshops will be adapted to each person taking part so everyone can get the most of it.
Can children attend your workshop?
Unfortunately, this is adults only workshop. Some teenagers with athletic/gymnastics background can be considered. This will be considered individually - please email me on kubajurszacoaching@gmail.com to discuss details.
Do you offer refunds?
Unfortunately, there will be no refunds. Booking means that you commit to attend the workshop. However, if for some reason you cannot attend, you may arrange for someone else to take your place.
***Additional Information
Please, be aware the you will be requested to sign health waiver and video/photo consent before attending the workshop. During some of my workshops video recordings and photos will be taken. This is done for marketing and teaching purposes.