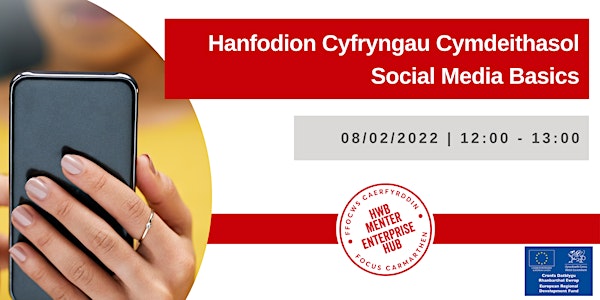 Hanfodion Cyfryngau Cymdeithasol | Social Media Basics
Sut i gychwyn a thyfu cyfrif cyfryngau cymdeithasol ar gyfer busnes | How to start and grow a business social media account.
About this event
MI FYDD Y SESIWN HON YN CAEL EI GYNNAL YN SAESNEG AR-LEIN. Mae yna ddogfennau Cymraeg ar gael os oes angen.
THIS SESSION WILL BE DELIVERED IN ENGLISH ONLINE. Welsh documents are available upon request.
FYDD Y GWEITHDY YMA YN DDIGWYDDIAD AR LEIN.
THIS WORKSHOP WILL BE ONLINE.
------------------------------------------------------
Mae'r gweithdy hwn wedi ei ddylunio er mwyn rhoi cyflwyniad byr i'r amrywiaeth o lwyfannau cyfryngau cymdeithasol sydd ar gael ar eich cyfer i hyrwyddo'ch busnes newydd. Yn y gweithdy ar-lein hwn, byddwn yn cychwyn gyda'r hanfodion gan ddarganfod pa gyfryngau cymdeithasol sydd fwyaf addas a sut i sefydlu cyfrifon busnes. Bydd y gweithdy, dan arweiniad Gwenllian Thomas yn sesiwn ryngweithiol a gall y sawl sy'n bresennol ofyn cwestiynau sy'n benodol i'ch busnes chi.Ar ôl sefydlu'r hanfodion, byddwn yn edrych ar gamau bychain y gallwch eu cymryd i ddatblygu'r llwyfan o'ch dewis a chynyddu ymgysylltiad â'ch cwsmeriaid.
Ar gyfer pwy mae'r gweithdy hwn?
Mae'r sesiwn yn addas os oes gennych syniad busnes neu fusnes ar gychwyn ac yn newydd i'r cyfryngau cymdeithasol. Mae croeso i chi ymuno â ni os hoffech loywi'ch gwybodaeth a gofyn ambell gwestiwn
Beth fydd y gweithdy hwn yn ei gynnwys?
Bydd y gweithdy yn egluro:
Y gwahaniaeth rhwng pob un o'r llwyfannau cyfryngau cymdeithasol megis Twitter, LinkedIn, Facebook ac Instagram
Sut i ddewis y llwyfan sy'n addas ar gyfer eich busnes
Yr hanfodion ar gyfer agor cyfrifon busnes
Ystyr y derminoleg cyfryngau cymdeithasol
Syniadau a chynllunio cynnwys
Mantais fideo mewn cyfryngau cymdeithasol
Offer defnyddiol y gallwch eu defnyddio
Cefndir y siaradwr
Mae gan Gwenllian dros 15 mlynedd o brofiad ym maes marchnata a datblygu busnes. Ar ôl dechrau ei gyrfa yn y sector yswiriant a gwasanaethau ariannol fel Pennaeth Marchnata, mae Gwenllian bellach yn Swyddog Gwerthu a Marchnata ar gyfer gwasanaethau Ymgynghori Canolfan Cydweithredol Cymru.Mae Gwenllian hefyd wedi gweithio'n agos gydag aelodau Hwb Menter Ffocws Caerfyrddin, ac wedi cefnogi busnesau lleol ledled Gorllewin Cymru gyda'u gweithgareddau marchnata.Bydd Gwenllian wrth law i gynnig cyngor ac awgrymiadau ar gysylltiadau cyhoeddus a'r cyfryngau.
******************************************************************************************************
This workshop has been designed to provide a brief introduction to the variety of social media platforms that are available for you to promote your start-up businesses. In this online workshop, we will start with the basics and discover the social media tools which are more suitable and how we go about setting up business accounts. The workshop, led by Gwenllian Thomas will be an interactive session and participants will be able to ask questions that are specific to your business. After establishing the basics, we will look at simple steps you can take to grow your chosen platform and increase engagement with your customers.
Who is this workshop for?
This session is suitable if you have a business idea or a start-up and are new to social media. You are welcome to join us if you need to top up your knowledge and ask questions.
What will the event cover?
This workshop will explain:
The difference between each social media platform including Twitter, LinkedIn, Facebook and Instagram
How to choose the right platform for your business
The basics of opening business accounts
The meaning of social media terminology
Content ideas and planning
The power of video in social media
Useful tools you can use
About the speaker
Gwenllian has over 15 years' experience in marketing and business development. After starting her career in the insurance and financial services sector as a Head of Marketing, Gwenllian is now a Sales and Marketing Officer for Wales Cooperative Centre Consultancy services. Gwenllian has also worked closely with Focus Carmarthen Enterprise Hub members, and has supported local businesses across West Wales with their marketing activity. Gwenllian will be on hand to offer practical advice and tips on PR and media relations.
Mae Hybiau Menter Ffocws yn darparu gofod arloesol i ddeori a sbarduno busnesau newydd a'r rhai sy'n ehangu. Mae Hwb Menter Ffocws y Drenewydd a Hwb Menter Ffocws Caerfyrddin yn cael eu hariannu'n rhannol gan Gronfa Datblygu Rhanbarthol Ewrop trwy Lywodraeth Cymru
Mae'r digwyddiadau a ddarperir neu a gynhelir gan raglen Hybiau Menter Ffocws Llywodraeth Cymru am ddim ac yn agored i bobl o bob oedran, ond rhaid archebu lle ymlaen llaw. Mae'r niferoedd yn brin a disgwyliwn alw mawr am lefydd, felly archebwch yn gynnar i ddiogelu'ch lle.
Focus Enterprise Hubs are an innovative space to incubate and accelerate new, and growing businesses. Focus Newtown and Focus Carmarthen Enterprise Hubs are part funded by the European Regional Development Fund through the Welsh Government
Events delivered or hosted by the Focus Enterprise Hubs programme for the Welsh Government are free and open to all ages but must be booked in advance. Please be advised that numbers are limited and we expect high demand for places, so book early to secure your place.