Workshop hosted by Hannah Walton on Mental Health
About this event
About this Event
ReachOut2All CIC, are happy to announce our next event which is not to be missed!!
Our Guest Workshop Host & also partner with ReachOut2All CIC, Hannah Walton is the founder of The One/Third Project works with students aged 16-21 who've suffered disadvantage and/or disruption during their education. We work to support their wellbeing, help with employment and academic skills and offer opportunities to get involved with social action projects (like our recent #UniMentalHealthDay video collaboration) and potential work experiences.
Our mission is to reduce the 'one-third' of university student dropping out due to mental health reasons. We want to reduce the overall rate of students leaving or dropping out school, college and university due to mental health reasons.
Our vision is to tackle the way mental wellbeing and education disruption is handled within the curriculum, reducing the number of students who drop out of school, college and university due to mental health reasons.
Our culture Being completely honest, open and accepting is extremely important to us. We are building a safe, diverse community that lifts and thrives.
"I have worked with Marian previously and would love to create a partnership between ReachOut2All and the One/Third Project. Our values are very similar and would work very well together". - Hannah Walton
Contact Details Below for Hannah Walton online community
Instagram: @theonethirdproject
Twitter: @project_third
Email: hello@onethirdproject.co.uk
Website: www.onethirdproject.co.uk/about
This Event will entail the following:-
Short presentation - by Hannah Walton Mental Health Workshop
Young People ages 13 - 25yrs
DATE: MONDAY 24TH MAY 2021
VENUE: ZOOM IN.... WITH YOUR NOTEBOOK AND PEN! CANDY & DRINK!
TIME: 6:30PM - 7pm UK Time (PROMPT)
For more information or questions please contact ReachOut2All CIC email :- info.reachout2all@gmail.com or Instagram @reachout2all
Website:- www.reachout2all.co.uk
Please note this event will be recorded via Zoom.. for social media and website purposes only. Zoom details will be sent to all emails 30mins before we start!!
We look forward to seeing you there 😃
ReachOut2All CIC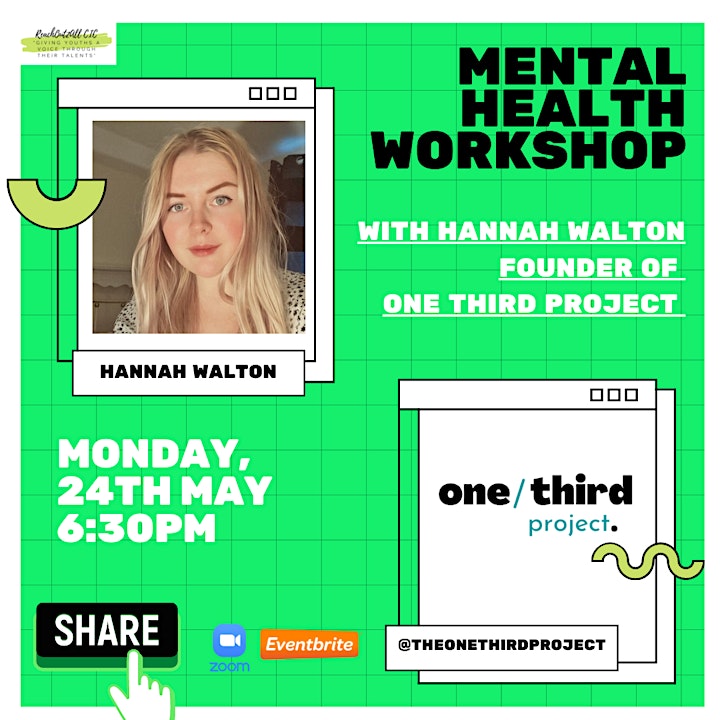 Organiser of Hannah Walton Mental Health Workshop