Hanuman Airlines- Anything is Possible

Tuesday, 21 August 2012 from 19:30 to 21:15
Event Details
In April 2011, Sano Babu and Lakpa Sherpa launched a paraglider from Mount Everest's summit and kayaked the Ganges to the Indian Ocean. Later in the year they won the National Geographic's Adventurer of the Year by a country mile. For one time only, we are lucky enough to have Babu in South London and he would love to show you the film of their epic adventure and answer any of your questions.
Anything is Possible
Babu had never climbed a mountain before. Lakpa had never kayaked before and couldn't swim. Neither of them had even seen the Ocean and nobody even knew if there 'were enough molecules in the air' to fly from Everest's summit. And yet they did it, and they did it on a shoestring budget with spirit, faith, friendship and a sense of humour that leaves audiences totally enchanted.
Babu is a man with a message, a message that he wants to share with the world so please come and join us for an evening you will never forget.
Programme
7:30 - Doors and bar open.

7:45 - Introduction to Babu's early life.

Hanuman Airlines Film - A film about their expedition.

'Unravelling Anything is Possible' by Graham Milton.

Q&A's with Babu.

21:15- Finish but all are welcome to stay for drinks.
The National Geographic Adventurer of the Year video
Hanuman Airlines Film Trailer
Babu at his paragliding resort in Nepal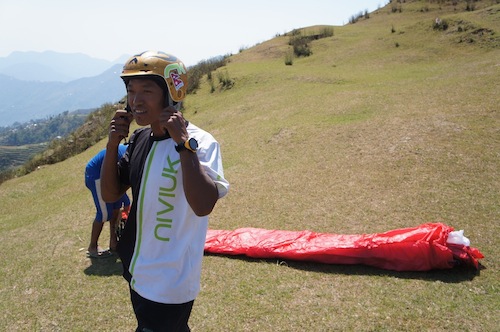 What some other people have said about meeting Babu and seeing the film
"Not knowing anything about the technical aspects of climbing, para-gliding and kayaking before I sat in on this film, I found it quite incredible.The photography of Babu on Everest as a first time mountaineer was stunning and I felt the danger. The part of Babu and his friend on the glider was simply unbelievable, stunning." 
"Babu is breath-taking"
"Even the highest accolades of the National Geographic Society are, in my view, not enough: absolutely DO NOT MISS IT! ''
About the Host
Graham grew up in Surrey before venturing off around the world white water kayaking in 2004. Within a few days he had met Babu and within a few weeks they had  had countless adventures and fun times. Babu guided Graham and his brother down some mighty Himalayan rivers and even took them to the village where he grew up to meet his family. Graham and Babu met in Nepal again in April 2012 and immediately began to hatch new plans. Graham was setting up Venturesome Living at the time and soon realised that Babu represented everything that Graham wanted Venturesome Living to. After learing more about Babu he became fascinated not just by the incredible feat of the Everest expedition but also by the message that Babu brings. It's a message that will take time to fully understand but it's one that needs to be shared! And it's relevant to you.
How to get there
This event is being held at Whirled Dart cinema in Loughborough Junction - You may never have been there but its quite easy to get to!
Train
The nearest train station in Loughborough Junction which is on the Thames Link line from Farringdon, Blackfriars or Elephant & Castle.
Herne Hill station is one stop to the South.
Bus 
Number 35 goes from Shorditch > London Brigde > Elephant and Castle > Loughborough Junction
And going the other way: Clapham Junction > Clapham Common > Birxton > Loughborough Junction
Number 345 goes from Kinghtbridge > Fulham Road > Battersea > Claphan Junction > Clapham Common > Brixton >Loughborough Junction
Number P4 Lewisham> Dulwich > Loughborough Junction
Number 45 > St Pancras > Chanery Lane > Fleet Street > Blackfriars > Elephant & Castle > Loughborough Junction
Tube
15 minute walk down Coldhabour lane from Brixton tube.
 Get the Northern line to Elephant and Castle and its one stop on the over ground from there.
Parking
There is free street parking on the surrounding side roads of Whirled Art Cinema.
When & Where

Whirled Art Cinema, Loughborough Junction
259-260 Hardess Street
London
SE24 0HN London
United Kingdom


Tuesday, 21 August 2012 from 19:30 to 21:15
Add to my calendar
Organiser
Venturesome Living
Venturesome exists to inform, inspire and unite people to fulfil themselves through the medium of adventure.
We wholeheartedly believe that people, young and old, can better themselves through the challenges and experiences that adventure creates. This doesn't stop when you reach the summit or your destination but can be applied to all aspects of your life; how you want to live it and what you want to achieve.
Through our exciting projects, partnerships, content and networks Venturesome will inform, inspire and unite people to achieve more. Please join us.
Hanuman Airlines- Anything is Possible