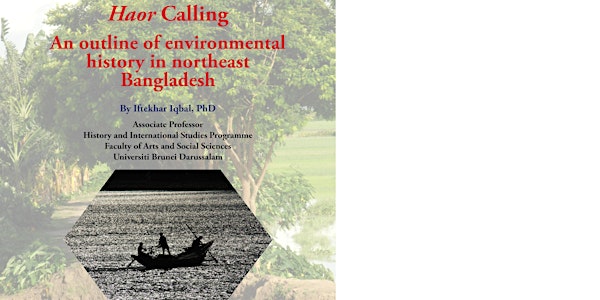 Haor Calling - an outline of environmental history in northeast Bangladesh
Haor Calling An outline of environmental history in northeast Bangladesh
About this event
Haor Calling: An outline of environmental history in northeast Bangladesh
By Iftekhar Iqbal, PhD
Associate Professor, History and International Studies Programme, Faculty of Arts and Social Sciences, Universiti Brunei Darussalam.
Saturday 11 December 2021, 1.00-3.00 pm
Zoom Session, organised by Brick Lane Circle
The presentation suggests an outline of the environmental history of the haor (wetlands) in northeastern Bangladesh since the early nineteenth century. The world's heaviest rainfall in the Meghalaya ranges, where Cherrapunji is located, is intimately tied to the issues of transregional drainage, biodiversity, livelihood and patterns of mobility that these waters contributed to in both its surrounding areas and in Mymensingh and Sylhet divisions of Bangladesh.
Looking at the haors from a historical perspective shows how rain-induced Meghalaya waters in India find a resting place in Bangladesh, inviting fishes, wildlife and humans alike in a bonding that defied the logic of political borders and shaped an ecological commons in the form of haor whose existential significance has never been greater.
Iftekhar Iqbal is at the Universiti Brunei Darussalam and studies the environmental and intellectual history of Southern Asia and Bangladesh. Prior to joining UBD, he held appointments at the University of Dhaka, North South University, King's College London and Humboldt University Berlin. He is the recipient of fellowships with the British Academy, Aga Khan University (ISMC) London and Humboldt Foundation. Iqbal's The Bengal Delta. Ecology, State and Social Change 1840-1943 (Palgrave Macmillan 2010) received Bangladesh University Grants Commission Book Award and Honorable Mention from the inaugural Bernard S. Cohn Book Prize Committee of the Association for Asian Studies. His recent publications include the University of Dhaka. Making Unmaking Remaking (Prothoma 2016), co-edited with Imtiaz Ahmed. Iqbal is currently exploring the connected history of the Tibetan rivers. A list of his publications can be found at https://ubd.academia.edu/IftekharIqbal
Organizer of Haor Calling - an outline of environmental history in northeast Bangladesh
BLC is a voluntary organisation (company limited by guarantee, founded in 2006) set up to help transform the intellectual landscape of the Bangladeshi community in the UK and take it to a new level of confidence and critical engagement with everything relevant for the community's progress and development.

The organisation hopes to achieve this by developing and facilitating better connections between people who are engaged in research and intellectual pursuits involving Bangladesh or Bangladeshis abroad; encouraging more people to get involved in objective knowledge seeking and creating opportunities for debates and intellectual exchanges.

The Circle believes that one important element necessary for making breakthroughs and solving long standing problems in our community, or any community, is to bring people from different backgrounds and political divides to talk to each other, discuss rival perspectives and debate over different narratives and ideas. The result is likely to be greater levels of empathy between people; better understanding of the problems and issues faced by Bangladesh and Bangladeshis at home and abroad; and an increased ability for finding better quality solutions.

AIMS AND OBJECTIVES

1. Organise seminars, exhibitions, events and activities in the UK to encourage and facilitate research and knowledge generation / dissemination with respect to Bangladesh and Bangladeshis abroad

2. Consider, learn lessons and explore the potentials of the long historical links between Bangladesh and Britain

3. Explore and develop innovative ways of promoting better understanding between the UK Bangladeshi community and the wider diverse multi-faith / multi-cultural communities in Britain

4. Encourage and facilitate better connections between Bangladesh and the UK with respect to education, economics, social, culture and tourism

5. Engage young people in the UK from diverse backgrounds and generate interest among them to learn more about Bangladesh and Bangladeshis abroad and undertake innovative and exciting projects / activities for mutual benefits

6. Help develop deeper and shared common roots among the UK's diverse population through research, knowledge sharing and learning about each other's history, country of origin and experiences in the UK.