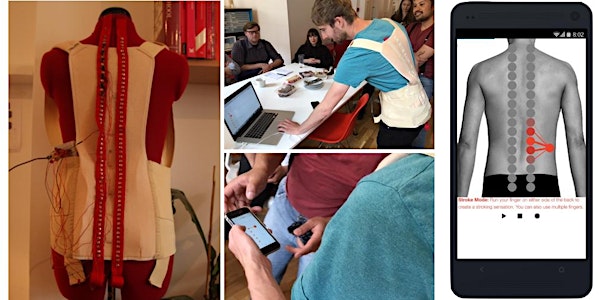 Haplós: Vibrating Clothing for Well-Being and Play
Location
Roland Levinsky Building, Room 308
Plymouth University
Drake Circus
Plymouth
PL4 8AA
United Kingdom
Description
Experience what it's like to wear vibrating clothing that you can control and program! Haplós is an experimental wearable device aimed at helping users of the device to sense themselves better. This 'sensory hacking' technology is composed of a set of vibrating motors which run along the user¹s back and other parts of their body, and which can be controlled by a mobile phone. Users can create, record, and play back patterns of vibration. Haplós was designed by Diego Maranan (who is running the workshop) as part of his research at CogNovo into designing technologies for body awareness.
In this workshop, participants will be exploring Haplós through a series of guided and playful activities, and will be invited to give feedback what kind of features they may want to see in wearable technologies such as Haplós. If you sign up for the workshop (thank you!), please:
Fill out this form so I can prepare a Haplós garment for you.
Wear a pair of comfortable trousers (track pants, pyjamas, yoga pants are all good choices; you can bring a skirt that you can wear on top, if you wish)
Wear a thin t-shirt or athletic top
Bring a loose fitting jumper or top that you can wear on top of the shirt
Bring any other clothing that can keep you warm
Be prepared to go barefoot or in socks
Participation is limited to 10 participants and advance registration is required. This workshop will also be held on Thursday, 20 October.
You can also follow this event on facebook.