Description

If you are a trainer, facilitator, coach or teacher seeking a versatile and engaging positive psychology tool and workshop to offer to your clients or the community you serve, this accreditation is for you.
Experience the tool with the possibility of inviting your client, receive full training in the Bloom Company Happiness Tree process as well as in workshop design, discover the applications of the tool in different sectors with case studies, and get a taste of Bloom Companies other tools. Join Bloom Company's network as an Education Partner to receive ongoing support, a reduction on toolkit prices and access to best practice sharing.
BLOOM COMPANY: The Happiness Tree Project
The Bloom Happiness Tree is based on PERMA and Appreciative Inquiry, and was the first positive psychology toolkit developed by Bloom Company in 2009. Since then over 40 000 happiness trees have been planted in Asia in Europe, with diverse groups, from employees and leaders in major companies, to university teachers and educators, young graduates in employability projects and soldiers doing military service.
Our vision is to plant 10 000 000 Happiness Trees by 2020, blooming happiness globally. We want to do this by adding value to your work, helping you reach and engage the people you serve so they can do positive psychology in a way that is fun, tactile, memorable and effective.
A PRACTICAL EMPOWERING ACCREDITATION
The HAFT 1 accreditation gives you all the practical knowledge to design and adapt the Happiness Tree process to the community you serve, our experience in bringing it to different sectors and a one-year membership as a Bloom Education Partner, access to our support network and a reduction on the tools, so as to empower you to bloom happiness in your work.
THE BENEFITS
Our course gives you, as a professional in the field of well-being, a practical and tested tool and process to add value to your work and make a positive difference to the well-being of the individuals, groups and organizations you serve.
The key benefits of HAFT 1:
You will,
Experience the Happiness Tree process and have the opportunity to invite a client, colleague, friend or family member.

Learn to facilitate the process with its creator, Junghyo Park, founder of Bloom Company.

Be trained in designing and tailoring the process to different groups and sectors.

Discover our case studies and how to bring the process to different groups and clients.

Get a taste of Bloom Company's other tools.

Receive a one-year membership as a Bloom Education Partner with access to our network, best practice sharing, ongoing support and a 10% reduction on tool prices.
COURSE OUTLINE – 2.5 days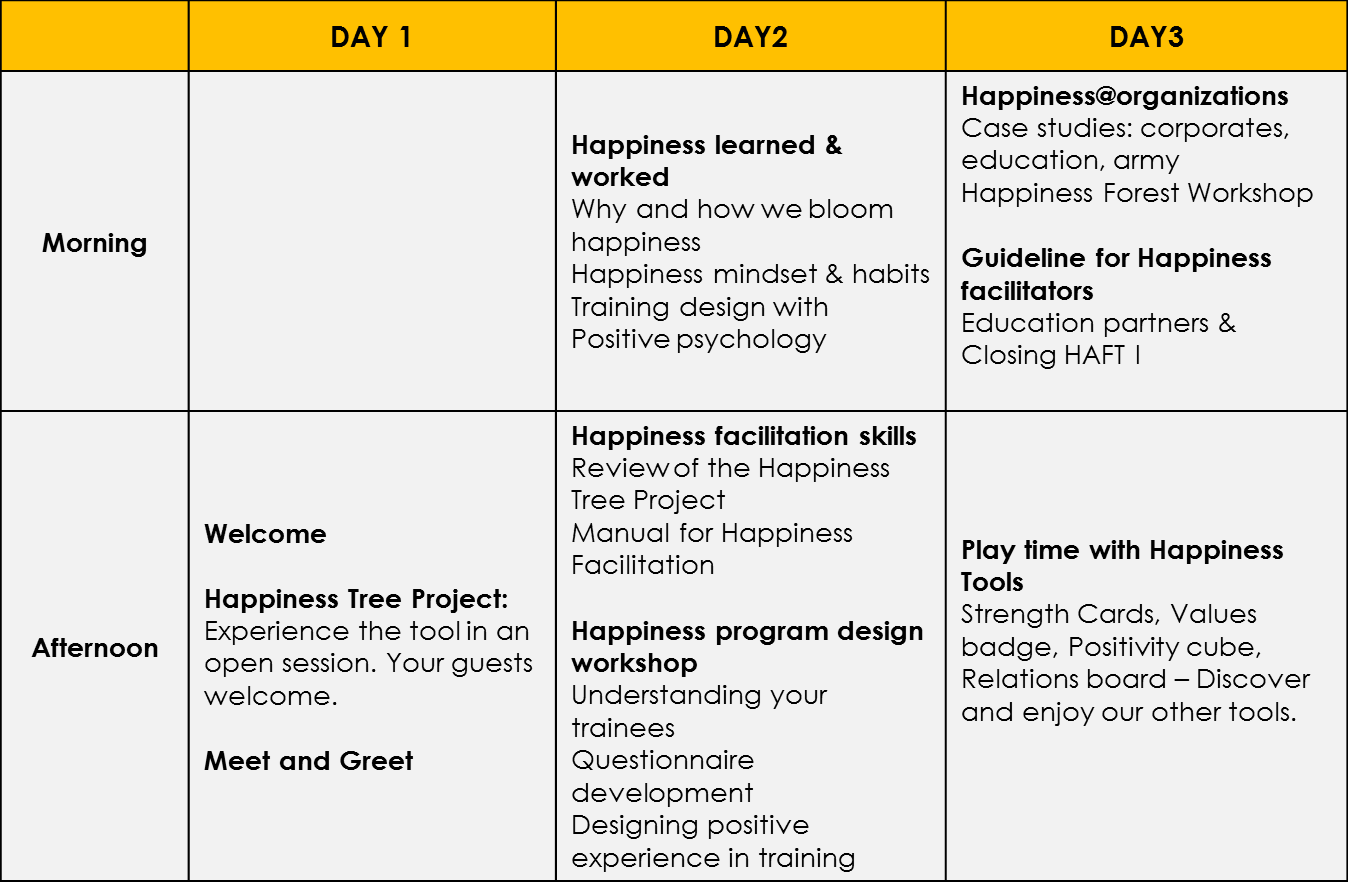 FACILITATORS:
Junghyo Park is the Chief Happiness Officer of BLOOM COMPANY. He is leading a consulting service for developing organic organizations and directs the R&D of happiness training programs. He began his career at an internet start-up in 2000 and worked at TNS as a market researcher. He founded his company in 2009 to research the science of happiness and develop a positive business model. He completed a master program of Positive leadership and strategy from IE school (Spain) in 2014.
Sebastien Martineau is the Chief Happiness Officer Europe at BLOOM TRAINING WEST. He is a psychologist and aikido teacher with extensive experience of delivering programs in business and education. He completed a master program of Positive leadership and strategy from IE school (Spain) in 2014.