Location
Grangewood Park
157 Ross Road
London
SE25 6TW
United Kingdom
HAPPY BIRTHDAY GRANGEWOOD! Celebrating 120 years with a party in the park!
About this event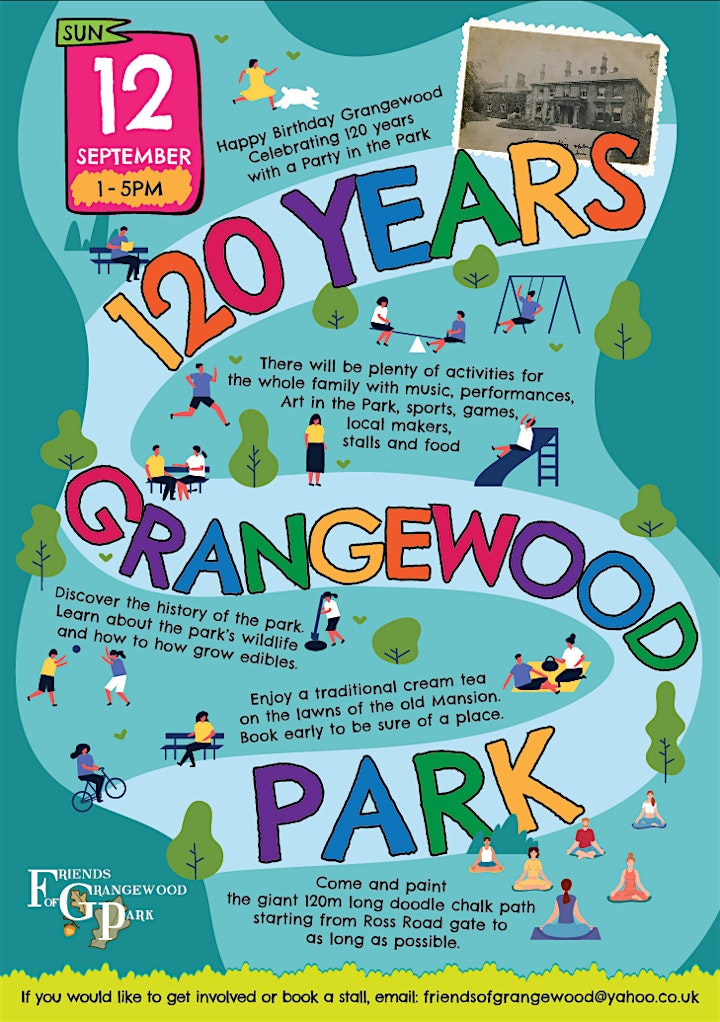 WHY YOU NEED TO BOOK
The birthday celebrations in Grangewood Park on September 12 is a free event but the Friends of Grangewood Park have to get an events licence from the council and numbers are restricted to 499.
The best way to deal with this situation in order to get an idea of attendees is for people to register for a ticket via Eventbrite.
So PLEASE if you have booked tickets and are now not able to come can you PLEASE cancel those tickets and allow others to register.
More tickets will be released as they become available and there will be a waiting list.
DETAILS OF EVENT
The Friends of Grangewood Park are hosting a FREE party on Sunday 12th September, 1pm-5pm,to celebrate 120 years since the park first opened its gates.
There will be family and children's entertainment, art and poetry workshops. Learn about the history of the park and its wildlife. Enjoy a cream tea on the lawns of the old mansion (see below for more info) while listening to the sounds of Desmond Dekker from London Ska band, The Skamonics. Learn about edible growing and saving the environment. Challenge yourself with our sports activities and park tug of war. More activities to be announced.
The pandemic has meant we haven't been able to hold an event in the park since December 2019. Normally we hold three free events throughout the year. Our committee of volunteers decided not to hold July's annual Picnic in the Park because of Covid uncertainty and possible restrictions but really wanted to mark the park's special birthday.
It has meant that we have had to turn around plans for the day a lot quicker than we would normally and so we haven't been able to apply for grants and with community ward budgets frozen - funding is limited to what we have raised in previous years from selling cakes and refreshments.
We really want this to be a very special occasion especially after the experiences of the last 18 months and that means paying for infrastructure as well as the services of performers and musicians. We have set aside £900 but we envisage that we will need to raise a further £500 to cover all the costs. Please consider donating to our fundraising appeal for this very special event.
Any money raised from this event will go directly back into the park through projects run by the Friends of Grangewood Park.
The schedule will be updated over the next couple of weeks so do come back and find out what we have in store for you.
AFTERNOON TEA IN THE PARK
Afternoon teas are NOT free and if you book you are required to make a payment of £25 for afternoon tea for two (details of what is included posted below).
PLEASE do not book an afternoon tea if you are NOT 100 per cent sure you can attend.
You will receive an email providing payment details and you should pay within 24 hours to secure your booking or it will be re-advertised.
BOOK
Book a cream tea box for two for £25 and enjoy this traditional experience in the beautiful surroundings of Grangewood Park on the lawns of the once grand mansion.
Local baker, Heidi Tompson is the creator of Sugar and Spice and makes amazing bespoke cakes to order for any event. With over 10 years of experience and fully registered with a 5* Hygiene rating, during the pandemic Heidi began serving up an afternoon tea packages which soon became a huge hit with local residents.
Afternoon Tea for two includes:
2 cake (choice from Vanilla / Carrot / Chocolate cake slice)
2 tarts (Apple or Red berry crumble tart)
2 scones with cream & jam.
2 Viennese fingers dipped in Chocolate.
Sandwiches 2 rounds (Egg Mayo / Cheese / Ham.)
Drinks will be provided by the Friends of Grangewood Park. A choice of tea: Earl grey, English Breakfast or Coffee.
There will be two sittings:
1.30pm & 3.30pm accompanied by music.
Please reserve your Afternoon Tea by 5 September at the checkout selecting your preferred time. You will then be sent a link for payment. Your booking will not be confirmed until payment has been received.
(pictures below indicative of what you may receive)