Description
You are invited to our 4th annual Happy Heads Mental Health 'Winter Warmer' event.
About this event
Happy Heads aim to be drivers for change around empowering, encouraging and educating mental health sufferers and their support network to collaborate in preventing mental health and challenging the overall stigma and discrimination around mental health whilst celebrating creative gifts and strengths, rather than being limited by labels or diagnoses.
Happy Heads main ideology is the 'Balance Ball', a personalised mental health support visual guidance and recovery toolkit allowing an individual to focus on 7 different and imperative areas of your life to help bring balance to the mind, body and spirit and provide mindfulness for everyone for all ages and backgrounds no matter who you are. The 7 areas are as follows: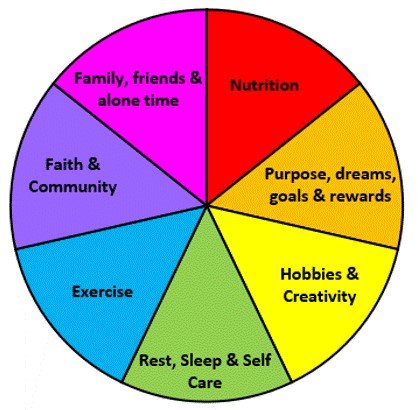 The goal is to fill up your life with a balanced and healthy amount of colour, and for you to review and evaluate at any given time and have a greater understanding of yourself and your 7 areas to maintain and sustain good overall health well-being in all aspects of your life. It is these 7 areas are brought to life at the Happy Heads event.
---


Event Programme:
2:00pm - 2:15pm - Registration and Refreshments

2:15pm - 2:55pm - Workshop 1 hosted by South London and Maudsley NHS Foundation Trust on how to deal with mental health

3:00pm - 3:25pm - Q&A Panel 1 - Vasu Silva (Happy Heads Team Member), Bryan Richardson (Happy Heads Team Member), Ruth Moragas (Happy Heads Co-Director), Jenny Batt (Liberal Democrat for Sutton & Health and Wellbeing Board) & Robert Walters (Mental Health Surviver and Actor)

3:35pm - 4:25pm - Movement & Improvisation Workshop 2 hosted by Kamiji Ebun-Cole on exploring your emotions and thinking positively

4:30pm - 5:15pm - Destiny Coaching Workshop hosted by Christine Roberts on do you know what you are called to do, what is your purpose and how you can use your gifts and skills to do what you love

5:30pm - 6:00pm - Q&A Panel 2 - Felisha Dussard (Happy Heads Co-Director), Maurice Nathan (Happy Heads Team Member), Jon Salmon (Mental Health Ambassador) & Janet Campbell (Counsellor for West Thornton, Croydon Labour Councillor & Mental Health Ambassador)

Throughout the event:
Various mental health charities and organisations will be exhibiting to network with (Purposes,Dreams, Goals & Rewards). Confirmed are: Mind Space MK, Off The Record Charity, Sky Sharma Foundation, Samaritans of Croydon and Sutton, Croydon Talking Therapies (South London and Maudsley NHS Foundation Trust), Rest Easy Training, Centre Of Change Counselling And Mentoring Service, Hope Is Possible, Time to Change and more!

Creative corner (Hobbies & Creativity) - an interactive art area to inspire the creativity in you, get involved in a range of different art & crafts including painting and collage


Hand massages from 2pm - 5.30pm (Rest, Sleep & Self-Care) - unwind at the start of 2020 with a relaxing and soothing hand massage. Please book in your slot on the day

Exploring acceptance of who they are and faith, community and identity also explored (Faith & Community)

A range of nutritional and healthy refreshments to keep you energised throughout, hosted by Hope Is Possible and supported by Happy Heads (Nutrition)

Emotional support team, hosted by Centre of Change, for those who require any assistance on the event day itself