Happy New YOU! (Goal Setting Workshop with Cezanne)

Sunday, 5 January 2014 from 14:00 to 18:00 (GMT)
Event Details
Happy New YOU!
Hello 2014!
Are you looking back at 2013 and feeling pleased with your Self? You should be!
You made it through another year, and you are that much the wiser and experienced for it!  Even if you think things didn't go according to plan, there was a lesson to be learned, wasn't there? 
Are you happy with the progress you've made in life so far?
You can CHOOSE to be happy despite what's going on around you, despite when things don't go according to plan, and despite when your circumstances give you reason NOT to be happy!
In this workshop we will become consciously aware that we are the creators of our own destiny.  Where you are NOW, is a result of your PAST thoughts, words and actions.  If you're not happy with what you've created so far, change the way you THINK.
I learnt this back in 2007, when I finally took responsibility for the mess my life was in.
I began the process of consciously re-creating my future.  I realised that I was subconsciously programmed for failure. so I began to program myself for success.
In the process, I painted 11 paintings, wrote two Self-help books, and produced my first poetry CD and its Book of Lyrics.  I decided to only do the things which made me feel happy (for me, that was being creative!), and in DOING the things that made me happy, I am well on my way to HAVING the things that I desire!  
Do you believe that you can only BE happy once you DO or HAVE something you desire?  Why not just BE HAPPY NOW?  Your outer world is a reflection of your inner world; by creating happiness WITHIN, it will be reflected in your outer world!
ARE YOU READY TO MAKE POSITIVE CHANGE?
Join me in this ineractive workshop where we will evaluate the progress we have made so far (without judging) and look at how our PAST thoughts, words and actions have been responsible for where we are today.   We will then begin to consciously CHOOSE what we want to create in our future, and put a PLAN in place to help us reach our goals!
Change doesn't happen overnight, but plant the seed NOW and watch it blossom in the FUTURE!
This workshop costs just £10 to attend, and there are only 25 places available, so book yours TODAY!
If you are ready to take POSITIVE ACTION and start MOVING TOWARDS YOUR GOALS, attend this preliminary workshop and start 2014 in a POSITIVE WAY!
This workshop is for both MEN and WOMEN
See you there!
Cezanne ;-)
P.S. If you would like to attend but do not have the facilities to pay for your ticket online, call 07944 244 116 to make alternative arrangements
When & Where

The Mella Center
73 Oxford Street, London W1D 2EP
(Tottenham Court Rd end)
W1D 2EP London
United Kingdom


Sunday, 5 January 2014 from 14:00 to 18:00 (GMT)
Add to my calendar
Organiser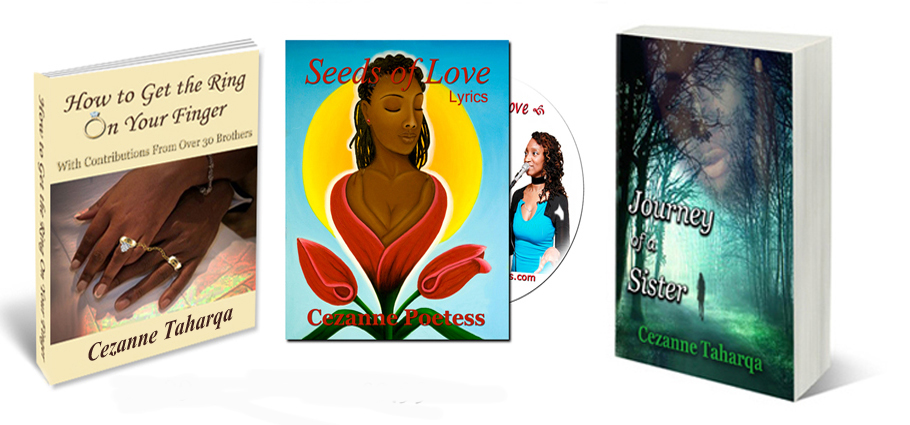 Cezanne is an Award-winning Visual & Spoken Word Artist, Blogger, and Author of the Self-help romance novel 'Journey of a Sister' and its sister-book 'How to Get the Ring On Your Finger'.  In 2014,Cezanne won the title 'International Artist of the Year' in the Spokenword Billboard Awards (USA) for her first collection 'Seeds of Love'  (all 13 poems feature in her novel), which comes with a Book of Lyrics.
Cezanne is an Inspirational Thought Leader in her fields of Poetry, Art & Literature; she uses her poetry and art to illustrate her books, which are creative expressions of her own spiritual journey and personal development.  Her motto is "As I heal my Self, I heal others."
Cezanne hosts Books Signing & Discussion Events where the topics raised in her Self-help books are discussed openly.  She is also organizer of the Kings & Queens Book Tour, taking place 1-8 October 2017 - she will be hosting and also performing at some of the events!
To read Cezanne's weekly blog posts visit www.journeyofasister.com
 Cezanne is pronounced Sh-e (as in elephant)-z-ann