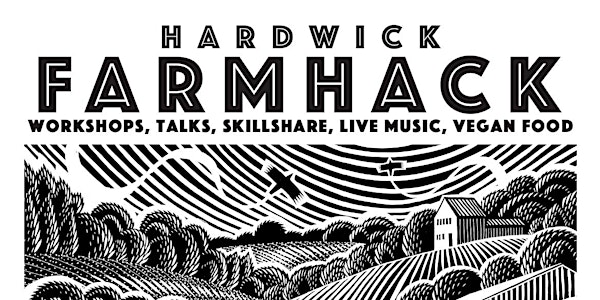 Location
Tolhurst Organic Partnership C.I.C.
Hardwick Road
Hardwick Estate
Reading
RG8 7RA
United Kingdom
Refund policy
Contact the organiser to request a refund.
Eventbrite's fee is nonrefundable.
Skill share, talks, workshops, networking, live music, vegan food & land justice, hosted at Tolhurst Organic.
About this event
There are collective issues that we are all facing, from the climate changing, draconian politics affecting the cost of living, to the access of land for farmers and affordable healthy food for the public. This is a call to gather and network.
Join in and learn from each other, helping create a diverse, hands-on, and fun space whilst exploring different land-based topics, tools and practices together. We are keen to grow alliances between farming networks for a more resilient community farming future, part of a ripening food and land justice movement.
The hosts...
Hosted at Tolhurst Organic, the centre for stockfree organic farming and veganic food. A Community Interest Company, who have held the organic symbol for over 40 years, thus making Tolhurst Organic one of the longest running organic vegetable farms in England.
Tolhurst Organic lies just outside the village of Whitchurch-on-Thames in south Oxfordshire. Nestled between the Chilterns and the River Thames, the farm is situated in the picturesque Hardwick Estate, with 17 acres in two fields and 2 acres in the 500-year-old walled garden.
How this works…
Residents of the Hardwick Estate are hosting a Farm Hack for those who want to share knowledge and make connections. This event is for growers of all kinds, from across the UK to build a grass routes network of land based workers, we welcome new entrants in of the field and well as weathered masters of soil.
This is a DIY Farm Hack, low tech, to make farming knowledge accessible. There will be a programme of speakers and workshops spaces, but also there will be intentional space to platform your voices and learnings, bring your favourite tools, hacks, experiences and share them! Depending on the seasonal harvest there maybe a task on the farm, we can all muck-in on a big practical job at some point.
The cost of your ticket covers the hiring or moving of infrastructure, organic produce for the menu, use of cooking spaces, land at a discounted rate amongst many other things. Whilst your ticket also goes to support farmworkers, land projects and crafts in the local rural community, as well as ongoing further related events.
The Pay It Forward Ticket is for those who are waged who can afford to pay more, this will help others who are unwaged attend the event on a Solidarity Ticket (this type of ticket covers the basics of food and facilities). We would like to make the event accessible to varied incomes, a lot of the growers of the future start off as volunteers.
The programme…
Talks, workshops, discussion spaces on stock free growing, farming for improved soil health, land rights, show and tell/tools, a soil hack and local crafts. In the evening, there are plans being hatched to help us have a jolly time.
A detailed programme evolving organically...
🚜 Tour of Tolhurst Organic with founder Iain Tolhurst
🍅 Veganic Growing with Sparrow Middleton, Tolhurst Field Fruit & Veg Grower
🔥 Live music, fireside jams from Beggar's Buttons & Ramshackle Band & Emmy The Harp
🍃 Natural Plant Dyeing Workshops with The Outside
🪓 Coppicing Workshops with Dave Jackson - The Stick Smith
📗 Land Justice with Nick Hayes, author of #thebookoftrespass
🌱 Overgrow the Regime with Hemp - how you can grow too! Liberate Hemp
🌿 Hempen Hang Out - come learn about all things' hemp
🐛 Soil Microscopy Demo Diagnosing Soil Fertility with Chris Maughan
☀️ Open Discussion On Heat and Drought Management with Frederik Bonestroo
🥒 Yoga for Growers with Alice May Yoga
🎪 Intentional spaces to platform your voices and learnings...bring your favourite tools, hacks, experiences and share them!
🌾 Depending on the seasonal harvest there maybe a task on the farm, we can all muck-in on a big practical job at some point.
🥕🍄🌻 🌳☘️🐝 And much more to be announced...
- Wild Swimming
- Fireside Jams
The farmacy…
Organic, vegan and with a special effort to provide local produce, meals are included in the ticket price, although it would be ideal to gather donations. Friday Dinner, Saturday Breakfast, Lunch & Dinner, Sunday Breakfast & Lunch. Please bring with you any produce from your own farms to share. Email us if you have a substantial food offering for the chefs or if you have any specific food/allergy requirements.
Please bring your own plates, bowls, cutlery & mug, just because.
Accessible to all…
A 'Solidarity Ticket' option is at a reduced cost. This is a solidarity ticket for land workers who are unwaged.
If you like the sound of all this and are keen to lend a hand or come early to help out, then please apply to volunteer. You will still need to buy a ticket, and then collect a reimbursement at the end.
If you have any further requirements to help you get to the Farm Hack, or you would like to suggest anything that would help you to get here, email and let us know.
Young ones are free and welcome, though no daycare can be provided. Bear in mind this is a working farm and therefore there are potential hazards.
Dogs are welcome, however must be on a lead at all times, please ensure dogs do not go on any cropping area. Just so you're aware, local dogs maybe off the lead as they are used to the area.
Camping/Live-in Vans…
Camping is included in the ticket price. Live-in Vans will be parking at the neighbouring farm up on the hill at Hempen Organic, RG8 7RE (10-minute walk down hill through the forest to Tolhurst Organic).
Travel…
Train: the closest train station is Pangbourne, which is a 10-minute train from Reading Station. The options are to walk (40 mins) or cycle (15 mins) to Tolhurst Organic, RG8 7RA.
Car: On arrival as you head down Hardwick Road you will see the green gates into the Hardwick Estate, follow the long road down until you see signs.
We encourage car sharing, to reduce the number of cars as we have limited space for parking. Make friends, see who is going local to you, and also reduce your environmental impact.
Other bits to bring...
Swimwear, good walking boots, head torch, all camping gear, just in case waterproofs & wellies. And for sure to bring your mug, plate, bowl & cutlery. Please bring cash to help leave donations for meals/snacks, musicians and stalls.
Contact: sparrowsqueezebox@gmail.com
Artwork by Nick Hayes 🖤