Description
'Harnessing digital for self-management and recovery in psychosis' is an event from the EMPOWER research team at the University of Glasgow's Institute of Health and Wellbeing. EMPOWER is a three-year research project to develop and test new ways of helping people with experience of psychosis to stay well. EMPOWER works through people monitoring their thoughts and feelings on a mobile phone App. We hope to show that this type of routine monitoring makes early intervention more possible and supports the prevention of relapsing psychosis. You can read more about EMPOWER below or on our website.
The aims of this free event are to:
Increase understanding about opportunities and challenges in the innovative use of digital technologies in mental health.

Increase awareness of the EMPOWER study, share findings so far and inform the forthcoming trial in NHS Greater Glasgow and Clyde.

Identify opportunities to develop collaborative practice, which can enhance empowerment, engagement and recovery.

Build the foundations for wider development of mobile health interventions in mental health services.
The event is aimed at people in the NHS Greater Glasgow & Clyde area including:
People with lived experience of mental health problems, including psychosis.

Those providing, influencing, or developing mental health services.

Informal carers and family members of people affected by mental health problems.

Academics and people with an interest in digital innovation in health and social care.
The programme
Contributors on the day will include:
Colin McKay (Chief Executive Mental Welfare Commission for Scotland) on supported and share decision making in context.

From the EMPOWER team Professor Andrew Gumley (Chief Investigator), Stephanie Allan (person with lived experience and Research Associate) and Simon Bradstreet (Research Fellow) on early warning signs in psychosis, learning to date from EMPOWER and wider evidence on digital interventions.

Reflections on the day from Professor Craig White, Scottish Government Healthcare Quality and Improvement Directorate and Graham Morgan MBE.
This will be a highly participative event making use of 'marketplace' format to allow delegates to hear and share a range of perspectives. Morning marketplace sessions will consider the theme 'Digital empowerment? Opportunities and challenges' from three different, but equally important, perspectives. Afternoon workshops sessions will include Anne Joice, from NHS Education for Scotland, on a new programme of Psychosocial Interventions for Psychosis, 'Early signs monitoring and Fear of Recurrence' with Professor Andrew Gumley and an opportunity to create supportive messages to be used in the EMPOWER App.
The venue
The newly refurbished Kelvin Hall offers purpose built conference facilities in the heart of Glasgow's West End. It is also easily accessible by a variety of public transport and is fully accessible. Further information on the venue and travel arrangements can be found here.

---
FAQs
When does the event start?
Registration opens at 9:30 with event starting promptly at 10:00.
How can I contact the organiser with any questions?
Please contact simon.bradstreet@glasgow.ac.uk or phone 0141 211 3943 if you have any questions about this event.
Why is this event aimed at people in the NHS Greater Glasgow & Clyde area?
This event is aimed at people in the NHS Greater Glasgow & Clyde area to help us achieve research and public engagement objectives. If you are not based within this area but are interested in attending, then please contact the event organiser directly to discuss this.
Are travel expenses available?
Travel expenses are available to those on a low income in the NHS Greater Glasgow & Clyde area by prior arrangement with andrea.clark@glasgow.ac.uk
What are the catering arrangements?
Teas, coffee and lunch will be provided for delegate free of charge.
---
Further information about EMPOWER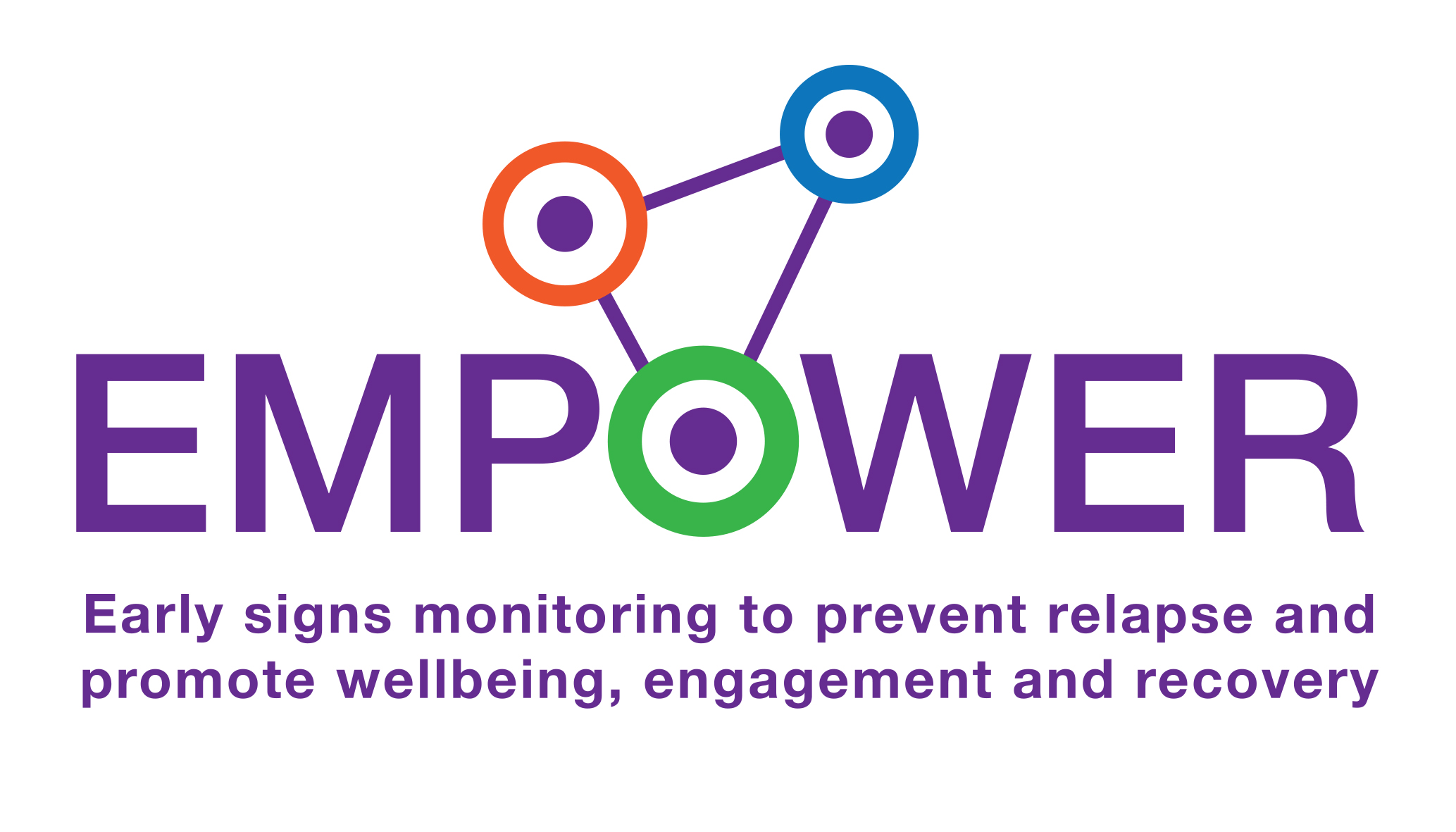 Early warning signs of psychosis
Early warning signs of psychosis are the first indicators of a worsening in mental health. These may relate to changes in thoughts, feelings or behaviours. They can appear weeks or even months before a period of illness. Evidence suggests that monitoring early warning signs can allow people to intervene early to minimise or even prevent a relapse of psychosis. However, because our thoughts and feeling change a great deal from day to day type of monitoring can lead to false alarms. This is something which we are trying to address with EMPOWER.
Early warning signs vary between people but common signs include feeling more anxious, withdrawing from others, changes to sleep patterns, feeling confused or becoming suspicious of people.
One of the things which can prevent early intervention when warning signs first appear is fear of what might happen. This can be based on previous negative experiences during periods of illness or a sense of shame at letting people down. This in turn can lead to avoidance of the problem, heightened anxiety or being overly positive. Sometimes mental health services response to early warning signs can also discourage help seeking. We hope that through the routine monitoring of early warning signs people will feel more able to respond helpfully and to intervene effectively.
Too often people with experiences of psychosis get help when things are at crisis point causing distress for everyone involved. This is something we believe can be improved through the careful application of digital technology.
The EMPOWER App
People using the EMPOWER App in our study will be prompted to respond to a set of questions once a day. These questions will relate to things which evidence suggests can indicate early warning signs of psychosis.
Each time someone responds to a set of questions through the App an EMPOWER message is generated. These messages are intended to help people have a greater sense of control over their mental health and wellbeing and to support self-management. Messages are designed to be encouraging and could provide, for example, links to further information, practical advice or helpful quotes related to each of the topics covered in the App.
Information entered into the App is compared to a personal baseline score. This helps us understand if there are any potential early warning signs of psychosis. There are three possible responses at this stage. If there has been no notable change then a general EMPOWER message is shared. If there is a low level change in score then the message generated by the App will be specific to the area where there has been a change. For example, if there is an indication that there has been a change linked with mood then the message would be focused on that area.
If there is a higher level change then an alert will be raised with the research team who will take further action designed to help the person using the App to stay well by intervening early. This could include contacting that person, a close family carer or a designated mental health professional.
Ultimately our goal with EMPOWER is to enhance control for people with experiences of psychosis. One aspect of this is the facility for people to view charts which show how things have been changing for them over time. We believe this sort of information can help people identify patterns and may suggest areas to focus on to support staying well. They may choose to share these charts with other people who offer them support.
The EMPOWER research
EMPOWER is a two phase mixed methods study. This means we will both use qualitative and quantitative methods. Phase 1 involves examining different perspectives on early signs monitoring, preferences for using mobile technology and current opportunities and barriers to help-seeking. In this phase we will run focus groups with people in receipt of services, service providers and informal carers. Information gathered at this stage will inform how the App is developed and the approach to testing in phase 2.
Phase 2 involves a cluster randomized controlled trial (C-RCT) in community based mental health services operated within the NHS Greater Glasgow and Clyde and NorthWestern Mental Health areas. This will involve selecting six teams in Scotland and two in Australia. From these eight teams four will be randomly selected to use the App and four will provided treatment as usual. We will compare outcomes between those teams. We also aim to will inform a future larger multi-site trial.
The study is funded by the National Institute for Health Research Health Technology Assessment (NIHR-HTA) and the National Health and Medical Research Council (NHMRC) – through a Collaborative Research Grant.
.
When
What
Who
9.30
Registration
10.00
Welcome and background
Professor Andrew Gumley (Chief Investigator)
10.15
EMPOWER App and digital for psychosis
Simon Bradstreet (Research Fellow)
10.30
Developing a grounded implementation theory for EMPOWER
Stephanie Allan (Research Associate)
10.45
Market place introduction
10.50
Marketplace session 1*
11.20
Break
11.40
Marketplace session 2
12.10
Marketplace session 3
12.45
Lunch
1.30
Self-management, supported decision making and anticipatory care planning: a policy perspective
Colin McKay, Chief Executive, Mental Welfare Commission for Scotland
2.00
Workshops**
3.00
Break
3.20
Reflections on the day
Graham Morgan MBE, HUG (Action for Mental Health) & Professor Craig White, Divisional Clinical Lead, Healthcare Quality and Strategy Directorate, The Scottish Government
3.50
Next steps and thanks
Professor Andrew Gumley
4.00
Close