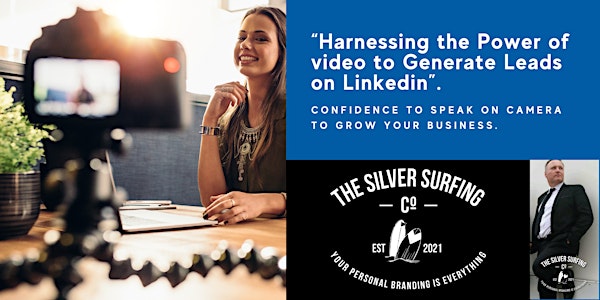 Harnessing the power of video for LinkedIn to generate more leads
Learn how to confidently and competently speak on camera to create videos that engage your audience and generate more leads on LinkedIn.
About this event
Want to get more visible results from LinkedIn? Want to increase your confidence to speak on camera and develop a tried and tested video marketing strategy that gets results?
Some things you should know on the power of video:
Video has up to 80% more engagement that a standard post.
By 2022 82% of global internet traffic will come from streaming videos.
Video posts on LinkedIn are shared 20 more times than other content formats.
80% of users can recall a video ad they viewed in the past 30 days
Video has up to 80% more engagement that a standard post.
About this event
This 2 hour interactive online session aimed at business owners, business development managers and professionals, will help you to attract new clients, create powerful, engaging, memorable video content to help grow your personal and business brands to successfully generate more leads.
Workshop Format:
The online session is a practical follow up workshop from Session 1 "Harnessing the Power of LinkedIn to Generate Leads". Next one is on Thursday 27th JANUARY 2022 10:00am - Noon. Email lateef@albcoaching.co.uk to learn more and pre-register.
This session focuses on confidently creating captivating, creative video content to use on LinkedIn, simply from your smartphone or camera! You will be able to successfully amplify your massage so it's memorable and meaningful. By the end of the session you will be able to create a video and post it on LinkedIn.
Combined both sessions will take you far further than where you are now and also ahead of your competitors which will take your LinkedIn engagement to another level.
You will benefit from a combination of over 20 years of experience on how to effectively use video for LinkedIn to get results. The tried and tested methods will ensure you can personalise your strategy in a practical way that LinkedIn starts working for you straight away.
What you will learn and take away
Develop a confident mindset for speaking on camera.
How to effectively plan and prepare what you will say in your video.
Making your lighting and location work for you.
Make yourself look good with clever positioning and camera angles.
Learning effective ways to use verbal and non verbal communication.
Understanding body language and physiology to maximise your impact.
Alternating your pitch, pace and power pauses to engage your audience.
Basic video editing, captions, music and subtitles.
Learn about optional video equipment to further enhance your videos over time.
Use a combination of all the above and create a successful video content strategy.
Yes all this in one 2 hour session packed full of value. Rest assured we have structured the session in a practical way so that you will remember, take action and we will have a 5 minute comfort break!
What delegates say having attended this workshop
"Having never done a "selfie" - let alone a video of myself – I was keen to learn but attended this session with trepidation!
I came away thinking, "This will help me to build my personal brand, and in turn, this will help my business."
Geoff and Lateef build your confidence and give lots of helpful advice on making a simple video effectively.
I thoroughly enjoyed the session, and the help and support afterward were terrific too. I would highly recommend the workshop".
Pam Steed, Managing Director, Monarch Personnel Group Ltd
Ongoing support:
Following the session, you will have the option to be part of a private WhatsApp group where you will be able to network with the other attendees, ask questions, update us on your progress.
Trainers:
Geoff Molyneux
This informative session will distil 10 years of Geoff's experience using LinkedIn and learning how to make it work for you. Geoff's videos have become a much talked about subject and he is considered an influencer.
Geoff's common sense approach mixed with tried and tested techniques will ensure you have the confidence and skills to leave this session with effective ways to start creating your own videos for LinkedIn.
Geoff has successfully used video on LinkedIn to gain 95% of business exhibitors for the Shout Lancashire, Manchester and Merseyside Business expos with an average of 120 exhibitors at each expo. Geoff has built a strong following and developed an audience with organic engagement and not vanity metrics!
Geoff specialises in helping businesses owners gain new clients and raise your businesses brand awareness, via the largest B2B exhibitions in Lancashire / Manchester/ Cumbria and Liverpool . These events attract over 2000 delegates and 150 exhibitors in attendance that help you to gain new clients, promote your products and services, raise your business brand awareness and network, with like-minded business professionals from across the North West and develop long-term relationships.
Lateef Badat, MSc, Fellow SFEDI / IOEE
Lateef is a highly experienced SFEDI / IOEEE Business Advisor / Mentor and Business & Confidence Coaching. He was doing videos on LinkedIn before they become the "in thing"!
Lateef has successfully used videos on LinkedIn to grow his audience, express his personal and business brand leading him to gain the majority of his clients directly through the platform.
Lateef successfully coaches business owners and their staff on confidence building skills in order to create videos for LinkedIn and other social media platforms in order to create memorable videos that have been proven to greatly increase engagement. He specialises in changing mindsets and overcome obstacles that prevent them from filming themselves.
Lateef does this in a way that reflects you and your business ensuring your audience / target market resonates with your posts. He believes in empowering you to learn effective skills that work, are manageable and sustainable.
Register today to significantly improve your LinkedIn game and generate more leads.
Organiser of Harnessing the power of video for LinkedIn to generate more leads
ALB Business & Confidence Coaching & The Silver Surfing Co provide mindset transformation for creative, digital and media business owners and their staff. Are you a creative, digital or media business owner who feels held back? Do you want to grow you, your team and your business?
People working in the creative, digital and media space often have difficulties with their confidence, resilience and building a business mindset—for example, career progression, imposter syndrome, time management, focus, leadership, accountability, etc.
During COVID-19 we have successfully worked with business owners and their staff on mindset & motivation, getting their MoJo back, business recovery, goal-setting, clarity, accountability, managing stress & anxiety, improving confidence and mental health & well-being. A common theme running through this work has been imposter syndrome.