Harrogate and District NHS Foundation Trust's Quality Conference 2017
Description
The Partnerships and Innovations team is pleased to announce that the Trust's first ever multidisciplinary Quality Conference has been arranged. The Conference is open to all colleagues across the Trust.

What you can expect at our Quality Conference:
Mr Rob Dixon, Director - Pilotwise International Ltd , York
Rob was an RAF officer for 22 years, rising to senior officer ranks before he left in Dec 2014. He flew a number of fixed wing and rotary aircraft; his operational flying all came on helicopters. Rob was lead tactics instructor and head of tactics and training for all British military Battlefield Helicopters. He toured three times each in Iraq and Bosnia, served once in Afghanistan and completed two-and-a-half years in Northern Ireland. Rob completed a MSc in Human Factors and Aviation Safety Management at Cranfield University. His final tour in the RAF was as Director of Safety for all fast jets and intelligence gathering aircraft, where he established and ran the safety management system, comprising 15,000 people over 11 main locations and £multi-billion assets. Since he left the RAF, Rob has been a director at Pilotwise International Ltd in York.
Professor Rebecca Lawton, Professor, Psychology of Healthcare - University of Leeds
Rebecca Lawton is a Professor in Psychology of Healthcare at the University of Leeds. Since 2009, Rebecca has held a joint position at Bradford Institute for Health Research, Bradford Royal Infirmary, where she leads the Yorkshire Quality and Safety Research team, a multi-disciplinary team of researchers engaged in high quality applied health research. Rebecca is also academic director for the AHSN Improvement Academy in Yorkshire and Humber and she leads a programme of research on evidence-based transformation within the NHS as part of the Yorkshire and Humber Collaboration for Leadership in Applied Health Research and Care (CLAHRC). Rebecca has published widely on patient safety and behaviour change and has received funding from National Institute for Health Research (NIHR), Economic and Social Research Council (ESRC), Department of Health (DH), TSB and the Health Foundation. Her research focuses on the application of psychological theories of behaviour change and human factors to patient safety.
Nicola Sawford, Managing Director & Customer Experience Architect, Ambassador for the Institute of Customer Service & Supporter of Amazing Customer Experience Everywhere
Nikki and the team at Customer Whisperers eat, sleep and breathe Customer Experience. Their passion is contagious and their talents have been applied to improve the Customer Experiences enjoyed by tens of millions of UK customers.
They exist to:
Help organisations better understand customers and anticipate their changing needs.

Develop the skills to respond to customers' future requirements and embracing the opportunities that the digital era and its new channels offer.

Inspire leaders to make the necessary changes—this is where they add real value.
The Whisperers unique combination of disruptive thinking and pragmatism delivers eureka moments. Their energy and fresh perspectives transform the way people think and shape engaging visions. They motivate every individual to know and play their part. Through their ground breaking collaboration on events they showcase great, innovative and emerging customer experience approaches.
A compelling agenda sharing all that is best about our Trust's work to improve quality, to include engaging plenary presentations, breakout sessions and poster displays.

Satellite locations, in Ferryhill - County Durham, Northallerton and Scarborough, virtually linking into the main conference.

Live webcasts and social media feeds.

Why a Quality Conference?
As a Trust, we have a longstanding and strong reputation for the excellent quality of care we provide. The Quality Charter was developed as part of our commitment to:
Reward and recognise our colleagues who carry out improvement activities.

Celebrate the everyday successes that our colleagues achieve.
There are five schemes that are being progressed in the delivery of the Quality Charter, all of which have been built around the Trust's Values, including our Quality Conference: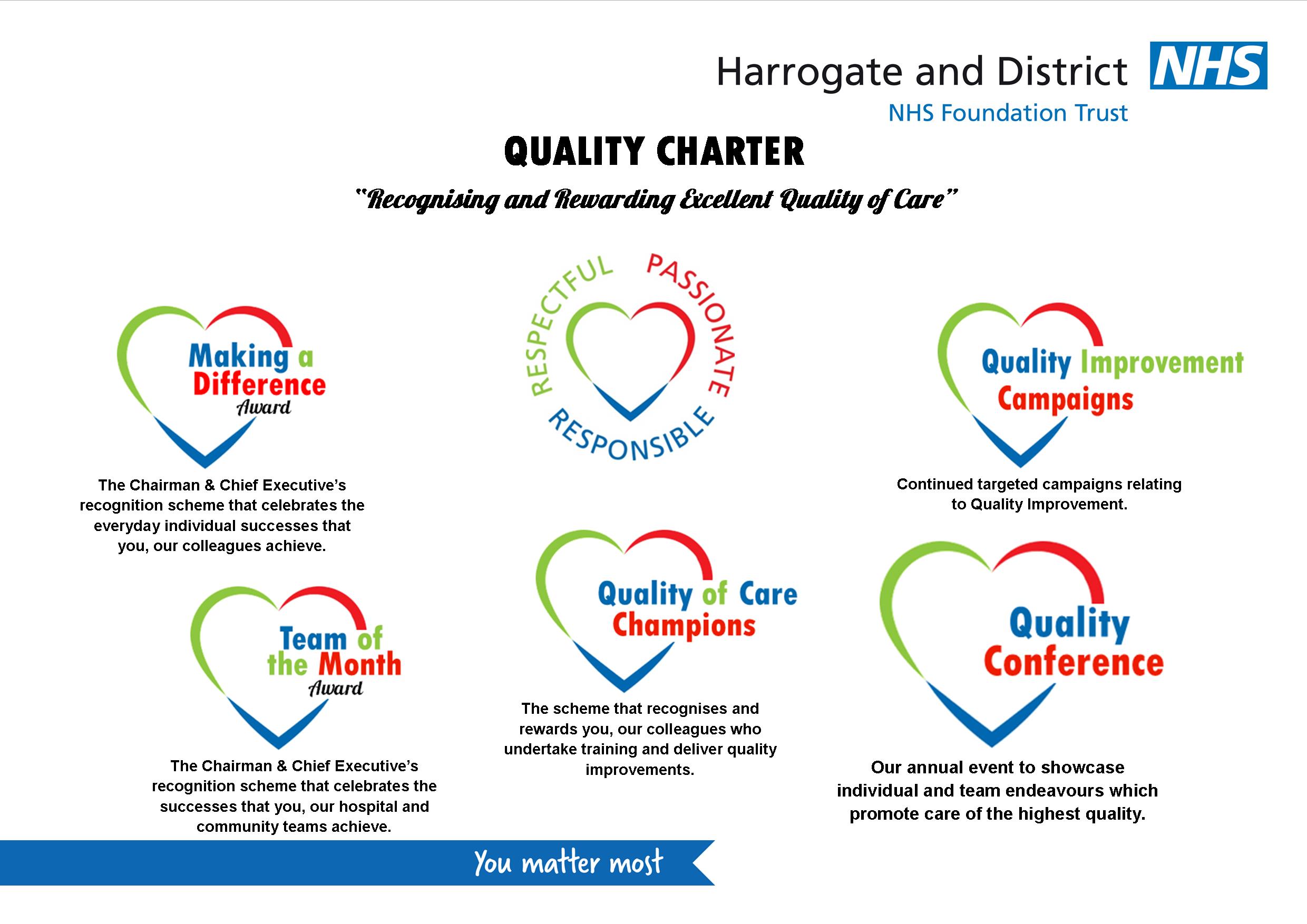 For more information, please contact:
Natasha Ori-Orison, Project Support Officer - Quality Charter via Email: Natasha.Ori-Orison@hdft.nhs.uk or
Telephone: 01423 54 (4349)
David Plews, Deputy Director of Partnerships and Innovation via Email: David.Plews@hdft.nhs.uk or Telephone: 01423 55 (4481).