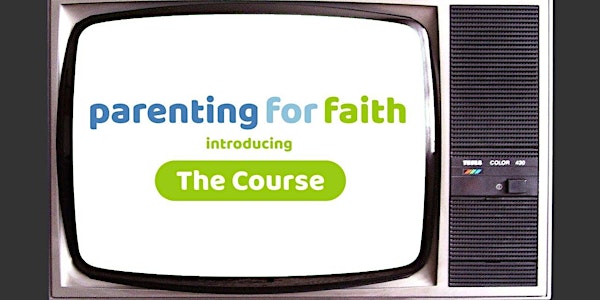 Harrogate Parenting for Faith Course (7 weeks) - FREE
This course will equip you to nurture faith in the children & teens in your life and help them connect with God.
About this event
Parenting for Faith aims to equip parents to help their children (of any age) connect with God. We all want our children to have a relationship with God but so often our children end up with a head full of knowledge about God but not connected to Him. The course will teach you 5 easy tools to help you raise God-connected children. You can watch the trailer here or find out more about the course on www.parentingforfaith.org .
Parenting for Faith is not a parenting course but is about one thing only: to give you the skills and confidence to help your children flourish spiritually.
So, set aside some time at the beginning of 2021 and join other Christian parents from across the Harrogate district to do this course- this could be one of the best things you do for your family in the new year! Helping the next generation connect with God is one of the most precious things to be involved in so come and equip yourself!
Who is the course for?
Anyone in the Harrogate district who wants to support a child or teen in their spiritual development. Parents, parents to be, grandparents, godparents, foster parents, uncles, aunts and youth & children's leaders.
There is no age limit for the children whom you want to influence. Even if you have teenagers or adult children, it's never too late to start using this approach. So do come along!
What format does the course take?
Each session is a mixture of teaching by Rachel Turner, individual reflection time and group discussion.
When & where
Monday evenings, 7.30-8.45pm, starting Mon 11 January 2021 and finishing Mon 22 February 2021. (*Please note that we have condensed the 8 week course into 7 weekly sessions)
Due to the situation around covid, this course will be online via Zoom, so you can attend from the comfort of your own home. Or perhaps you can get together with some people in your church and watch the Zoom together!
What's the cost?
It's FREE!
What have others said about the course?
Parenting for Faith is recommended by Care for the Family.
"This is an amazing course. I have a better understanding of how I can help my children in their walk with God and feel empowered and equipped to do it. My kids are asking more questions about God." Parent, Rochester
"I've been encouraged that what I'm doing already is good, and have felt more relaxed about trusting God with my kids, knowing he will reach out to them, and I can leave them to it!" Parent, Gloucestershire
"It's made me much more aware of how I parent and small ways I can give my daughter windows into faith and also discover God for herself." Parent, South Yorkshire
"It's given me the courage to chat more to my son about his relationship with God. We've started to take time to pray for each other – not long – but previously I wouldn't have asked my son (15) to pray for me." Parent, Cheshire