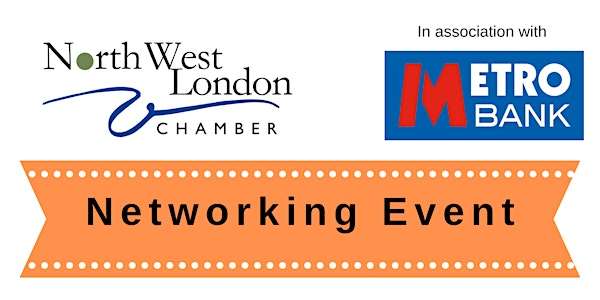 Harrow Networking @ Metro Bank | NW London Chamber, Thursday 3rd February
Location
Metro Bank
Unit 1-2
St Anns Shopping Centre
Harrow
HA1 1AS
United Kingdom
A monthly event run by the Chamber at Metro Bank Harrow for you to connect with other business owners. Thursday 3rd February 6:30pm - 8:30pm
About this event
North West London Chamber of Commerce in conjunction with Metro Bank are delighted to announce the next of our monthly networking events in the Metro Bank store in central Harrow.
These events are a fantastic opportunity for business owners to meet and connect in a friendly environment. There are no fussy rules or pushy protocols. The point is to help you do business.
Harrow is one of a number of locations the events run in and around North West London. This follows from the huge success of the events held in Watford, Borehamwood and Edgware.
This event is free of charge and will include light refreshments.
If you are looking to take your networking to the next level then, I really recommend you attending.
Have a look at what other attendees say...
"I love these events. They are run by the Chamber, so the only objective is to help local businesses grow. What's more, they are free. There is always a great buzz about the morning and I am building great, trusted relationships as a result."
Hitul Thobhani, Marketing Sharpness