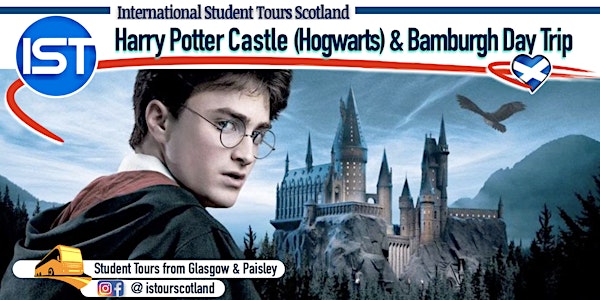 Harry Potter Castle (Hogwarts) and Bamburgh Day Trip
Event Information
Location
We offer 3 pick up points at Glasgow Uni, Strathclyde Uni & UWS Paisley.
Departure: Main Gate of Glasgow University
University Avenue
Glasgow
G12 8QQ
United Kingdom
Harry Potter Castle (Hogwarts) and Bamburgh Day Trip
About this event
SOLD OUT 😞 … BUT DUE TO HIGH DEMAND, we have planned one more Harry Potter Castle Tour on Sunday 27th March and you can Book Online HERE
-------------------------------------------------------
● SEE UPCOMING STUDENT TOURS  HERE at: ISTS Eventbrite Page
● Tour Highlights & Itinerary
Harry Potter Castle and lots of Harry Potter themed activities, Movie Locations Tour, Bamburgh, Bamburgh Castle, North Sea, Dunbar, a friendly and knowledgable local guide and transportation.
●● Ticket £33 and it includes
A return journey and transportation by a luxury coach with AC, TV screens and toilet
Fully guided tour with a friendly local guide and free time for sightseeing, hiking/walking, shopping and attractions
Visiting Harry Potter Castle (Hogwarts), Bamburgh and Dunbar - (Exclusion £15 entry to Harry Potter Castle)
● Pick Up Point and Departure
We offers 3 Pick Up Points for your convenience and you will have the option to choose a convenient Pick Up Point when booking your ticket as follows:
07:40am, Glasgow Uni, Main Gate, University Avenue, Glasgow West End
07:25am, Strathclyde Business School, 199 at Cathedral St, City Centre
07:00am, 15 Abercorn Street, Opposite Wallnuek North Church, Paisley
● About the Tour
Immerse yourself in magic, and embark on the path of Harry Potter and his friends to see Harry Potter Castle – famously known as Hogwarts School of Witchcraft and Wizardry! This is your chance to step inside the famous wizard's magical world, with the castle and grounds prominently featured in the films 'Harry Potter and the Philosopher's Stone' and 'Harry Potter and the Chamber of Secrets'. The Castle also appears in Transformers II and it stars as a brand new location in Downton Abbey's 2014 Christmas special, featuring as Brancaster Castle.   
Harry Potter Themed Activities in Hogwarts
Our main destination is Harry Potter Castle known as Hogwarts and we will have plenty of time to enjoy a magical tour in Hogwarts. Inside the castle you will experience lots of fun Harry Potter Themed Activities including Broomstick Flying Lesson by Wizardry Professors (at the same place as Harry did his first flying lesson in the movie), Archery and the opportunity to try on Medieval Costumes, tonnes of fun shows for all Harry Potter fans, Harry Potter Ground Tour, A must-see Potter-Inspired Characters to meet characters inspired by the magical world of Harry Potter such as Harry Potter and Hagrid's lookalikes, Medieval Alchemist Show, Crafts with the Company of Artisans Show, the sumptuous State Rooms, the beautiful gardens, the historic Lion Bridge over River Aln, as well as the biggest Treehouse in Europe and Harry Potter Gift Shops. Be intrigued as there is just so much to see and do in the castle and you will have plenty of time to visit the town, the castle and its gardens and to do all fun Harry Potter themed activities.  
This very popular student adventure also includes visiting the imposing and impressive Bamburgh Castle, dramatically overlooking the North Sea and the extensive Bamburgh Beach. We will also have a short stop in Dunbar to enjoy the coastal sceneries before heading to Harry Potter Castle. A much loved Day Trip by many, be excited for an awesome, magical adventure!  
● Lunch
You will have plenty of time for lunch in restaurants. You can also bring your own packed lunch if you wish so.
● Things to bring with you
Lots of smiles, a face covering, a camera, warm clothes, proper walking/hiking shoes and anything you think you may need during the tour.
Note
Tickets are very limited and are available based on first come, first served. 
TICKETS ARE NOT REFUNDABLE IF YOU MISS THE PICK UP POINT FOR ANY REASON.
● Find out more about Upcoming Student Tours on ISTS Eventbrite Page, Facebook Page, Instagram and  Website
Date and time
Location
We offer 3 pick up points at Glasgow Uni, Strathclyde Uni & UWS Paisley.
Departure: Main Gate of Glasgow University
University Avenue
Glasgow
G12 8QQ
United Kingdom
Refund policy