Description
You've seen the films and read the books, now discover Harry Potter's London.
Immerse yourself in the wizarding world of Harry Potter through film locations and film set inspirations.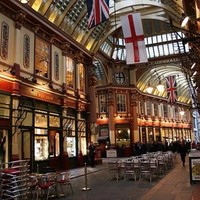 After visiting the film locations for the Leaky Cauldron and the Third Hand Bookshop which hosted Gilroy Lockhart's book signing (both in Harry Potter and the Prisoner of Azkaban) we admire a floating museum displaying the Gryffindor colours . See if you think this might be the inspiration for the Durmstrang ship in Harry Potter and the Goblet of Fire.
We see an infamous Muggle prison where prisoners were tortured and forgotten and compare that to the origins of Azkaban prison, once a place where Muggles were lured and tortured.
Take in the iconic views of London as we cross Brokdale Bridge (Harry Potter and the Order of the Phoenix) and hear the spine-chilling eye witness account of the Death Eater attack of June 1996.
In a city surrounded by dragons, we discuss the importance of the several security breaches at Gringotts Bank and learn about the wizarding world's currency. How many galleons would a wand cost?
Wind through the old streets of the City of London, will we find Diagon Alley? We venture to the original Leaky Cauldron where Harry Potter ventures for the first in Harry Potter and the Philosopher's Stone.
Meet outside London Bridge Post Office, 19A Borough High St, London SE1 9SF

Tour Duration: 90 - 120 mins | Wheelchair / buggy accessible