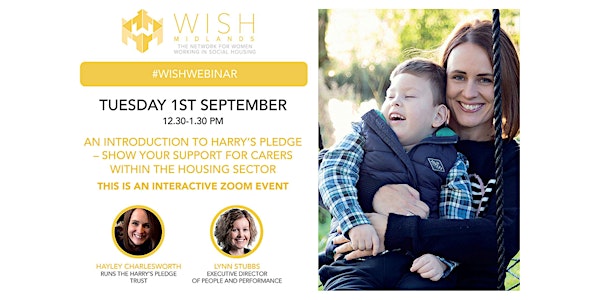 Harry's Pledge - Show Your Support for Carers Within the Housing Sector
Refund policy
Contact the organiser to request a refund.
Eventbrite's fee is nonrefundable.
An Introduction to Harry's Pledge – show your support for carers within the Housing Sector - Zoom Interactive Workshop
About this event
WISH Invites you to this Interactive Zoom Meeting
Harry's Pledge – show your support for carers within the Housing Sector
Date: Tuesday 1st September @ 12.30 to 1.30 via Zoom.
Join us for this fantastic online event introducing Harry's Pledge and show your support for carers within the housing sector – approximately 40 housing organisations have already signed up to this important initiative across the sector – join us to find out how you/your organisation can make a difference to carers across your organisation.
By taking part in this interactive online workshop, participants will learn – how your organisation can support carers:
1. As employers
2. In our workspaces
3. In the homes we build
4. Providing training and career progression
This online workshop is suitable for anyone who is: leading housing organisations, involved in Organisational Development/HR, those working in the care sector, carers or anyone who just wants to find out more about this fantastic initiative.
To join in, it is highly recommended that you download the Zoom application to your computer or phone and find a good internet connection.
Please arrive 10 minutes early to check your video connection, as this will be an interactive experience.
If you are unable to use Zoom we will be sharing a recorded video on social media from our YouTube channel within 48 working days of the event and can provide you with details to ask the speaker any further questions.
Looking forward to seeing you all on the day!
Our Speakers
Hayley Charlesworth – founder of Harry's Pals – The Helping Harry Trust
Company: Harry's Pals – Registered Charity
Hayley Charlesworth is a mother, fundraiser, marketer and public speaker, who is committed to raising awareness and supporting families of children suffering from severe disabilities.
In March 2015, Hayley's son Harry was born with spastic quadriplegic cerebral palsy and many other complex needs. In response, Hayley and her family set-up The Helping Harry Trust to raise vital funds that continue to contribute towards Harry's ongoing care, including specialist equipment and extensive physiotherapy. Over the past four years, the trust has attracted thousands of followers on social media, endorsements from celebrity friends, and media coverage sharing Harry's journey.
Driven by a commitment to support other families in her situation, and the wider disabled community, Hayley is now leveraging the success of the trust to launch Harry's Pals – a brand new fundraising and wider support network that will provide help and financial assistance to other affected families. Hayley is also a member of the Patient Experience Group for the Northamptonshire Healthcare Foundation Trust and is proactive about using her experiences to make important changes within services for young people.
Hayley is a staunch campaigner for disabled rights and delivers motivational talks to various organisations and companies.She touches on personal experience in order to speak passionately on a range of issues – from accessibility and mental health to how employers can prioritise carer-friendly work practices.
Lynn Stubbs - Executive Director of People and Performance
Lynn has held various roles across Longhurst Group since 1996 and has been instrumental in its growth and development, through large scale transfer and merger activities and the implementation of a streamlined governance structure.
Since becoming Executive Director of People and Performance in 2015, Lynn has played a leading role during a period of significant change for Longhurst Group.
At the forefront of introducing a new 'one team, one vision' culture and the consolidation of the Group as one organisation, Lynn has overseen the introduction of a set of shared staff values at Longhurst Group. Created in partnership with colleagues across the organisation, these values provide the Group's guiding principles and have ensured a culture of collaborative working that has driven good practice, innovation and efficiency across the Group.
During her 25 years in housing, Lynn has been passionate about empowering colleagues and delivering award-winning staff engagement and communication. She brings a wealth of experience in business transformation and cultural change, governance and compliance, as well as delivery of front line services and customer and community engagement.
How session will run:
Group introductions
Facilitator to outline the importance of care raising key questions. Why it's important? Do we know who carers are in the workplace? Do we think we're supporting them?
Hayley Charlesworth - to talk about Harry / Harry's Pals and experiences
An introduction to the pledge
Split into different groups to talk about elements of the pledge with four different chairs.
We come back with our thoughts and actions to take forwards
Outline of the pledge:
Harry's Pledge – we're proud to care
As a sector, we are proud to care. From providing specialist care services to people living in our homes, we are committed to caring for our communities.
As organisations, we aspire to provide a supportive and caring work environment where people can flourish. With a changing demography we know there will be increased demand for this not only in the future but now, more than ever, COVID19 crisis has highlighted the vital work that carers do.
It has also shown very clearly that as a society we do not value carers, both paid and unpaid enough. Clapping weekly to celebrate their work was a fantastic show of solidarity and thanks, but it must be followed by changes in public policy for those who provide care.
The impact or COVID19 has forced us, as leaders in social housing to ask ourselves some difficult questions.
Are we really doing all we can to support our employees who are also carers? Are we building homes fit for people who need high levels of care, or routinely designing better accessibility standards in our general needs properties? Are we showing our frontline carers that we appreciate them enough?
If we're honest, some of our responses to these questions make us uncomfortable. We aren't doing enough. We can do more. This is why we've joined together as housing association CEO's, Chartered Institute of Housing, National Housing Federation, Placeshaper members, with the support of Inside Housing and our founding partner Harry's Pals, to make a renewed commitment to carers, called Harry's Pledge.
Harry's Pals is a trust that supports parents caring for children with disabilities by providing a counselling service. Run by Hayley Charlesworth, who has a five year old son called Harry, who has quadriplegic cerebral palsy. The trust is working with the housing sector to improve the lives of disabled people and carers.
We define a carer as someone who cares for someone with physical or mental health issues.
We are asking social landlords to sign up to and support Harry's Pledge, which focuses on for key areas to ensure that we honour and support those who need care and those who provide it, as we rebuild our organisations and our society.
You can show your commitment to carers by signing up to Harry's Pledge:
As Employers – We will be a carer friendly employer, doing all we can to support people with caring responsibilities to work for us by making our policies carer-friendly, ensuring they can work flexibly and fit paid work around unpaid caring work. We will provide platforms and support for carers to tell their stories, and tell us what they need from us as employers and housing providers.
In our workspaces – We will make the offices and community spaces we offer as accessible as possible. For example, we will install 'Changing Place' toilets in any new offices that are open to the public and also look to retrofit existing spaces.
In the homes we build – We will build more fully accessible homes. We will routinely consider accessibility in our general needs homes and how more of the homes we provide can b adapted for disabled people.
Training and career progression – We will work with partners to professionalise care further with clear qualifications/career paths, working to promote it as a valued career choice and lobbying for changes in pay and rewards.
Please get involved and make your pledge at harrys-pledge.org.uk