Harvard Prof Cass Sunstein on optimistic bias, brains and climate change
Description
One year ago, Misum hosted Cass R. Sunstein to talk about nudging and behavioral science. He is co-author of Nudge, which he wrote with Nobel prize winner Richard H. Thaler.
Now Misum is pleased to welcome him back to the SSE Aula for a new lecture: "How good-looking do you think you are? On optimistic bias, brains and climate change."
How good-looking do you think you are? How do people process new information? The human brain finds good news more credible than bad news, so that we are more willing to believe that we are healthier, smarter and more beautiful than we thought before.
Asymmetrical updating plays a large role in politics; it bears on people's beliefs about climate change, immigration, and political candidates. It also tells us a great deal about consumption patterns – and about how to influence people.
Cass R. Sunstein, a professor at Harvard Law School, was an advisor to US President Barack Obama. He is one of the most-cited legal scholars worldwide, a prolific writer and the author, most recently, of: #Republic: divided democracy in the age of social media, Impeachment: A Citizen's Guide and The economics of nudge.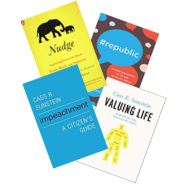 PROGRAM
Welcome: Professor Mette Morsing, Mistra Chair of Sustainable Markets and Scientific Director and Executive Director at Misum.
Introduction: Professor Lucia Reisch, professor for consumer behaviour and consumer policy at Copenhagen Business School, Department of Intercultural Communication and Management
Cass Sunstein

: How good-looking do you think you are? On optimistic bias, brains and climate change.
BIOGRAPHY
Cass R. Sunstein is currently the Robert Walmsley University Professor at Harvard, one of the most-cited legal scholars worldwide and a prolific writer. He is the co-author of "Nudge", which he wrote with Nobel prize winner Richard H Thaler. From 2009 to 2012, under President Barack Obama, he was Administrator of the White House Office of Information and Regulatory Affairs. He is the founder and director of the Program on Behavioral Economics and Public Policy at Harvard Law School. Cass Sunstein has testified before congressional committees on many subjects. He has been involved in constitution making and law reform activities in a number of nations. http://hls.harvard.edu/faculty/directory/10871/Sunstein
PHOTO CREDIT: Pete Souza (official White House photographer)
---
Questions about the Misum Practitioner Seminar
Please contact: Tinni Rappe, Communications Manager, Mistra Center for Sustainable Markets (Misum), Stockholm School of Economics, Phone: + 46 70 836 6641, Email: tinni.rappe@hhs.se


---
Frequently asked questions
Do I need to check in when I arrive at the event?
Yes. We ask that all participants register when you arrive. Simply give your name to one of the attendants or fill in the register.
Can I cancel my registration?
Yes. Please send us an email at elizabeth.barratt@hhs.se. We appreciate if you cancel at least 12 hours before the event, so that we can invite those who are on the waiting list.
What happens if I haven't cancelled and I don't turn up at the event?
We do not charge a "no-show fee". However, if you are frequently absent without previous cancellation, we reserve the right to transfer you to the waiting list if you register for an event that becomes fully booked. To avoid this risk, please cancel your registration if you cannot attend an event.
Can I transfer my ticket to someone else?
Yes. If you are able, we appreciate if you update your registration, and enter the correct name and contact information. (See the next question.)
Can I update my registration details?
Yes. Please send us a message to elizabeth.barratt@hhs.se.
The name of the person registered does not match the one to participate. Is it okay?
Yes. You can correct this information when you check in at the event. Or you can correct the name in advance. (See the previous question.)
Do I need to bring a printed ticket to the event?
No. Just give your name when you check in.