Description
Power Events Largest Event ever at The Horntyre Sports Centre on Sunday the 16th of September 2018
The grounds of the venue are vast and can therefore accomodate outside exhbitors and vendors. We will also have live entertainment we can confirm the following acts for our event are as follows
Drum Roll"..........what you have all been waiting for!
We are very excited to announce our special guest for the day of our event Hastings Steampunk Extravaganza September 2018
https://www.youtube.com/watch?v=IixvMyBsaMc&feature=youtu.be
ENTERTAINMENT OF THE DAY
"ALICES NIGHT CIRCUS"
**Her list of virtues is long: curiosity, courage, kindness, intelligence, courtesy, humor, dignity, and a sense of justice..........and cant possibly have more tea if infact she has had none ...
http://www.alicesnightcircus.com/allaboutalice/story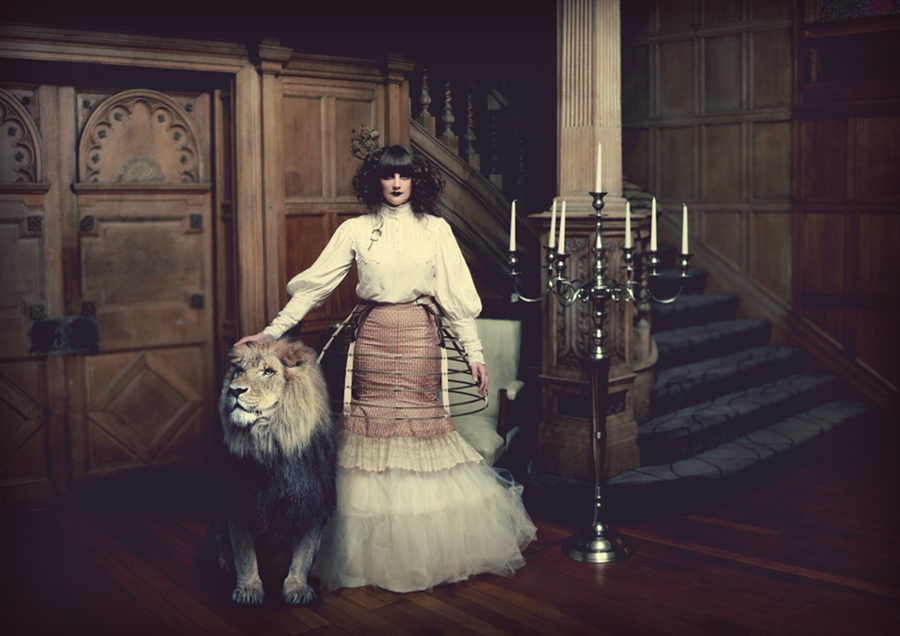 CAPTAIN OF THE LOST WAVES
http://captainofthelostwaves.com/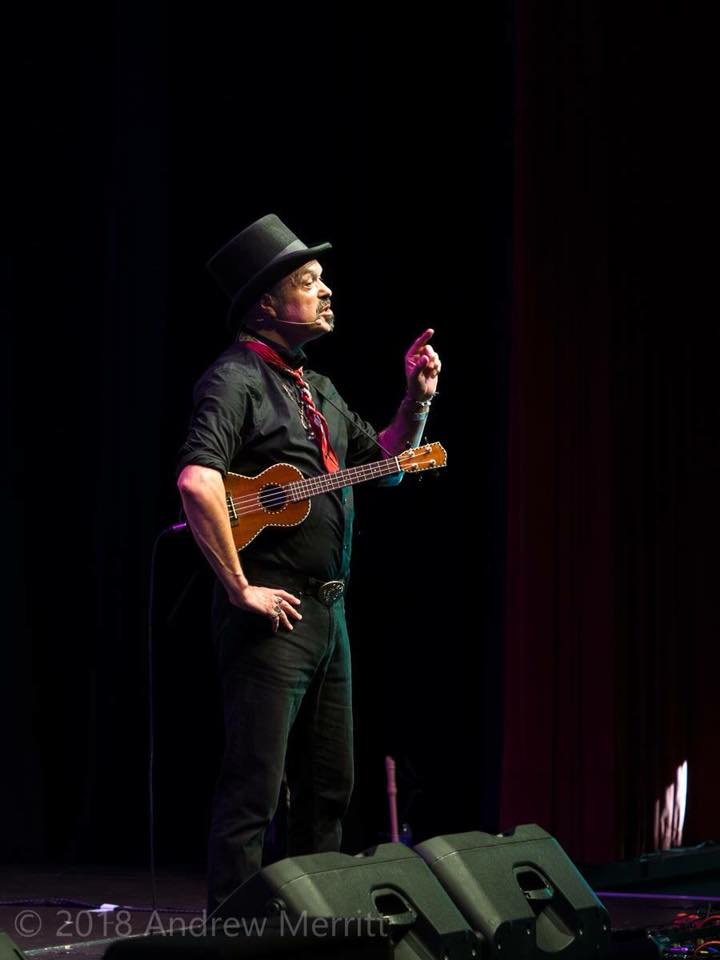 "CAPTAIN LEAKY" With his amazing steampunk CAMPER VAN
So much to explore.
https://www.facebook.com/steampunkvan/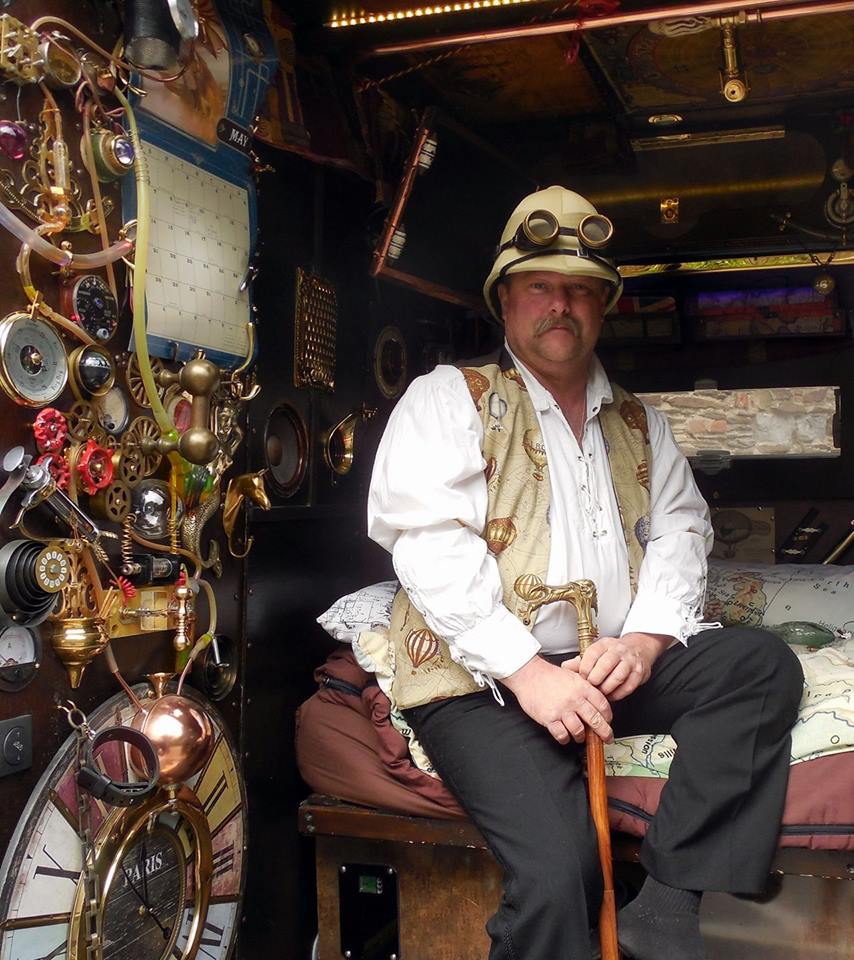 "ICHABOD STEAM"
Ichabod Steam, a time traveling inventor, a veteran of The the Great Animatronic War and the husband of thlate Dr Mary Shelley. Half man, half robot himself, the hapless halfwit bundles his way though countless Steampunk adventures from about 1814 through to 2142 when he disappears from history altogether. It is rumored he found his childhood friend and mentor,a time traveler himself, the great Leanado Da Vinci and traveled back to the Jurassic to change time itself after the emergence of Ravepunk.
https://www.facebook.com/paul.m.snook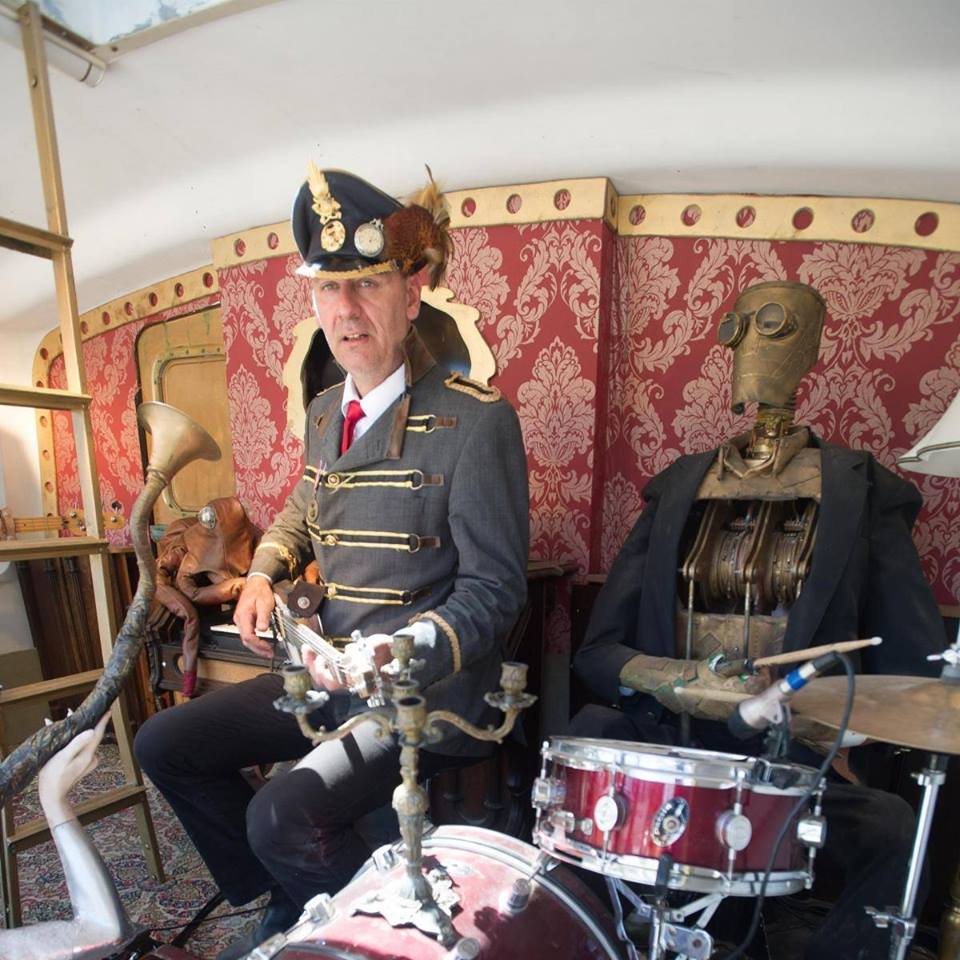 BADRA
Badra, a tribal fusion belly dance troupe will be performing throughout the day. Fancy taking part?
https://www.facebook.com/badrafusion/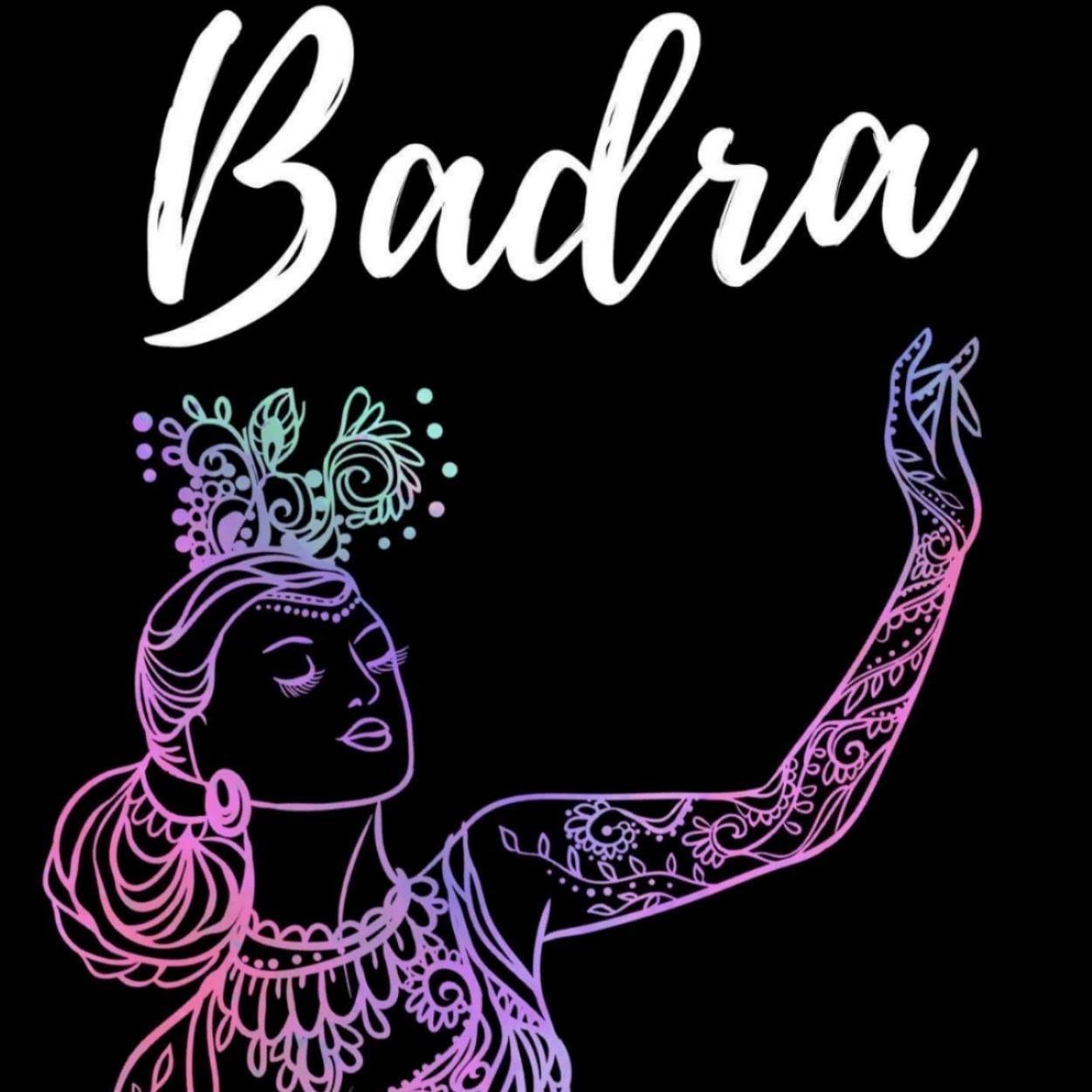 Sussex Ukulele Club
Ever wanted to learn an instrument and be able to play your favourite songs ? Got an old Ukulele gathering dust? Work shop
available on the day why not get involved?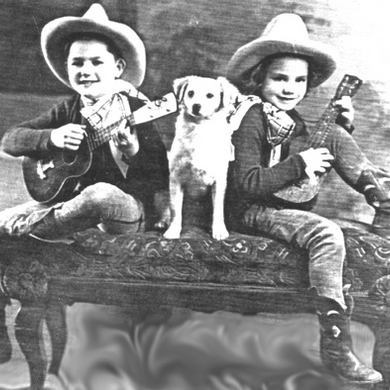 UNITY IRONBRIGHT
is a Steampunk Celebrant who creates and conducts unique weddings, funerals and naming ceremonies with A Steampunk twist will be there on the day for any of you wishing to tie the knot,or just confirm your unity or even available for christenings/
https://www.facebook.com/steampunkceremonies/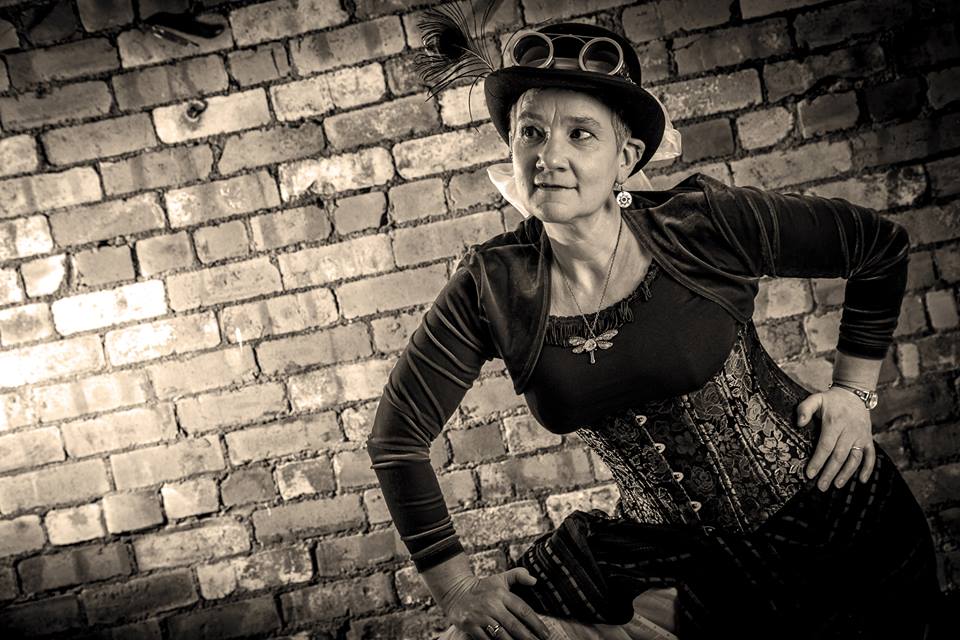 GAMES ON THE DAY IN OUR ANTICS TENT
**Beard & Moustache (Competition)
**Tea Duelling(competiton)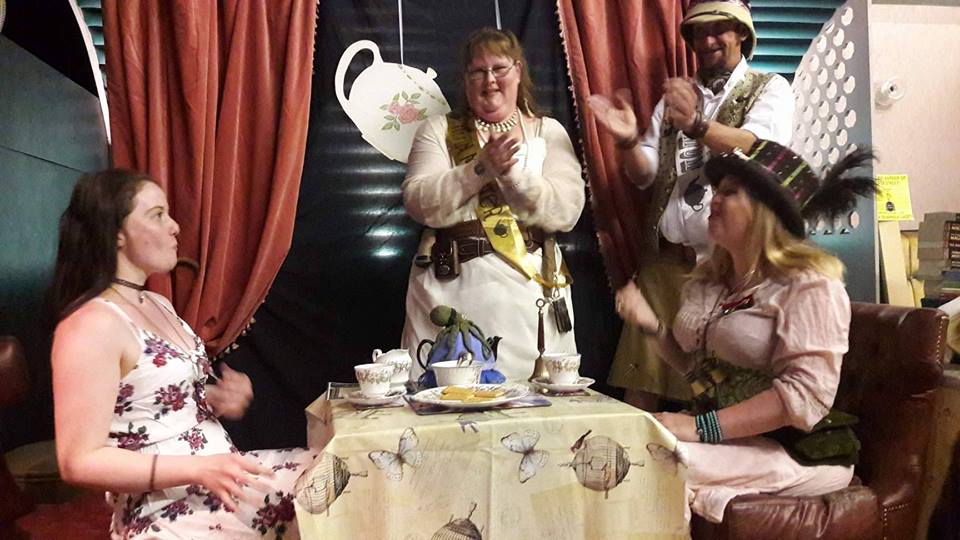 **Brolley Battle(bring your own)
**Tea Tasting Teaser
KISS LIKE ETHER
We are 'Kiss Like Ether' and are based in Stratford Upon Avon, Warwickshire and Southampton, Hampshire. We have many musical influences and our music is a melting pot of Electronic, Steampunk, Rock, Gothic, Dance, Pop Industrial, Experimental and Soundtrack.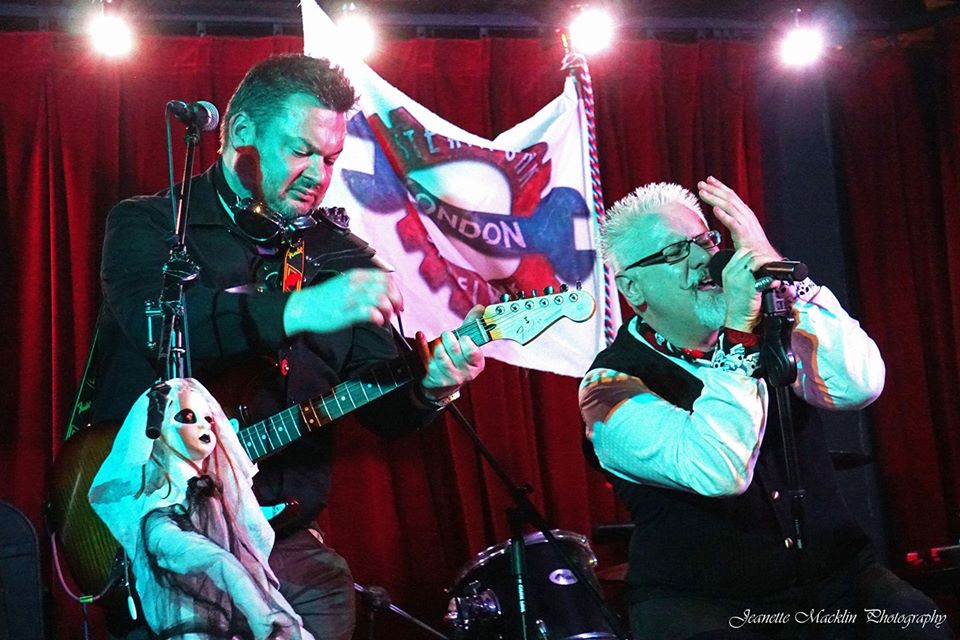 Our MISTRESS OF CEREMONIES
will be opening our event on the day.the stunning and intriguing
The Miss Jezabelle DuBois
Our Madame Compere of the day is
Madame Beatrice Peacock Brandflower ! ! !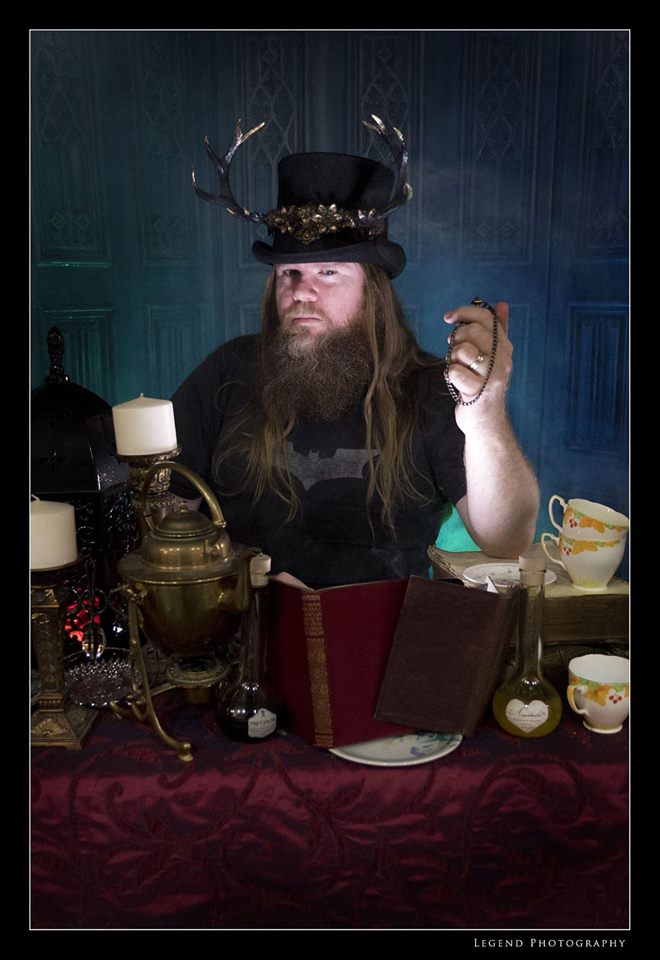 Power Events would like to introduce "Showmaster Lord Greggor Von Draven" on the day of our event Hastings Steampunk Festival 16th of September 2018

"Robin Stevenson" ea Art throught out day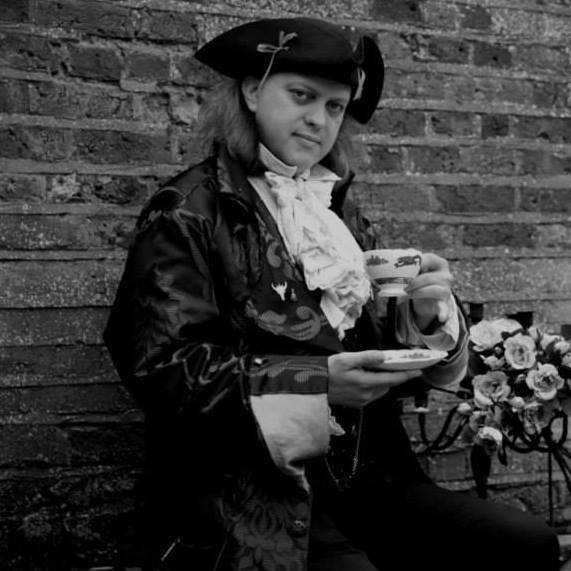 Tickets Entrance Only Event on the day.
TRANSPORT ON THE DAY
We have a 6 seat mini coach serving a shuttle service from
Hastings Train Station to The Horntyre Sports Centre running between the hours of 11am and 4pm running every 30minutes
FREE OF CHARGE.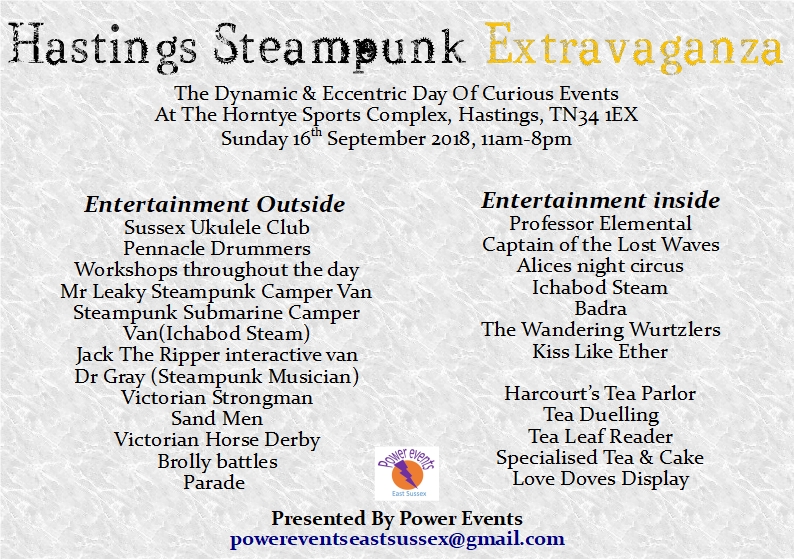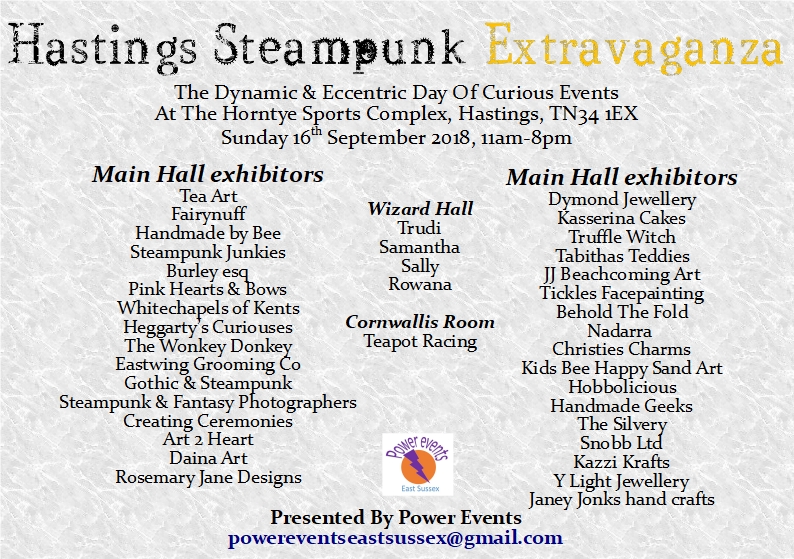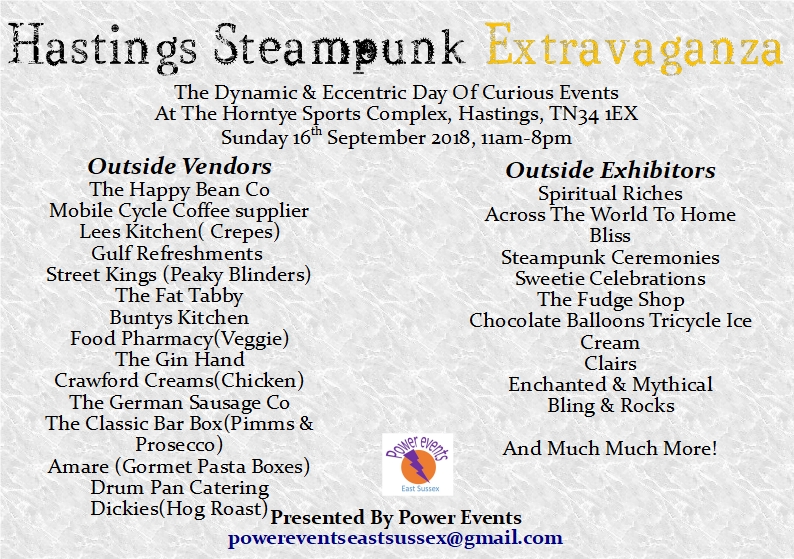 "HARCOURTS TEA PARLOUR"
In the Club Room
"HAVE TEA WILL TRAVEL"
Harcourts Tea Pop up Parlour at our Fayre on the 16th of September at the event.
Harcourts Tea Parlour is available to hire for the day at your event
we have a selection of over 40 teas,Gifts Bags,and delicious cakes for tea lovers.
TEA DUELLING BY LYNN will be available throughout the day
Also a trio of musicians to give that Lyons Corner House atmosphere.
https://www.facebook.com/HarcourtsTeaHouse/