Hattie Blotter and the Philanthropist's Groan- Wizard School Murder Mystery
Hattie Blotter and friends return to Hogweed's School of Magic and Mystery with devastating consequences.
About this event
Sorry this event is now sold out. To be the first to hear of future productions of Hattie Blotter and the Philanthropist's Groan' and access priority booking, please sign up for our monthly update ' The Bullet-In'
Join the multi award winning MurderedforMoney as they transport you to wizard school in the heart of the beautiful New Forest .
Has Professor Shake lost his powers?
Is Professor Mc'Monocle really in love with Ron Meazle?
Why is Malfry donating thousands to the school?
Who is about to die..?
Fundraising for Southampton Hospital Charity - £10 from every ticket sold will be donated to the charity to support their amazing work.
For lovers of Harry Potter and everything magical, come with us to Hogweed school as you help Hattie and her classmates uncover hidden secrets and evil plots, suspect spells and poisonous potions.
Dinner Ticket only: £65pp (7pm for 7.30pm start)
Day ticket: Including tea with the Professors, charm lesson with Hogweed's Professor Fitwig and Murder Mystery and Dinner Ticket: £95pp (4pm start)
Banquet Menu
To commence
*Chicken liver pate with paprika & tarragon, grape & pear chutney, focaccia croute
*Braised ham hock, fine herbs, mustard, garden salad, vegetable crisps, five spice
*Tartlet of caramelised shallots, courgette fritter, roasted red pepper jam (v)
To follow
*Oven roasted breast of chicken, thyme roasted potato, seasonal vegetables, tarragon sauce
*Glazed blade of beef, paprika onions, roasted vegetables, shallot & potato terrine
*Wild mushroom & tomato gnocchi oven baked, cauliflower, truffle & broccoli (vegan)
Dessert
*Dark chocolate mousse, raspberry fudge, jaffa cake ice cream (v)
*Rocky road crème Brule, orange & cranberry biscuit (v)
All dietary requirements can be catered for, including vegan, gluten and dairy free. Please specify at time of booking and we will be in touch
Why not make a weekend of it:
Day ticket + 1 Night Stay: £185 per person †
Day ticket + 2 Night's stay: £260 per person †
† This price is based on two people sharing a standard double or twin bedroom. and includes breakfast. Please note that a two night-stay only includes dinner on the Saturday night.
Please email Bridget@murderedformoney for room upgrade information
When booking, you will be prompted to confirm details of any dietary requirements to ensure that we can meet your needs.
event for suitable for ages 14+
To receive details of our forthcoming murder mystery events, sign up for our monthly email update at http://bit.ly/MurderNews . We will never give your details to a third party and you can unsubscribe at anytime.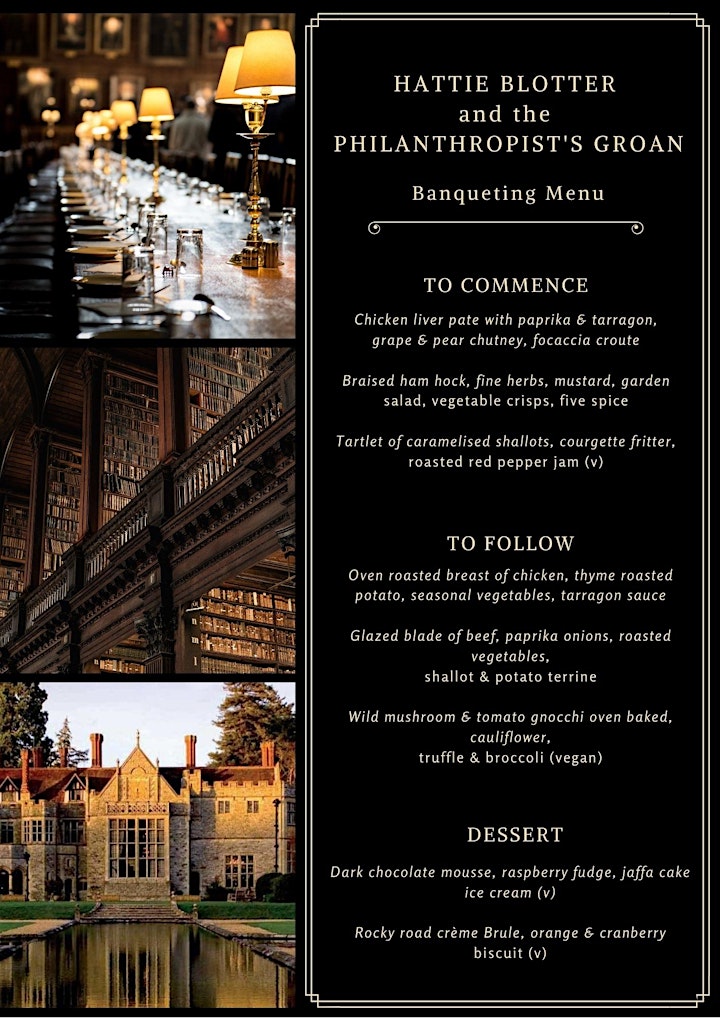 Organizer of Hattie Blotter and the Philanthropist's Groan- Wizard School Murder Mystery
MurderedforMoney is an award winning murder mystery theatre company providing murder mystery parties and team challenges in unique venues and across the virtual world. For more information please visit www.murderedformoney.co.uk. To be the first to hear about new productions, please sign up for our monthly email update 'The Bullet-In' at http://bit.ly/MurderNews
Tickets for Monster Murder Mystery for Southampton Hospital Charity (Piam Brown Ward) are available to buy from our website at https://bit.ly/MMMPiamBrownWard