HAVEN - 90|60 Worship and Workshop

Saturday, 3 June 2017 from 12:00 to 16:00 (BST)
Event Details
Haven 90 | 60 - Worship and Workshop
This event consists a 90 minute worship session and a 60 (2X30) minute workshop.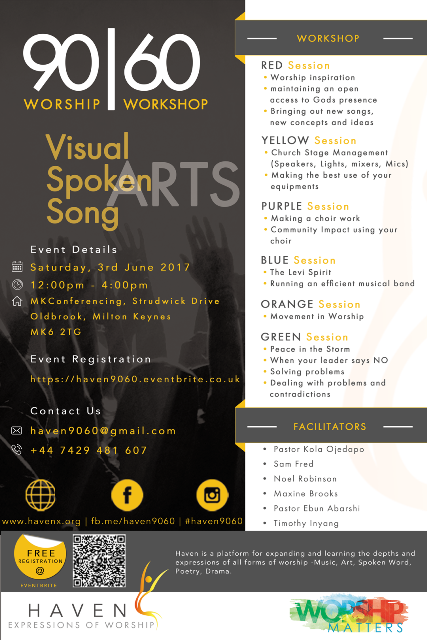 We will have in attendance prophetic artists and dance worshipers joining us to further enhance our worship experience.
In attendance would be Noel Robinson (Integrity Music worship leader www.noelrobinson.com), Maxine Brookes (Director of the Birmingham Community Gospel Choir www.birminghamcommunitygospelchoir.co.uk) and other facilitators.
A few of our friends are literal artists and we will be showing some of their art and literal work in a gallery on the day. We plan to to worship God with everything.
With the workshops, we aim to learn from the skills and experience of some of the leaders in differrent fields.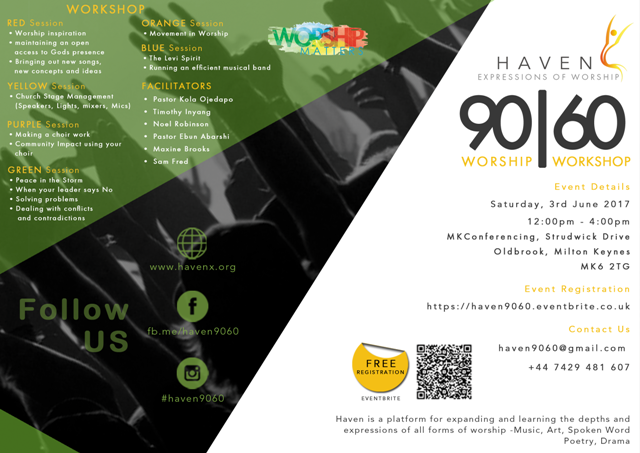 The event will be on Saturday, 3rd June 2016 and starts at 12 noon.
You are welcome to join prayers with the organisers and facilitators which will be from 11am.
Do come along with your questions, suggestions, thinking caps and ultimately your heart for worship.
We aim to have everyone blessed and recharged at the end of the 3-4 hour session.
At the tail-end of the event, there will be an open floor session where the facilitators and participants will be free to interact, exchange ideas and converse.
It promises to be worth every minute.
ChildCare -- We have two lovely ladies happy to look after your children. They are sunday school teachers in their church and are CRB checked (a doctor and a Pharmacist). Please send us an email for further details.
Do spread the word
Tell your friends and family,
Like us on facebook.
Volunteers are welcome.
See you soon.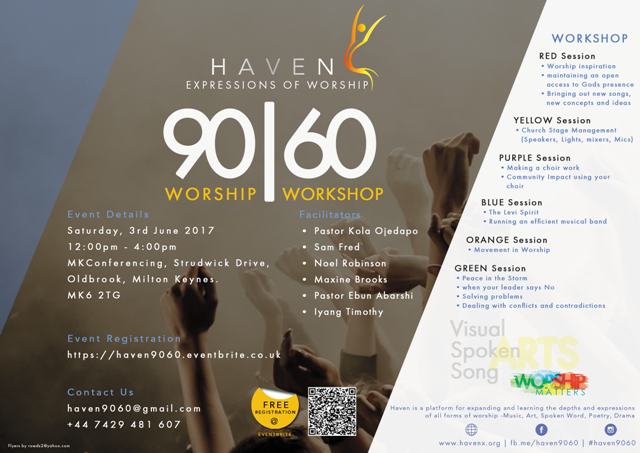 RED Session
--- Inspiration
1. Noel Robinson   
This session is facilitated by Noel Robinson and will open the floor for discussions bordering around being inspired to worship, maintaining an open access to Gods presence and how to bring out new songs, new concepts and ideas.
YELLOW Session
---Church Stage Management (Speakers, Lights, mixers, Mics)
1. Inyang Timothy Michael
This session looks into the technical aspects of your event / church service. Discussions will span across stage management/arrangement, stage lights/effects, PA systems and so on. We will talk about how to make the best use of your equipments and how to keep expenses to a minimum. There will be a practical session as there will be equipments to work on. If you have a query/question about one of your equipment, bring it in and we will talk about it.
PURPLE Session
---Making a choir work!
---Community Impact using your choir
1. Maxine Brooks
Are you a choir leader hoping to improve your choir?
Are you a choir member looking to improve your skills?
Are you open to discussions on how your choir can attract new members?
Then you should join Maxine and her team.
Maxine is a Pastor and an excellent facilitator and will be there with her team members to discuss with you one on one. It promises to be exciting as there will be some voice training on the day.
She will be looking forward to your questions so please come prepared.
BLUE Session
---the Levi Spirit
---Running an efficient musical band
1. Sam Fred
2. Pastor Kola Ojedapo 
We thought it might be important to have a common ground for instrumentalists and pastors to discuss how best to achieve synergy in the church service. Sam Sax is a seasoned Christian saxophonist who has played in gospel and secular circles. Pastor Kola is currently a church pastor with many years of experience as a member of a rock band ......yes ... CHRISTIAN ROCK BAND!! (if in doubt, have a look, click here and here) We believe the duo will make a balanced pair of co-facilitators. Hope you enjoy the season!
ORANGE Session
---Movement in Worship
1. Movement in Worship
Movement In Worship (MIW) is an international network of passionate, dynamic and creative worshippers.
We have danced and taught at Churches, events and conferences throughout the UK and all over the world. We specialise in releasing people into freedom to worship creatively with the whole of who they are; body, mind and spirit.
We see ourselves more as a community of worshippers, a family of families, rather than a ministry or organisation. MIW is led by Andy Au (Founding Director) and Kirsty Hallett (Director).
The origins of MIW were in the early 1980s when much to his surprise Andy Au found himself led by God to move and dance in worship. This was not the usual 'floaty feminine' style that often depicts worship dance, but a man moving as a man before God giving everything with no dance background – raw, powerful and strong.
The MIW team will run two thirty minute practical sessions.
Please come with comfortable shoes and clothing.
GREEN Session
---Peace in the storm
---When your leader says no
---Solving Problems
---dealing with conflicts and contradictions
1. Pastor Ebun Abarshi

We do realise that there are conflicts in life and sometimes it's not always "happy days". It's probably quite useful discussing how one can deal with these problems.
How do you keep the ball rolling in the midst of a storm within?
How do you handle conflicts and contradictions?
What do you do when your leader says "NO" when you feel it should be a "YES"
How do you pass a message across different audiences?
How do we de-escalate troubling scenarios, conversations and times?
Ebun is a mother, pastor and doctor with experience in palliative care medicine so we feel she would be able to help us wade through these delicate topics.
Remember, this isn't a lecture or a course. It's an open discussion.
See you there.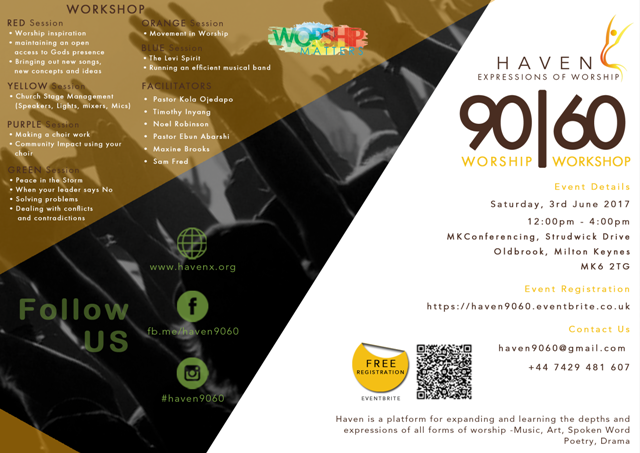 Do you have questions about HAVEN - 90|60 Worship and Workshop?
Contact HAVEN
When & Where

MKConferencing
Strudwick Drive
Oldbrook
MK6 2TG Milton Keynes
United Kingdom


Saturday, 3 June 2017 from 12:00 to 16:00 (BST)
Add to my calendar
Organiser
Haven is a platform for expanding and learning the depths and expressions of all forms of worship - Music, Art, Spoken Word, Poetry, Drama.