Havening Techniques® : Practitioner Certification Training

Saturday, 19 May 2018 from 10:00 to 18:00 (BST)
Event Details
The Havening Techniques® : Practitioner Certification Training
Stage One: Two-Day Course with pre-course online and course material.
£540
or for 
two stages of the certification process, 
please see the details on my website
Please email me before purchase as there is limited availability for this course
www.psychosensoryacademy.com
carolrobertsonphd@gmail.com
This two day course can also be attended for personal use or for people who already have certification and want to learn from Carol Robertson.  As well as learning about the science behind Havening and the different Havening Techniques will also be building key skills such as,
sensory acuity

observation calibration

submodalities

rapport, mismatching and more

language patterns

understanding high-speed change

how to explain havening simply

creative Havening

how other modalities combine

 'Havening, also known as Amygdala Depotentiation Therapy (ADT) is going to change the face of therapy across the world. What used to take months to cure can now be done in minutes in most cases: PTSD, trauma, pain, depression and many more disorders. The initial study recently completed by King's College London shows the remarkable effectiveness of this extraordinary set of processes. This is not to be confused with other psycho-sensory techniques, TFT, EMDR, etc. Whilst they are very good, Havening is light years ahead. If you want to be an excellent therapist, you can't afford not to learn this breakthrough approach.'
 Paul McKenna, Ph.D
This training is ideal for people who are involved in the personal development and mental-health fields, such as coaches, psychotherapists, hypnotherapists, NLP Practitioners, counselors, CBT therapists, psychologists, medical practitioners, complementary practitioners, TFT, EFT Practitioners,  Equine-Assisted Therapists, etc.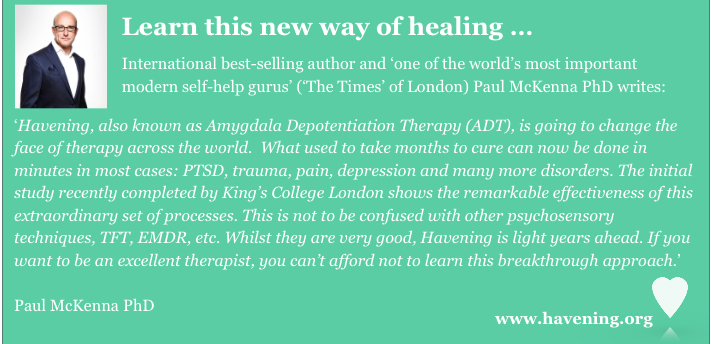 Join me at this wonderful relaxing location close to Edinburgh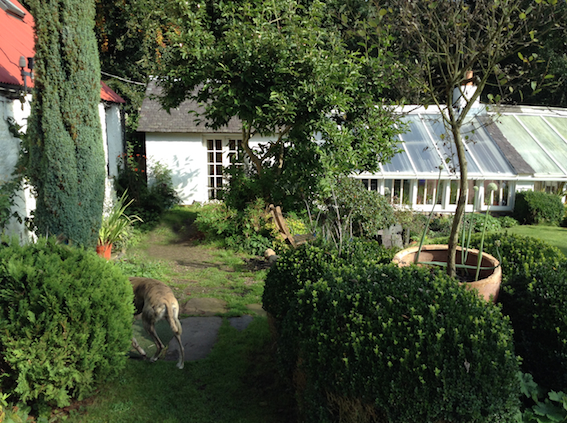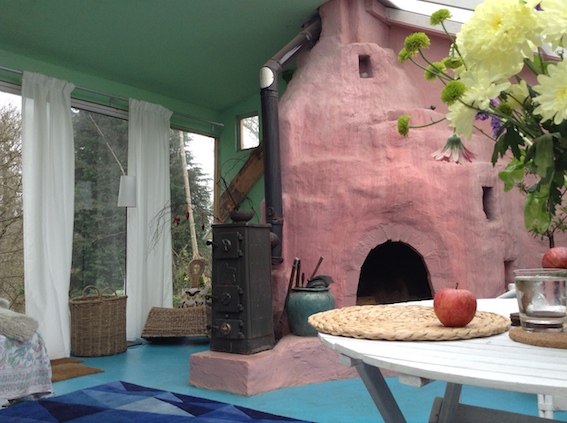 Dr. Ronald A Ruden, the creator of Havening describes the processes as a  'New way of Healing' and he explains that 
'When an event or experience is perceived as traumatic or very stressful it becomes immutably encoded, often with life-altering consequences. However, recent research from the field of neuroscience has shown us how it's possible to modify this encoding. The Havening Techniques are methods which are designed to change the brain to de-traumatize the memory and permanently remove its negative effects from both our psyche and body'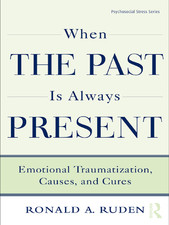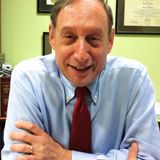 Imagine the difference when you  
have learned this range of new scientific methods and have discovered how simple they are to use, and how they can generate fast and effective change
can share the methods with your clients to empower them to help themselves
discover how beautifully Havening dovetails and enhances what you already do well
have experienced how a memory that causes a stress response when triggered can be altered  so that even when the memory is triggered the response is a calm one
experience how this electro-chemical change alters the landscape of the brain and how this changes behaviour for the good
see, hear and grasp how these methods work
have gained a solid undertsanding about the neurological process of encoding in the amygdala, how people's behaviours are shaped by the electro-chemical response to triggers, how the havening processes cause depotentiation (delinking) to take place and how these neurological changes alters the electro-chemical responses to triggers and the landscape of the mind and how the person is then enabled to shape their behaviour in a way that is helpful to them
learn why delinking the seed that is at the base of the problem is key to so much
hear and experience how to find that key 'seed'
new scientific methods which are suitable for; Anxiety, Panic Attacks, Abandonment Issues, Fears, Phobias, Distressing Memories, Post Traumatic Stress Disorder (PTSD), Anger, Grief, Guilt, Cravings, Compulsions, Emotional Eating, Depression, Stress, Irritable Bowel Syndrome (IBS), Confidence Issues, Chronic Pain and more ..
can use all The Havening Techniques confidently and creatively
have gained your Diploma of Certification and are practicing as a Certified Havening Techniques™ Practitioner and are represented on the originators website
Gaining certification: the three stages
Stage 1: Two-day course & online material
The two-day course (supported with online pre-course material) covers the science and practical hands on skills and is the first stage of working towards gaining certification. Educational packs written by the originator Dr. Ronald Ruden and the developer Dr. Steven Ruden will be provided on the course. 
And prior to these two days Carol will provide online learning material that you can access before the course. This valuable resource is unique to this course and gives you a head start and enables you to use the two practical days to gain lots of confidence through actually doing the processes and experiencing change for yourself. It also give you time to consider these new ways of thinking and working and prepare any questions.  After the two days you can continue to access the online material and use your educational pack, your own notes and experiences to begin to practice. After the two-day hands-on course you begin stage two as described below.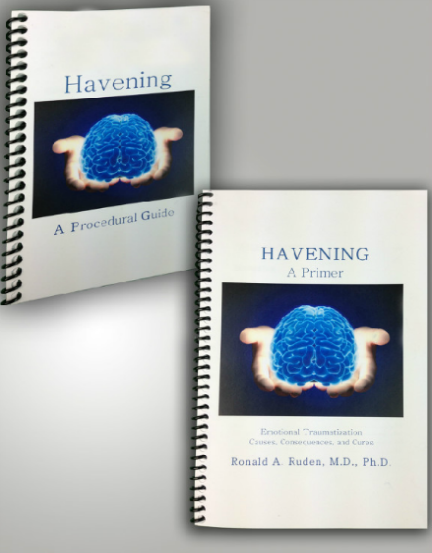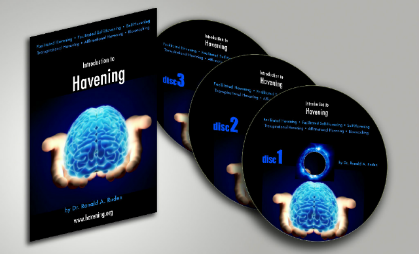 Stage 2: Practice and supporting evaluation
Fill out the practitioner application forms

Sit the online science exam

Write a professional profile

Document thirty case studies which demonstrate The Havening Techniques™

Make two videos of yourself using The Havening Techniques™ with two different people. These digital/video films must be a minimum length of 15 minutes and a maximum length of 60 minutes. 

Once everything is completed, send it to Carol Robertson in one clearly labeled package (USB stick or via Dropbox)

Carol Robertson PhD will make an evaluation of your submitted work
Carol sees this stage as being particularly important for the practitioner. She provides online support material in response to your questions, and a private platform to discuss with other practitioners who are at the same stage. 
If after viewing the case studies, written material and videos the trainer, in her sole discretion, determines the applicant has demonstrated a level of competency in The Havening Techniques™ they may then continue the program and do the final stage to certification.
If after viewing the case studies and videos the trainer in her sole discretion determines the applicant has not demonstrated a level of competency in The Havening Techniques™ to continue in the Program, then the applicant will be notified. In such event, the program director may ask the applicant to submit additional videos. The exact number of which to be determined solely by the program director or the program director may make recommendations to the applicant to bring the applicant up to speed. In either event, it's possible that the applicant will be disqualified from the program. In that event the applicant will be refunded £149.
Stage 3 : Ethics, Legal Principles & Risk Management Strategies
This online comprehensive course is designed to assist you in understanding the core ethical issues and related legal principles in the practice of the Havening Techniques™. This course also provides you with essential risk management strategies and tools which can help reduce the potential legal liabilities inherent in offering an innovative approach like the Havening Techniques™ to clients. By completing this course and passing the multiple choice quiz you receive a Certificate of Completion in Ethics & Legal Principles in the Practice of the Havening Techniques™ and complete a requirement for certification as a Havening Techniques™ practitioner. This certificate has great value to you as a practitioner and also to those you serve. 
Once all of your documentation has been reviewed and the Practitioner Agreement is notarized and returned to you with your certificate you will become a certified practitioner. A listing will make you part of our referral network and you may also link your business site to ours (*annual listing fee of $99 will apply upon each anniversary to maintain updates to your listing as well as annual renewal to search engines, etc).
Benefits of Certification
Diploma of Certification
Listing on the Havening.org website as a Certified Practitioner
Reduced fees to webinars and online conferences (50%)
Access to master classes.
Access to liability insurance if needed.
Being a Facilitator at conferences
Updated new science as it becomes available.
Access to Power Point Presentation by Dr. Ruden
Material Support
Quarterly Newsletter
* Price of £840 includes all the fees for all 3 stages of the certification process *
About Carol Robertson's training style
Particpant led, experiential modern trainings designed to give you a very firm foundation, a strong grasp of the principles, new tools, how they work, the techniques and how to be creative with them and the science and how it relates to practice. Carol with the group and training assistants April 2015.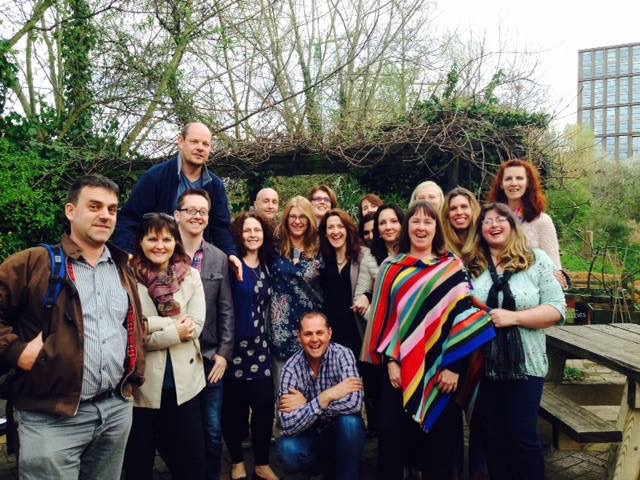 To find out more about our talented teaching team do look at my website www.psychosensoryacademy.com
Testimonials
"A huge thank you for your leadership and contributions this past week. I found Havening to be an extremely powerful new tool.  I love the science meets psychology angle side to this transformational approach. ....I look forward to our call and thank you again for your passion, creativity and commitment to a superb workshop! "
Platinum Property Partners 
BE MORE - DO MORE - HAVE MORE - GIVE MORE 
Following Carol's truly excellent course last weekend my ability to utilise Havening with clients seems to have mysteriously improved...
This morning I did a version of what I guess you might call outcome havening with a client. He had been traumatised by his wife leaving him several decades ago and still suffered with recurring sad/angry/regretful/self-critical thoughts about it all on a daily basis.
So we did EH on the moment he was 'hit' by his wife leaving him. That helped. We did TH on the word that came up for him 'selfish'. That helped.
Then he got a bit stuck, the SUD wasn't reducing. Normally at this point I would have switched to some other modality, NLP, hypnosis etc. But I decided to stay with havening.
So we revisited the EH but differently. This time we both strapped on ghostbusters outfits and revisited the moment of the 'trauma' together. Whist he havened away I got him to enter into the scene as his current (older, wiser) self and go up to the younger 'him', send a beam of love from his heart to his 'younger' heart, give himself a big hug and got him to reassure his younger self, if this makes sense... Forgiveness, reassurance, acceptance, all came up to TH.
SUD now 0, tears streaming down his face, he is softer, like a great weight had been lifted...
Oh and we also sorted his fear of flying, fear of driving at night, anger at other people's stupidity, resentfulness and a few other things, all in little 20 minute sessions with tea breaks...
Many of these things were linked, as you might imagine...
I like to think I would have got these results using the stuff I already know and I think I would have. Havening was faster though I think, more elegant.
I am not sure I would have persisted with the havening modality if I hadn't attended Carol's course last week. I am glad I did. I have seen many trainers through the years some of whom are brilliant, Richard Bandler for example. I can see some of the Bandler style (and training) with Carol when she trains, though she is very much her own person. She was present, AWAKE, her sensory acuity is some of the best I have seen, and she is creative and totally determined to give the delegates her very best.
Her very best is very good...
Steven Tromans
Justbewell
No 1. Harley St
London
'Throughout my journey of self discovery I have attracted lots of amazing insightful transformational tools into my life but there was something missing that prevented me putting myself out there 'professionally' as a therapist. That is, the fact that 'touch' is  forbidden or perceived as inappropriate when it is  something that  I had naturally and successfully done to my four children from the moment I first had the privilege to hold them and indeed even when they were in the womb …..to stroke them lovingly to reassure them that they are  loved and that  the world is a safe place. My creative side has  been scanning the neuroscience world for years for  information to put in a film script I am writing  to transform the perception of mental heath….so imagine my delight when I came across 'Havening' and Carol's Training. It was the biggest piece of missing jigsaw of an image of a bridge to a world  that says "welcome home to who you really are and always have been, but maybe you forgot". Thank you Carol  for displaying the natural beauty of it in such a congruent way.  You were my angel to the  gateway to haven.
In love and light'
I'm struggling to put into words how fabulous I felt the weekend was. 
You are most definitely one of a kind: one of the most down to earth,
fun, caring people I've ever met and so genuine with it. 
It was a surreal weekend and I felt a dreadful sadness yesterday when
I knew it was coming to an end. The location was perfect also - gosh girl
did you manage to get it all 'spot on' or what??
I'm so glad and I know I've made the right decision to do stages 2 and 3 and
over the moon that I'll be continuing on my Havening journey training with you. I feel I 
couldn't be in better hands: with your knowledge on Havening and being so approachable 
you're definitely the right trainer for me. ... Thanks again for a weekend that I will never forget. It is way up there with one of the best weekends I've ever 
spent.
Trudy Keating
I attended Carol Robertson's havening practitioners course on the 4th & 5th of October and was so impressed and inspired with not only the content of the course but with the way Carol delivered it. Carol is a brilliantly natural teacher who's conversational style makes learning straightforward, fascinating and fun. I am new to the psychosensory academy and had been a little wary of being out of my depth with this course however the relaxed friendly environment Carol has created combined with her unique teaching style quickly dispersed all my doubts!  The course was very thorough and definitely good value for money.  I would recommend this course wholeheartedly to anyone looking to learn and be confident in the using havening techniques. 

Kate Ritchie
Dear Carol
Thank you for sharing your beautiful home at the weekend. It was a joy experiencing training withyou in such a wonderful place and with such lovely like-minded people. 
I loved your training style, open, fresh and truly inspiring.
Lucinda
Hi Carol,
Firstly please let me say a big thank you for introducing me to the Havening technique this weekend.  I got a massive amount from the training and from the way you delivered the course. I now know what was missing from my hypnotherapy training…. 
 It also had a profound effect on me and I am still completely amazed how the process made my hip pain disappear - that I had been plagued with for four years from the car accident. I am so excited about exploring it further by completing stage II.  
Thanks again for introducing me to this- I don't think a technology has made me so excited about its potential!
Barum
Barum did his science review faster than anyone before him! And passed it with flying colours. 
FAQs
Where can I contact the organiser with any questions?
Email Carol at carolrobertsonphd@gmail.com
Carol Robertson PhD
Psychosensory Academy
Thank you
When & Where

Eskhill Cottage
Roslin
between Roslin and Auchedinny
EH25 9QW Edinburgh
United Kingdom


Saturday, 19 May 2018 from 10:00 to 18:00 (BST)
Add to my calendar