This networking event is only for businesses based in the London Borough of Havering. (plus a select few from neighbouring boroughs)
About this event
Welcome to the second Building Legacies meetup event of 2021 for Havering. For the first time we will be welcoming a few visitors form neighbouring boroughs.
Working virtually during 2020 became part of everyday life but it's time to adapt and move forward. This event will provide a facilitated, peer to peer supportive space for our SME clients affected by the Covid-19 pandemic and BREXIT.
Outline
Many businesses are continuing to experience extreme challenges. It's important that Havering businesses remain connected and continue to support each other. . Due to the success of previous events facilitated in 2020, we will be looking to further grow this virtual meetup event through 2021. East London Business Place provide free business support through the Building Legacies Programme within the Borough
It's important to keep morale up and continue to support our peers in the business world. Previous events have resulted in good ideas being shared, good news stories spread as well as some new business being generated.
The Time is Now to Grow The Group
The success of any event is down to the people that attend. We already have a great core group of businesses that return every month.
There are approximately 9,000 SME's in Havering, and it would be great to see some of those companies attend our next event. At the beginning of the year, it was agreed to help grow future meetups. When you register on this event, consider who from your personal network could benefit from joining us.
Guest Speaker: Karen Habershon from KH Chiropractic
Who Should Attend:
Business owners in Havering, who have found it difficult to get value out of virtual networking.
Those who are looking to share and learn from their experiences of running a business wherever they may be on their journey, and are keen to use peer group support to help strategise their business.
Havering SME's who are looking to network within the borough and access free business support through the Building Legacies programme.
This networking event is only for businesses based in the London Borough of Havering (plus a select few from neighbouring boroughs)
All you need to do is sign up and you'll be sent a link to join via Zoom closer to the time.
We look forward to seeing you (virtually) at the event!
____________________________________________________________________________________________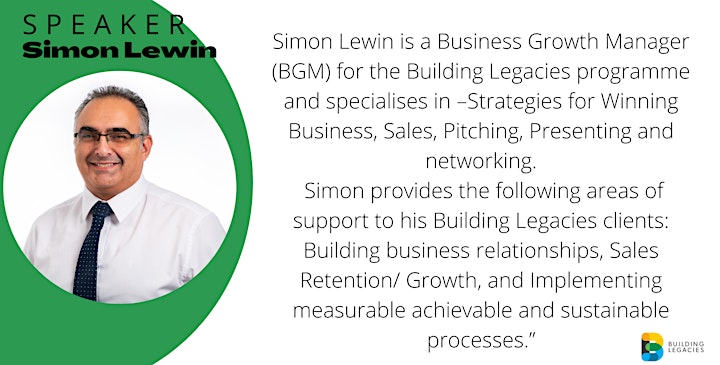 Follow Simon on Twitter
___________________________________________________________________________________________
FAQs
Can I attend this event if I am not a Building Legacies Member?
Yes, if you are an SME registered business and have a London trading address, complete the registration form  and once we have received your order, we will contact you to finalise the registration process.
How many people from my team can attend the event?
2 maximum
Do you record your events?
'Yes we do, as part of our marketing strategy, we regularly record and take photos during our events to use on our website, email newsletters, social media and other promotional materials. We reserve the rights to upload to our website and share with others.
Is there a cancellation charge?
No, however as we cover the full cost of running the event, we would appreciate 24 hours' notice or that you cancel your ticket 24 hours before the event, which will allow another business on our waiting list to take the space or for us to reduce our costs.
Organiser of Havering Business Community Support Meet-up
Building Legacies is a fully funded enterprise growth and procurement support programme which provides tailored solutions for London-based SMMEs seeking competitive business advantage.
The programme, a partnership of private and public sector organisations, is a flagship local business growth and procurement support project of the East London Business Place (ELBP) and Newham College of Further Education's Centre for Innovation & Partnerships (CIPs).
Part-funded by the European Regional Development Fund (ERDF), the purpose of this initiative is to deliver a sustained support programme tackling gaps in SMEs' growth, innovation, contract-readiness and knowledge of procurement and supply-chain requirements.