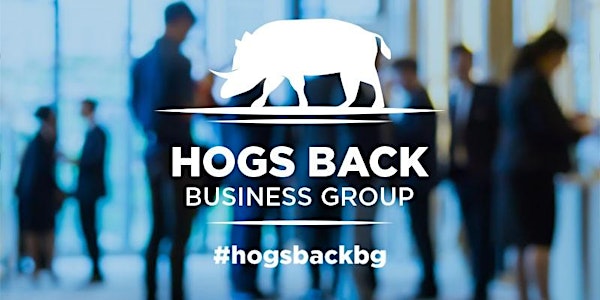 The Hogs Back Business Group (HBBG), is an independent and collaborative group for businesses based in the Guildford and Farnham areas
About this event
Join us at the Hogs Back Business Group meeting on Wednesday 1st September 2021
How to use your circle of influence to grow your business
Join us on Wednesday 1st September 2021 when we will be welcoming Ian Martin from Enterprise M3 Growth Hub who will be sharing some of his top business tips.
Tapping in to your Circle of Influence can be critical for many businesses in their early days so that they can go on to to flourish and grow. The old adage says that we do business with people we know, like and trust and yet many businesses shy away from approaching those very people. Ian Martin will be sharing some best practice tips on how to do that.
ABOUT THE SPEAKER
Ian Martin joined the Enterprise M3 Growth Hub 4 years ago and since then he has worked with over 400 Scale Up or early stage Start-up businesses Limited Companies up & down the M3 Corridor to help provide advice & support.
Prior to his current role Ian had a highly successful 35 year Corporate Career, most spent in the role of Managing Director for a wide range of Businesses and Sectors both in the UK, Europe and Far East.
He then left corporate life and for the last 15 years or so become a serial entrepreneur and set up several businesses which he either ran himself or had others run on his behalf. He combined this with a 1 Man Business Consultancy advising SME's, helping them to scale up and grow.
Join us on 1st September 2021 to network, learn and find out more!
https://zoom.us/j/94552934356?pwd=ZU5hcXRRbyt4Tk5VOFlDZTBxYzFOUT09
Meeting ID: 945 5293 4356
Password: 985986
MEETING FORMAT and TIMING
🕗 Starting promptly at 8am, but open from 7.30am for conversation in small groups.
8am
👉 Welcome and 10 second introductions (Name, Business Name and Business Type)
👉 Introduction to Presenter, Speaker Presentation and Q&A (15 to 20 mins)
👉 Networking in small groups in Breakout Rooms (2 or 3 x 8 mins - numbers dependant)
👉 Round Up, Next Meeting date and speaker details
9am – Meeting ends
Meetings are hosted in Zoom, participants are invited to share their name, business name, contact details in the Zoom Chat during the welcome and 10 second introductions, or in the Round Up at the end of the meeting.
Questions to the speaker can be posted into the Chat facility during the presentation.
We ask that you refrain from using the Chat facility for posting your own contact details during the presentation