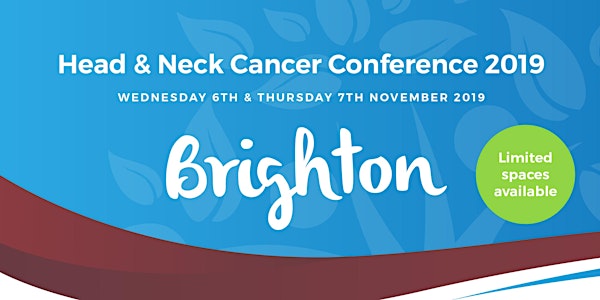 Head & Neck Cancer International Conference 2019 (#HNCCONF2019) Day2
Location
Hilton Metropole Hotel
Kings Road
Brighton
BN1 2FU
United Kingdom
Description
Day 2: Patients & Carers Day
After the success of the last three years it is with great pleasure that you are invited to attend the 2019 the conference in Brighton (#HNCCONF2019)
The conference will be of interest to all our health professionals with an interest in Head and Neck Cancer, as well as clinical/medical oncologists, radiologists, pathologists and dental teams.
The conference will offer an invaluable opportunity for you to discuss the issues retaining to 'The Patients Journey in to Survivorship' We will continue to review how the latest services and treatments can transform Head & Neck Cancer.
At a time when Health Professionals are under ever more severe pressures, the conference will examine the opportunities for everyone involved to help improve the Patient Experience and Outcomes. We will explore potential ways of enabling all of us to think differently about how we learn and what we can achieve.
The conference will deliver an exciting mix of international keynote speakers, exhibitions and fringe activities themed around the patient and carers Pathway/Journey and will invite delegates to Think Differently as a result.
Speakers will be invited to build their presentation around their personal experiences, speakers have been grouped to explore counter or complementary positions within a strand to further engage the audience. The participation of patients, carers and health professionals in all aspects will form an integral part of the conference.
Target Audience
Patients, Carers, Survivors, Family, Friends and anyone who has an interest in Head & Neck Cancer
What someone said about 2018 conference…
"Just wanted to drop a quick email to say what a fantastic conference it was a few weeks ago. I know from organising events how much work goes into the arrangements and detail, so a MASSIVE well done you for what you achieved. The speakers were so so good, and such a good variety.
Look forward to 2019 conference"
Sponsor
Contact Details
Sharon Curtis, Conference Director
Tel: +44 (0) 7572 493 874
email: sharon@ccconsultant.co.uk