HEADS UP: Our History Events Stretch Out From September Into December 2021
We've got a number of events planned, many of which are yet to be posted for booking. You can express your interest to be updated once live
About this event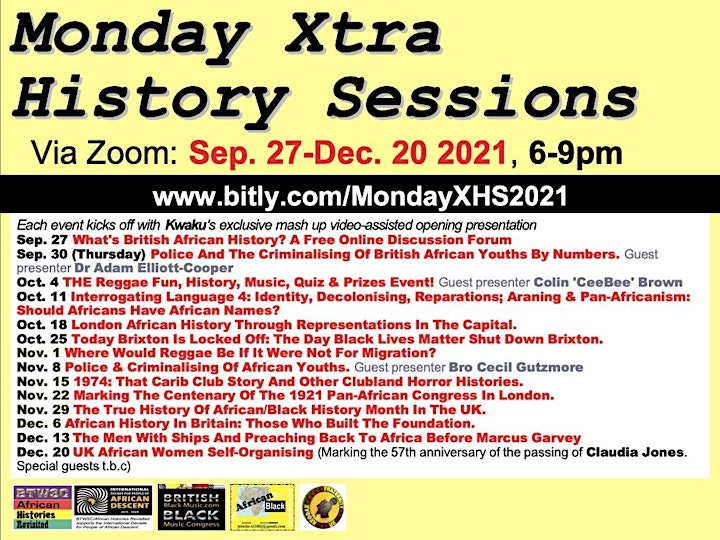 If you are interested in any of these Zoom events that aren't yet live, register your expression of interest, in order to be informed, once the bookings are live:
BBM/BMC, BTWSC/African Histories Revisited and partners will deliver two programmes during the AntiUniversity Now Festival Sep. 4-10 2021. We'll repeat 'Music For Causes' (Sep. 6), and 'From Africa To UK/US Popular Music' (Sep. 9). Check: AfricanHistoryPlus.eventbrite.com or BBM.eventbrite.com.
AFRICAN HISTORY SEASON 2021
We're repeating much of last year's Monday Xtra History Sessions, plus some additions. It takes place on Mondays Sep. 27, Sep. 30), Oct. 4, 11, 18, 25, Nov. 1, 8, 15, 22, 29, Dec. 6, Dec. 13 and Dec. 20 2021, 6-9pm. Check for updates at: https://AfricanHistoryPlus.eventbrite.com
You can book individually or get 30% off if you book the first 11 of the events in one go, by booking MondayXHS2021 1st 11 Events Discount Hub here. Plus 35% off discount by booking all 13 events in one go here.
Confirmed programme:
Sep. 27 What's British African History? A Free Online Discussion Forum. £Free
Sep. 30 (Thursday) Police & Criminalising Of African Youths guest presenter Dr Adam Elliott-Cooper - click here to book
Oct. 4 THE Reggae Fun, History, Music, Quiz & Prizes Event! guest presenter Colin 'CeeBee' Brown - click here to book
Oct. 11 Interrogating Language 4: Identity, Decolonising, Reparations; Araning & Pan-Africanism: Should Africans Have African Names? - click here to book
Oct. 18 London African History Through Representations In The Capital - click here to book
Oct. 25 Today Brixton Is Locked Off: The Day Black Lives Matter Shut Down Brixton
Nov. 1 Where Would Reggae Be If It Were Not For Migration?
Nov. 8 Police & Criminalising Of African Youths 2 guest presenter Cecil Gutzmore - click here to book
Nov. 15 1974: That Carib Club Story And Other Clubland Horror Histories
Nov. 22 Marking The Centenary Of 1921 Pan-African Congress In London
Nov. 29 The True History Of African/Black History Month In The UK
Dec 6 African History In Britain: Those Who Built The Foundation
+
Dec. 13 The Men With Ships And Preaching Back To Africa Before Marcus Garvey
Dec. 20 UK African Women Self-Organising (Marking the 57th anniversary of the passing of Claudia Jones. Special guests t.b.c)
BTWSC/African Histories Revisited events can be accessed via:
AfricanHistoryPlus.eventbrite.com
and our partner
BBM/BMC (BritishBlackMusic.com/Black Music Congress) events can be accessed via: BBM.eventbrite.com
Follow us on Eventbrite.com. ALL 2021 events are via Zoom
Organiser of HEADS UP: Our History Events Stretch Out From September Into December 2021
We organise events with other partners around black music, culture, business and copyright.
Please note that because of non-attendance, we over-book all free events, so entry and seating is on a first come, first served basis.
Please note that we photograph and/or film/video our events. By attending, you are deemed to implied your conscent. NO Filming/Video recording events by attendees without prior permission from organisers.
All our events are listed at: www.BBM.eventbrite.com