Headspace and beyond: Wellbeing in Schools

Friday, 16 November 2018 from 09:00 to 15:15 (GMT)
Event Details
Wellbeing of staff is a key priority for Leeds City Council and we are aware of the serious effects that the stresses and pressures of work can have on the wellbeing of Heads, Senior Leaders and staff in schools. 7 years ago Leeds City Council recognised that there was little in place that responded directly to the needs of Headteachers to assist them in managing their own wellbeing and resilience and thereby enabling them to support their staff and recognise their wellbeing needs. Initially the focus was directed more towards helping Heads help the staff in their schools.
As a forward thinking Council and Working in partnership with the Education Support Partnership Leeds council funded and trialled Ed Support's Headspace Programme in Leeds for 20 Headteachers.
The feedback from those Heads was so positive that it was decided to continue to offer the programme on a yearly basis and we have currently just completed our 8th programme together. This equates to over 150 Headteachers having been able to benefit from this excellent support and we hope to be able to continue to offer this year on year.
We are really proud of the success of the programme here in Leeds and so with the Education Support Partnership we are holding a Wellbeing Showcase to celebrate and build on this success and provide Heads, Senior Leaders and Governors with information, advice and support to help sustain the wellbeing of all staff in schools.   
 The Showcase will cover:
Key note speeches from Chief Executives from LCC and Education Support.

Presentations from a Headteacher about what Headspace has meant for them and what they've done in their schools to promote wellbeing.

Practical wellbeing workshops

Presentations of what wellbeing help, support and services are available to Headteachers and their staff.

A chance to network and visit the wellbeing services exhibition.

Free lunch!!!!
The Showcase will be hosted by Annette Bradley, from Leeds City Council and Maggie Hurd, from Ed Support
Keynote addresses by:
Tom Riordan, Chief Executive, Leeds City Council
Julian Stanley, Chief Executive, Ed Support
The workshop options are as follows:
Workshop 1
Occupational Health and Physiotherapy
Trainer: TBC
This workshop aims firstly to raise awareness and understanding of some of the issues around mental health and wellbeing that you as head teachers need to be mindful of, not only for yourself, but also for spotting early signs and symptoms in your staff members with a view to supporting them.
Secondly, brought to you by 'Yorkshire Physiotherapy Network' a short session on good posture, what to avoid, as well as advice on effective handling and carrying techniques.
Finally what the Occupational Health team can offer in terms of supporting you and your staff, followed by a Q&A session.
 Workshop 2
'Measuring and Increasing staff wellbeing'
Trainer: Maggie Hurd – Education Support Partnership
This interactive workshop taster session will:
Introduce Education Support Partnership
Look at current learnings and research related to staff well-being in schools, the recruitment and retention crisis and the affect this is having on school staff, including some results from our own Teacher Well-Being Index 2018.
Understand the importance of looking after our own well-being – tools to support with your own well-being, recognising stressors and some ideas to take back to school for staff to use.
Look at ways you can support your own staff well-being, what would be right for your school? Do we need it? What do we already do?
 Workshop 3
Wellbeing Conversations
Trainer: Chris Ingham – HR – Leeds City Council
This workshop will explore the principles behind this approach, explain how it is used in practice and discuss any challenges or opportunities to improve.
Over the past few years, there has been an increasing awareness of the importance of using the workplace setting to help improve health and wellbeing. Leeds City Council is, therefore, developing a Charter that enshrines the principles of how they can best develop a culture that prevents work causing, contributing or exacerbating ill health and allows for adjustments to be made so that a person's health does not pose a barrier to their ability to thrive in their role. One of things that will bring this to life is the introduction of pro-active 'Wellbeing Conversations' between a manager and their member of staff. A document has been produced which will help facilitate this conversation.
Workshop 4
'Time Management'
Trainer: Paul Dean – Health Safety and Wellbeing Adviser – Leeds City Council
This work shop will be highlighting a couple of ideas that you can pick up and use in your school with your staff to help them reconsider their own prioritisation/time management skills.
The session is particularly targeted at leaders in school to enable them to deliver further sessions in their own settings plus will signpost delegates to further sources of support and resources.
For maximum impact it would be useful to have a 3g/4g device such as a smartphone or tablet for this session as Paul will demo a piece of software you may see in use later in the day.
Workshop 5
A Headspace / Yourspace Taster session
Trainer: Jenny Blount – Headspace Facilitator – Education Support Partnership
A taster session. This workshop will give an insight into how Headspace works, the group dynamic and the work of the facilitator within the group.
Workshop 6
Smart Resilience Taster session
Trainer: Sue Hugo – Consultant Facilitator – Education Support Partnership
The session will allow the group a chance to identify ways of managing the high levels of pressure experienced by staff working in a school environment, in order to maintain their energy levels and enthusiasm for the job. It takes elements from our popular workshops: 'Survive and Thrive' and 'Smart Resilience.'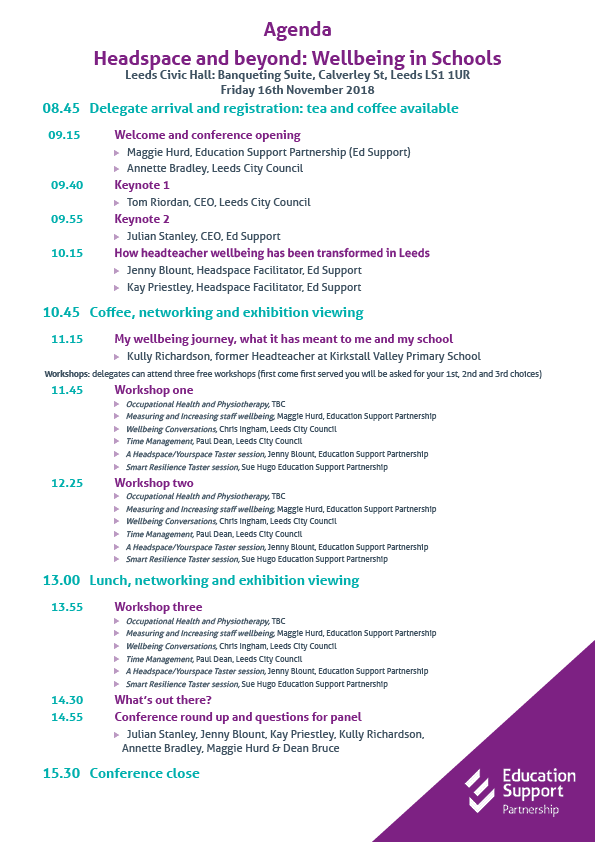 FAQs:
Who should attend?
Headteachers, SLT and Governors from schools and senior leaders in local authorities with a responsibility for the wellbeing of headteachers
Why should I attend?
The conference will give provide you with practical information, advice and support to help you sustain the wellbeing of all staff in your school(s), an opportunity to network and the opportunity to find out about the success of the Headspace and Yourspace programmes in Leeds.
How can I contact the organiser with any questions?
Please contact either Maggie Hurd, Regional Development Consultant: maggie.hurd@edsupport.org.uk or Tel: 07811 449 056 or James Watson, Marketing and Communications Executive, (Ed Support Head Office): james.watson@edsupport.org.uk or Tel: 020 7697 2763. 
What are my parking options for getting to and from the event?
Nearest car parks: Rose Bowl Car Park - 99 Portland Cres, Leeds LS1 3HJ and Merrion Centre Car Park - 11 Merrion Way, Leeds LS2 8BT and Woodhouse Lane Car Park - Woodhouse Ln, LS2 3AX.
Can I update my registration information?
Please contact James Watson, james.watson@edsupport.org.uk or Tel: 020 7697 2763 if you want to amend your details
Is my registration fee or ticket transferrable?
You can transfer your ticket but you must contact the event organisers no less than three days ahead of the conference. Please contact: James Watson, james.watson@edsupport.org.uk or Tel: 020 7697 2763
Is it ok if the name on my ticket or registration doesn't match the person who attends?
Please ensure that the ticket matches the person attending. You can transfer your ticket if you contact the organisers no less than three days ahead of the conference. Please contact: James Watson, james.watson@edsupport.org.uk or Tel: 020 7697 2763

Is this a free event?
Yes but spaces are limited
Is lunch provided?
Yes, lunch and beverages are provided
Will you cater for vegans or vegetarians?
Yes, vegans and vegetarians will be catered for. Please be aware that lunch is served on a first come, first served, basis.
When & Where

Leeds Civic Hall
Banqueting Suite,
Calverley St,
LS1 1UR Leeds
United Kingdom


Friday, 16 November 2018 from 09:00 to 15:15 (GMT)
Add to my calendar
Organiser
At Education Support Partnership, we're there for everyone working in education.
Established 140 years ago as a benevolent fund for teachers, we understand the pressures of working in education today.
Through our free helpline, grants, counselling, guidance, professional and organisational development services, we work with hundreds of organisations and thousands of staff across the sector. The impact can be life-saving and more teachers, lecturers and support staff turn to us for help each year.