Event Information
Refund policy
Contact the organiser to request a refund.
Eventbrite's fee is nonrefundable.
One- day workshop with Mira Manek and Dr Deepa Apte, incorporating the ancient wisdom of Ayurveda to heal the gut.
About this event
Time: 10:30am-4pm
Date: 19/04/2020
Location on booking: North-West London, in an easily accessible location
Have you ever struggled with digestion and bloating? Do you want to make your daily cooking simpler and more flavourful? Are you searching for a more holistic approach to feeling better?
This one- day workshop with Mira Manek and Dr Deepa Apte is all about the gut, applying and incorporating the ancient wisdom of Ayurveda to heal the gut, prevent digestion issues and feel better inside out. Mira started her wellbeing journey due to her own struggles with digestion and found the answers in her mother's and grandmother's kitchen, the food that she grew up eating, inspired by Ayurveda.
What to expect:
A warm welcome and chai…
2 hour talk from renowned Ayurvedic expert and practitioner, Dr Deepa Apte.
Food workshop introducing the principles of Ayurveda, gut-healing foods and drinks, and simple ways to incorporate spices and herbs into your daily cooking.
A nourishing and delicious lunch based on the basic principles of Ayurveda.
Private consultation with Dr Deepa Apte.
Breath work and asanas for digestion.
A goodie bag including a copy of Mira's book Prajna - Ayurvedic Rituals for Happiness, a short booklet of recipes and learnings from the day and a pack of Mira's Chai.
Limited spaces available. Non- refundable.
Dr Deepa Apte
Dr Deepa has a wealth of knowledge, is a fully qualified Indian medical doctor, yoga teacher and Ayurvedic practitioner. She is the founder of Ayurveda Pura in London, the lead lecturer at the Ayurveda Pura Academy and has her own Ayurveda practice.
The day will start with a talk on Ayurveda and gut health given by Dr Deepa. Digestion and the agni or digestive fire is at the heart of Ayurveda and therefore is of utmost importance to our overall wellbeing. Following her talk, Dr Deepa will also be offering short consultations on a one to one basis throughout the day, providing you with the opportunity to learn more about your own individual body constitution.
Mira Manek
Mira Manek is the author of two books, a bestselling cookbook called Saffron Soul and Prajna – Ayurvedic Rituals for Happiness. Prajna has morning to evening rituals, as well as daily recipes based on the principles of Ayurveda. It also delves into Indian philosophy, the origins of mindfulness and yoga. Mira has her own café called Chai by Mira in Soho, inside Triyoga Soho.
Mira's food journey has been inspired by Ayurvedic home cooking and Gujarati cuisine, incorporating the array of benefits and flavours offered by each spice, ensuring variety and making food more interesting. Using the spices can be a daily ritual, extending further than just Indian cooking. In this workshop you'll learn different ways to use your spice cabinet and enhance digestion in simple and effective ways.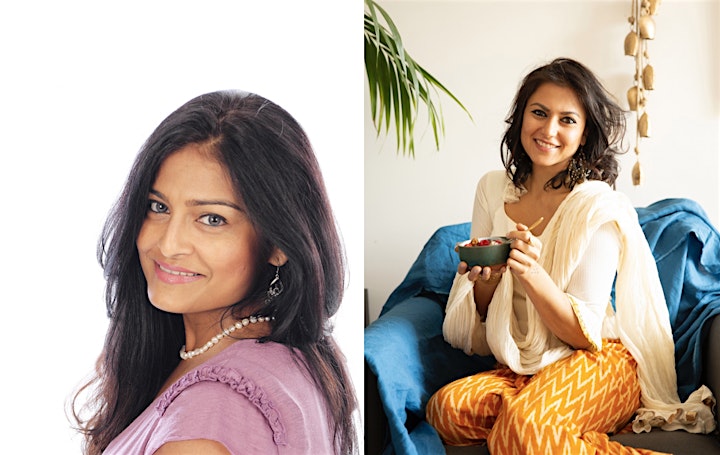 About Ayurveda
Ayurveda, a Sanskrit word meaning the knowledge, science or scripture of life, is the basis of traditional holistic medicine in India, and is one of the world's oldest medicine systems. Ayurveda is full of practices and guides that we can apply to our daily life, from how to ensure our digestion is functioning well, to how to eat for our own body composition. Its overarching principle is to live a more sattvic life, by incorporating daily rituals to bring about balance, prevent disease and promote longevity - all of which create and fuel happiness.
Ayurvedic Food
According to Ayurveda, food is an offering to the divine fire in the stomach, the agni. It is the means by which we keep that digestive fire alive, and it is this fire that will digest and absorb what the body need and eliminate the rest. Connecting with nature through the process of cooking, understanding what we are eating and putting good thoughts into our food is conducive to the sattvic way of living, as is eating in proper amounts on an empty stomach. According to Ayurveda, a sattvic lifestyle will promote a good digestive fire, and in turn produce a biochemical or subtle force called ojas, which is the product of free-flowing prana and the essence of harmony in our body and mind.
Photography by @jennifermoyesphoto taken at @slayretreats
Date and time
Refund policy
Contact the organiser to request a refund.
Eventbrite's fee is nonrefundable.
Organiser of Heal your gut: 1-day food & Ayurveda workshop - Mira Manek & Dr Deepa Apte
Chai by Mira is a chai wellbeing café by Mira Manek located in Kingly Court inside London's leading yoga studio Triyoga in the heart of Soho. Following the success of her cookbook Saffron Soul, focusing on healthy cuisine, Indian flavours and heritage recipes, Mira's café brings together a range of chais (as well as coffee) Ayurvedic food and Indian culture.