Description
In this 2 day retreat you will learn to reprogram your subconscious mind and eliminate negative self worth messages. You will be gently guided to:


Release old emotions
Release fear, anger and guilt
Discover your inner power
Have healthy relationships
Forgiveness work
Inner child work
Learn to love yourself
Manifest your desires
Write powerful affirmations
Visualise your desired life in to your reality

Inspired from the phenomenal work and philosophies of Louise L. Hay, this invaluable two-day retreat of inner healing and self-love is the perfect elixir to embracing the opportunities and change of a brand new year. Embrace a weekend of "me-time" with this rejuvenating toolbox of techniques and remedial tricks to help shift the unhelpful and problematic patterns and behavioural habits that keep you locked in a cycle of self-sabotage and pervasive self doubt. Becoming aware of what habits keep you stuck on the hamster wheel of life will unlock your potential to grow, develop and honour the rewarding power of self-compassion. You are beautifully unique and worthy of living to your best potential so give yourself the chance to believe this too.

Louise's work has transformed the lives of millions of people. This two day retreat is one of the quickest ways of "unravelling your life", getting all the principles of Louise Hay "self healing" on board and seeing results. Through increased awareness with use of specialist techniques, you start to better understand the patterns and cycles that keep you locked in your current life pattern.

Important information
Your place on this event is guaranteed upon us receiving full payment. No refunds will be given for cancellations made less than 30 days before the start of the event. In the event of the event being cancelled a full refund will be given.
Please bring the following with you:
Healthy lunch & snacks
Journal & Pen
Comfortable clothing
We will provide:
Please note - This is a non-residentail, two-day retreat.
Directions
This event will be held in the bungalow, which is located on the left-hand side as you enter through the gates of Firs Farm. There is parking space outside the bungalow as well as down the gravel track. You can park anywhere except for near the right hand annexe (as you look at the main house). Please keep cars off the grass areas.
Please arrive no later than 10 minutes before the retreat starts.
Please note that sat nav will not get you to our door, only the general area. Being familiar with the road layout in advance will serve you well. Capers End Lane is off a road called 'The Plantation' and is easily missed. When you arrive on Capers End Lane (Gravel track) proceed all the way down to the end and you will pass through the gates of Firs Farm. Please see maps below, call 07825 727331 if needed.
By Car
Firs Farm is located between the village of Botley and Bishops Waltham, Capers End Lane can be found off the B3035, and off The Plantation (see map below).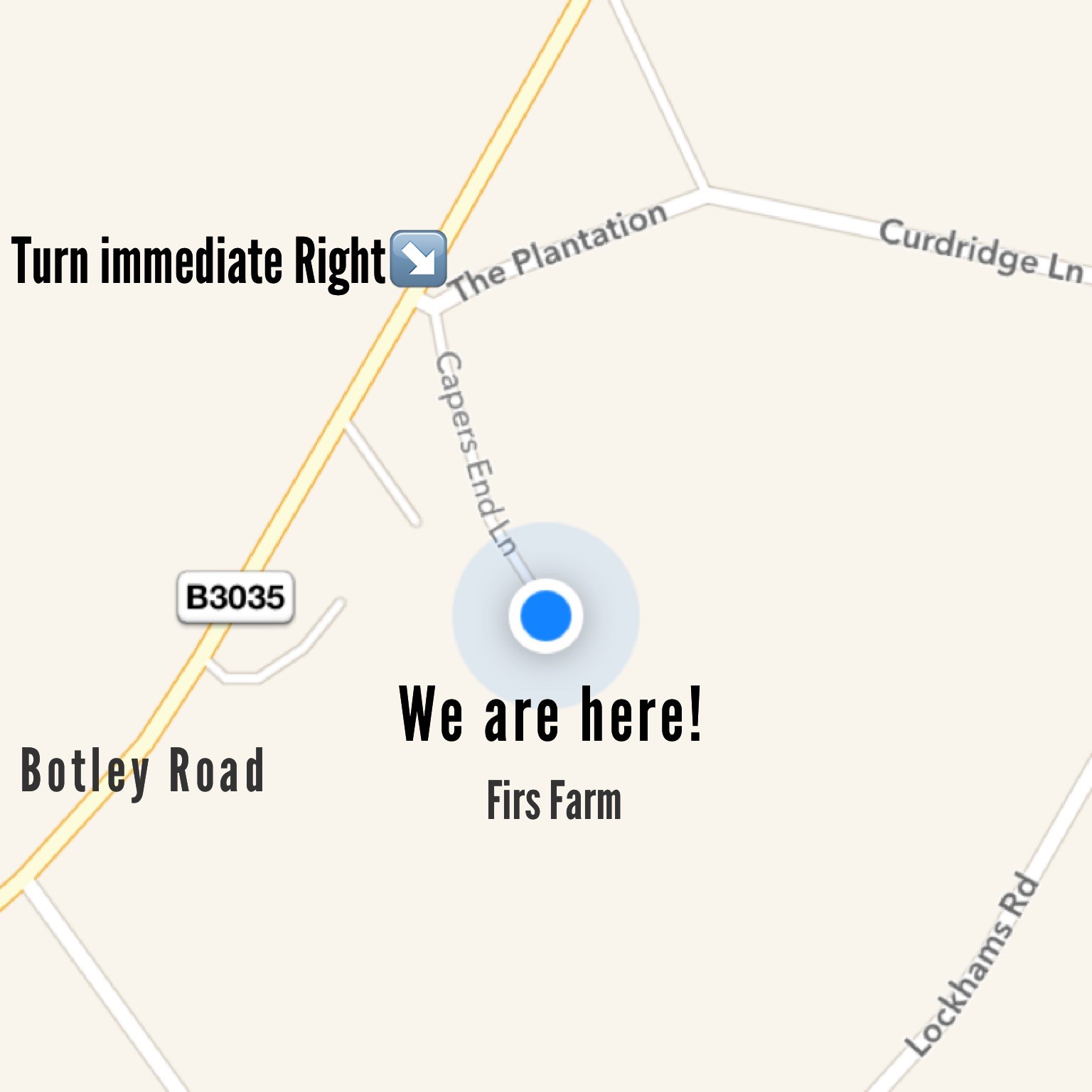 By Train / Taxi
Botley train station is a small station and approximately five-minute taxi drive to Firs Farm. The taxi would need to be pre booked. There are accessible ticket machines at this station as well as customer help points.
Local taxi services
Hedge End Service - 6 Botley Road (01489 696969) - OPEN 24 HOURS
Millers Private Hire Cars - 19 Allen Road (01489 788888)
Phipps Taxis Ltd - 6 Botley Road (070 0444 4444)