Event Information
Refund Policy
Contact the organiser to request a refund.
Eventbrite's fee is nonrefundable.
The 'Healing Eve' online conference will highlight and bring to the forefront, the day to day issues that impact the Black Christian Woman.
About this Event
About this Event
'Healing Eve' - Christian Black Women's Conference
Visit: https://theeveprojectuk.wixsite.com/mysite
It took the senseless killing of Mr George Floyd, to highlight to the rest of the world, the effects of globalised discrimination against the Black Caribbean and Black African communities. Furthermore, it sought to highlight the devastating generational impact on our mental health and wellbeing.
In Luke 6:31, Yeshua clearly shows us how we are to treat one another, yet communities, continue to intentionally hurt Black communities for their own gain. This is not right.
At the forefront of many global communities is the Black Woman. The Black Woman who has had to shoulder (many times alone) the key responsibilities for others as well as herself (in that order).
In times of the Covid19 pandemic, the burden is all the heavier. All the more disheartening, is the stark reality, that many families are waking up today without a mother, a sister, or a friend. It is for this reason, The Eve Project in Partnership with Eve Therapy Training & Counselling Services Ltd will be hosting its first online 'Healing Eve' Christian Women's Conference.
The conference will explore that ups and downs of what it means to be a Black Christian Woman in the 21st Century. We will explore issues that are not often addressed by pastors, teachers and leaders in the church setting.
______________________________________________________________________________________________________
The 'Healing Eve' online conference will highlight and bring to the forefront, the day to day issues that impact the Black Christian Woman and the bible's response to these hurts and challenges. Looking after our mental health and well-being is worship to God. If you want to learn more about how this can be achieved, underpinned by the Word of God. Book your place now!
Join us and learn more from our presenters/panellist and each other, on Saturday, 31 January at 10:00am to 5:00pm on Zoom.
A taster of some 'Healing From'.. workshops/discussions you can attend;
• Healing from the pain of Abortion
• Healing from the Effect of Racism on the Black Christian Woman
• Healing our Mental Health & the Black Christian Woman
• Money & the Black Christian Woman
Ticket Price:
Early bird Ticket: £20 (pay before 31st December 2020)
Normal Ticket Price: £40 (from 1st January 2021)
On the day:
Bring your Lunch; and
Join us on Zoom;
Special Terms & Conditions:
Please note that in order to participate you will need access to Zoom.
We ask that all participants, to keep their video on throughout the duration of the conference.
Only one Zoom log-in email will be allowed per person.
We also ask that under no circumstances any part of the conference be recorded (audio & video). Recording or videoing without participant consent is illegal.
Further guidance regarding the structure of the day (including the Zoom link) will be sent via email to participants ahead of the meeting and after full payment is received. Please ensure you read our booking terms and conditions.
Please do not share the Zoom link with any other person who has not purchased a ticket. We reserve the right to remove delegates who have not abided by the rules and regulations of the meeting.
Thank you for your co-operation.
Blessings
The Eve Project
_______________________________________________________________
Memo
Dear Delegate
Thank you for registering for the 'Healing Eve' Conference for Christian Black Women on Saturday, 31 January 31st 2021 from 10.00am to 5pm. The conference will start at 11:30am promptly.
Zoom
You can find out more about Zoom and how you can down load it here.
You will be sent Zoom meeting details below, along with joining and security guidelines. However, you can prepare in advance by following these guidelines:
1. Please download the Zoom App to your phone or laptop in advance of the conference and log in.
2. You should log into the Zoom app using the same name that you have used to register with Eventbrite
3. At the time of the conference, click on the link provided to access the Zoom meeting room.
4. If you have not provided us with your full first and last name, please provide this in advance of the conference, or it will not be possible to admit you to the room.
5. Once you have joined the conference you should switch on your camera immediately so that we can confirm that you are a real person, otherwise you may be removed.
6. Although we do not anticipate any issues, please note that any disruption or hacking of the conference will be reported to Zoom for investigation.
7. Please join the conference at 9:45am (before the conference starts), so we can start promptly at 10:00am
8. Thank you for adhering to the guidelines above which are provided to protect our guests during the conference
Joining the meeting via Zoom:
• On your computer
• On your tablet
• On your Android phone
Click on the link and follow the instructions to start the meeting. If you're having issues, try using a different browser.
When prompted enter the Zoom ID and Passcode
On your Android phone
Download the Zoom app. You can find it in your phone's app store.
Set up a zoom account; once set up you'll be able to join a meeting. hen prompted enter:
• Meeting ID:
• Passcode:
• Please note
We'll open the conference 09:45am (15minutes before the start time to answer questions and sort out glitches).
Once the conference starts at 10.00am we will mute everyone to reduce background noise.
To ask a question, please use the chat function at the bottom of the screen.
We ask you to keep your camera on, as seeing people's faces creates a relaxed atmosphere and develops trust.
This conference audio and Q&A will be recorded for our online learning resources.
You'll get a consent notification once we start recording; you can either opt in or out.
Once against many thanks for your support and we are looking forward to welcome you.
Supported by Eve Therapy Training & Counselling Ltd - www.evetherapy.com
Kind regards
The Eve Project
Organiser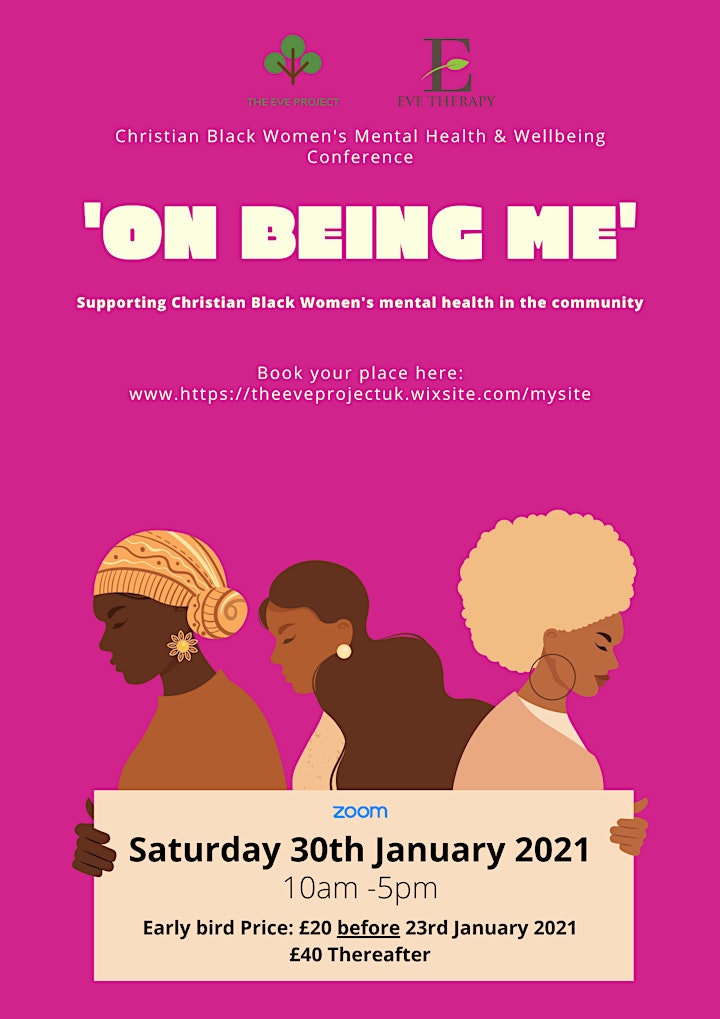 Date and Time
Location
Refund Policy
Contact the organiser to request a refund.
Eventbrite's fee is nonrefundable.