Healing Session: Self-care: Maintaining Wellbeing In & Out of the Workplace
Self-care: Maintaining Well-being in and Out of the Workplace
About this event
We have created this healing space to explore self-care in and out of the workplace.
For this workshop we are going to be taking you on a journey, to explore your relationship with self-care and discover effective ways to look after mental health and well-being.
We will explore:
The importance of self-care for individuals from racialised groups
Your relationship and history with self-care and rest
You will gain:
Tools to manage stress, shame and racial trauma to facilitate healing
Practical ways to utilise self-care and soul-care to maintain racial wellness in and out of the workplace
"Caring for myself is not self-indulgence, it is self-preservation, and that is an act of political warfare"
-Audre Lorde
This session will be facilitated by:
Vanessa Boachie, Psychological Therapist & Founder of Inside Out Well-being
Grace Oladunjoye, Emotional Wellbeing Therapist & Workshop Facilitator for Inside Out Well-being
Please note: This event is for West Midlands regional staff who identify as 'ethnic minority' staff groups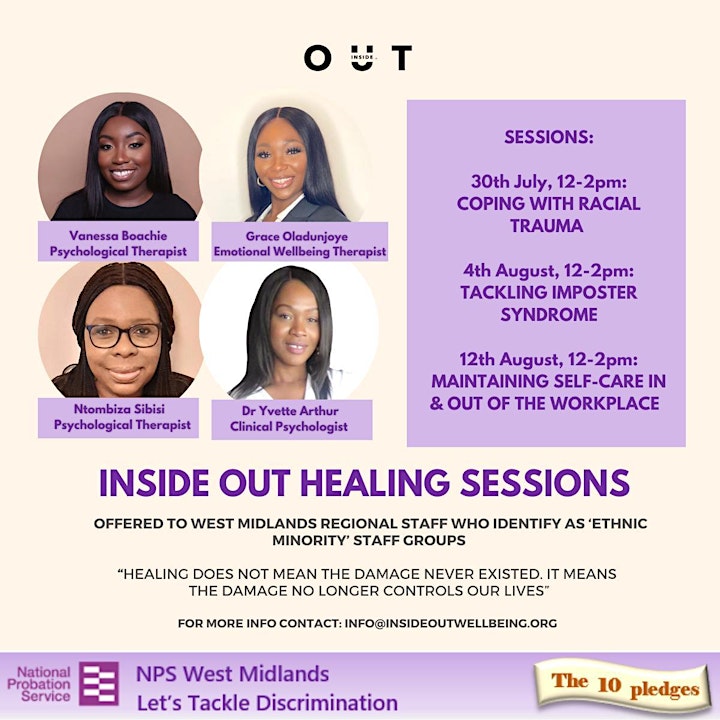 Organiser of Healing Session: Self-care: Maintaining Wellbeing In & Out of the Workplace
Inside Out Well-being deliver talks, workshops and healing sessions that provide psychology-based life skills to help you optimise your mental health and well-being.
We are a leading provider of culturally-informed well-being workshops in the UK.
We are Inside Out Well-being. A not-for-profit social enterprise committed to helping you improve your mental health and wellbeing.
We are on a mission to improve access to mental health education and support. We believe that you should be able to find solutions to manage and optimise your mental health, no matter what stage of the journey they are at.