Sales Have Ended
Ticket sales have ended
I'm sorry we've sold out this time around. Please email me jess@reedrobbins.co.uk to be notified of when the digital version of this training becomes available.
Event Information
Refund policy
Refunds up to 7 days before event
Eventbrite's fee is nonrefundable.
Sales Have Ended
Ticket sales have ended
I'm sorry we've sold out this time around. Please email me jess@reedrobbins.co.uk to be notified of when the digital version of this training becomes available.
NLP Master Trainer Jess Reed-Robbins teaches you how to use NLP & EFT to heal the emotional root causes of disease, pain and infertilty.
About this event
Healing The Emotional Causes Of Injury, Infertility, Illness & Disease
Online via Zoom
6 week course, Mondays 6:30pm to 9pm:
7th, 14th, 21st, 28th Feb 2022 & 14th & 21st March 2022.
Welcome to a course that will utterly change your life!
The paradigm Jessica will introduce you to in this course, will turn everything you ever thought about illness and disease on it's head!
You will see your body and it's messages in an entirely new light, fall even deeper, and possibly madly in love with the epic power of your body! And feel empowered to really take control of your physical and mental health for the rest of your life!
By the end of this 6 week programme you will have the tools to work with your own healing and understand how to work ecologically with clients in your existing coaching practise.
Why Learn How To Identify & Heal The Emotional Root Causes Of Disease?
Many of us intuitively understand there is an obvious and direct connection between our mind and body (emotions and disease) yet dont quite know how to start unravelling the secret messages our bodies are sending us.
Why are we ill? isn't it just bad luck or genetics? Isn't pain a sign that my body is weak and broken?
As we are bombarded daily with frightening statistics in the media, that tell us how likely we are to be affected by cancer, it's no wonder that more people than ever want to know how they can take control of their health before they become unwell.
We are never more shocked when people we see doing everything right such as eating healthily and exercising regularly are struck down with serious illness and disease. However, if we are well nourished, moving our bodies but neglecting our emotional wellbeing, then we are ignoring potentially the most important aspect affecting our overall health and wellbeing.
How many times have you been watching your favourite sporting event, only to hear that your sporting idol has yet again, been struck down with sinusitis, knee problems, ligament problems etc and wont be able to compete or has retired completely?
Have you ever wondered what the connection is between these problems and the particular type of stress these athletes are experiencing?
If only they knew what we know!
Jessica believes that if you already use the tools of NLP, EFT and other healing therapies to overcome emotional wounds, patterns of behaviour, limiting thoughts etc, then you already have the most important tools required for healing.
All you need in addition, is an understanding of how the mind and body relate to each other and where to start in the diagnosis process so you know which emotional wounds to work on first.
In the past few years, more and more of Jessica's NLP students and coaching clients have been asking about how they could use NLP (Neuro Linguistic Programming) and other talking therapies to heal the emotional root causes of diseases, both for themselves and the people they love.
Jess says "People seem to have a growing appetite for more control over their health and their lives in general and giving people the knowledge that they may have more control than they thought, ignites hope and empowerment in people. We believe MORE choice is better than less choice and these theories and approaches, will give you that additional choice over how you decide to relate to your health and wellbeing. I know from my own experience of not once, but TWICE, being told there is no treatment or cure for a condition can be devastating.
Especially as what doctors are really saying is that "THEY" do not have the cure or treatment for this condition! So language here is a subtle, yet hugely important distinction!
You are not weak or broken! You are not to blame! Your body is sending you a message and is doing everything it can to heal you!
Would you like to learn to interpret and respond to your body?
It will be my honour to show you how!"
Who Is The Workshop For?
This workshop is for anyone interested in taking control of their health and healing or the health of their clients, friends and family etc. You might have a health condition of your own or know someone else who wants to take control fo their health. You may already be qualified in NLP, EFT, hypnosis or some other form of therapy.
If you don't already have healing or breakthrough therapy experience, then you will receive an introduction to EFT (emotional freedom technique) so you can get started on healing the emotional challenges affecting your health.
What's Covered in the Programme
We will examine the theories around the mind-body connection and how each organ is thought to be affected by the particular emotional conflicts (stresses) we experience in our daily lives.
We will examine the current and past experts in this field, such as Bruce Liption, John Sarno, Carl Simonton, Dr. Ryke Hamer, Candace Pert, Louise Hay, Deepak Chopra etc and their theories behind the emotional root causes of illness, injury and disease.
We will learn how and why the process of disease starts, how your immune system really operates, changing your perception of healing and symptomology and learn to appreciate your body is always trying to help you. You will begin to see illness, injury and disease as indicators of personal evolution and have greater compassion and understanding for your body than ever before.
We will learn how to start a process of diagnosing what could be the emotional root cause of an illness or recurring injury in any part of the body, learning what questions to ask.
You will learn which side of the body represents which relationships in your life and the questioning skills to help identify the emotions and beliefs to work on.
You will learn a simple process to help you identify the root cause of illness and disease and practice working with each other to diagnose and resolve emotional conflicts in the body.
For those of you with NLP experience, we will refresh and practice using your existing skills including linguistics, reframing, parts integration, timeline techniques, collapsing anchors and hypnosis.
If you don't have experience of NLP, you will gain an understanding of the most important techniques and how they can be used with wellbeing.
Everyone will also gain an introduction to Emotional Freedom Technique and how it can be used to work with injuries, illness along with many other issues both emotional and physical.
By the end of the programme you will
UNDERSTAND:
Have an appreciation for how to heal the emotional root cause of illness, injury and disease, for the rest of your life.
MAINTAIN HEALTH:
Understand how to ensure you are keeping yourself as well as possible and noticing behavioural or emotional patterns that could lead to ill health in the future.
HEAL:
Have insight into any current health concerns you have and you will have practiced using NLP or EFT to heal the possible emotional root cause of these problems.
WORK WITH CLIENTS:
Have a good understanding of how physical healing can occur spontaneously when working with clients emotional challenges and how to factor this into your duty of care.
DISCLAIMER:
This workshop is for educational purposes only. It is not designed to replace any medical advice or treatments. Please do not stop taking any medications without consulting your doctor.
This workshop will not give you a medical qualification or medical expertise. You are not learning how to heal medical or physical problems and you will not be able to make claims that you can heal physical issues after the course. We are healing the emotional conflicts in the body that may have initiated the physical problems.
We will be working well within the bounds of healing client's emotional and behavioural problems but with the intention to promote healing and wellbeing. We are using a client's physical problems to help us decide what emotional conflicts to start working on first and any physical healing is hoped for but not offered or guaranteed.
FEE:
Only £295 for the programme.
Is this expensive? Compared to what?
This is just a little bit more than a 90 minute phone or skype consultation or coaching session with Jessica, so is incredible value for money. We also offer a money back guarantee in case you're not sure. If you're not completely convinced by the end of the first session you can leave the training at that point and receive a full refund.
Jessica spent well over £10,000 on treatments for back pain over the 9 years she was in pain. I'm sure if you've experienced physical symptoms, you've spent huge amounts of money on speculative treatments or ones that gave you temporary relief. Even a massage on a retreat can be in excess of £100, so in comparison, this life changing programme is incredibly good value! :)
Why Train With Jessica Reed-Robbins
Jessica Reed-Robbins, NLP Master Trainer, Author & Performance Coach has been passionate about the use of NLP to heal the emotional root causes of illness, injury and disease, since she discovered the performance psychology of NLP in 2004!
Diagnosed with a degenerative condition of the spine, aged 19, Jessica was told that she would forever be in pain, that she would need to give up her beloved martial arts training and that there was no cure for her condition. When she qualified in NLP almost a decade later, she used these powerful tools to reshape her outlook on life, her confidence, behaviours, patterns, limiting thoughts and emotions. Despite her life changing and transforming, her back pain was still chronic and since she believed that anything in life was possible, she set out to find a way to use NLP to cure her condition and end the chronic pain.
To her amazement, Jessica learned that there were already medical doctors and scientists already talking about the mind body connection and how there was an emotional component of illness, injury and disease. A few teachers spoke of there being an emotional root cause for ALL illness, injury and disease and that if you could diagnose and heal the emotional root cause, you could affect physical healing!!
Jess set out to use NLP to cure her own condition and within just 4 days of working on her emotional root cause, was pain free for the first time in a decade. Immediately, she started exercising again, returning to martial arts and even competing in the British Taekwondo Championships which had previously been out of reach!
Soon after, 2 clients who had severe fertility issues came to her for advice and after working with them on the emotional root causes of infertility, both women, both of whom were in there late 40's were pregnant and went on to have healthy pregnancies and beautiful healthy babies.
After this, Jessica was convinced of the connection between the emotions we repress and the unconscious response of the body to express those emotions through pain, illness, injury and disease. Her journey lead her to experts such as John Sarno, Carl Simonton, Louise Hay, Bruce Lipton, Dr. Ryke Hamer, Meta-Health and Meta-Medicine on how you could begin to diagnose the emotional root cause of disease so she could use her NLP and other therapeutic skills to heal those emotional wounds.
As a result, over the past decade, people with repetitive sports injuries, breast cancer, pancreatic cancer, endometriosis, fibromyalgia, diabetes, motor neuron disease, back pain and arthritis have benefited from working with Jess on healing the emotional root causes of their diseases.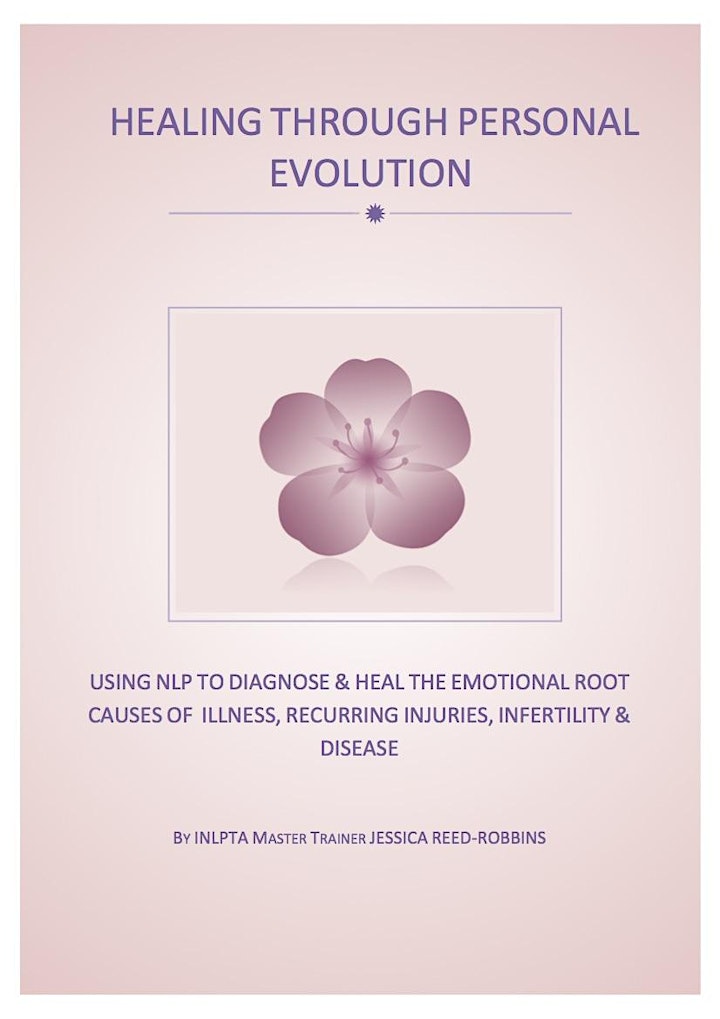 If you'd like to read Jessica's Ebook before considering the training, you can download the accompanying workbook here:
If you subsequently register for the training, you will be refunded the £19.99
The workbook is included in the workshop if you are registering for the training it will be emailed to you.
Date and time
Location
Refund policy
Refunds up to 7 days before event
Eventbrite's fee is nonrefundable.