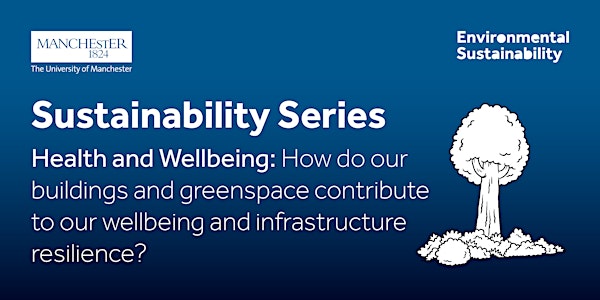 Health and Wellbeing: How do our buildings and greenspace contribute to our...
Location
G.205, Alan Turing
M13 9PY
United Kingdom
Description
Sustainability Seminar Series – Energy, Well-Being, Biodiversity, Food, Travel & More
Launching in January 2017, the Sustainability Seminar Series seeks to present opportunities for staff and students to make these positive contributions to our local environment. The seminars will explore a range of topics with short presentations from academics, researchers, professional support staff and colleagues from across the city. Our full schedule is given below. The series starts off with presentations on energy, cities and air quality.
We welcome attendance from staff and students across the University who wish to learn more about sustainability including all working in professional support services and academic schools.
One of the outputs from each seminar will be a list of challenges that we could offer to our undergraduate / postgraduate students and researchers to use as part of their taught course / research. The aim is to create a set of challenges that allow students, staff and researchers to make a positive contribution to the campus and the city during their time at the University. A new staff member will develop these during the first half of 2017 with the intention of launching them to our students in the new academic year.
Call For Posters
There will be an opportunity for attendees to showcase any work they are doing relevant to the topic area of the seminar during discussions or displayed in a poster. If you are able to provide a simple poster on the work you are doing around the estate / city, a recent conference poster or the results from your student project we would be delighted if you could display this. Please email es@manchester.ac.uk if you have something that you can share.