Event Information
Refund policy
Contact the organiser to request a refund.
Eventbrite's fee is nonrefundable.
Health & Wellness Workshops
About this event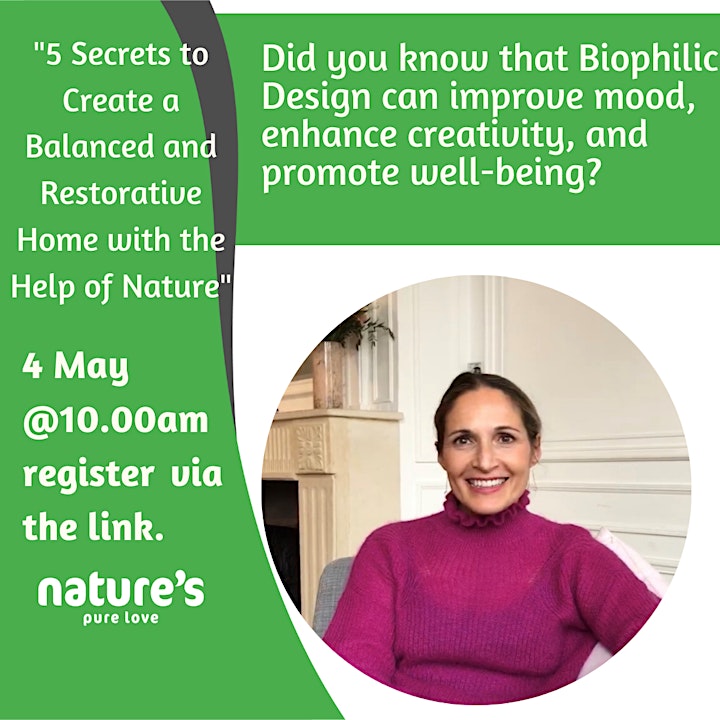 Tuesday 4th May 10.00 am – 12.00 pm, "5 Secrets to Create a Balanced and Restorative Home with the Help of Nature"
Did you know that Biophilic Design can improve mood, enhance creativity, and promote well-being?
Benefits of attending:
• Decrease stress,
• Increase Productivity,
• Increase concentration and creativity,
• Improve short term memory,
• Feel in harmony and get greater sense and wellbeing.
Facilitator's Biography:
Nuria is an International Interior Designer who specialise in BIOPHILIC DESIGN. She is the CEO of Habitarmonia Interior Designs, and she is a passionate entrepreneur.
Her work is based on the principle of love. The word BIOPHILIA means love for nature, HABITARMONIA means harmony at your habitat, whether in your home or at your place of work. Through Biophilic Design she connects people to the healing pulse of nature proven to reduce Stress and increase wellness. Biophilic designed spaces can revitalise and provide comfort that promotes healing and wellness.
After 15 years of experience in the Fashion and Design Industry in Belgium, Nuria moved to Spain to continue to follow her dreams to create magic with designs and bring nature into busy lives. Her holistic perspective on design and her ability to balance creativity and analytical problem solving makes her invaluable to her clients.
She crafts spaces known for their warmth, expressiveness, and do so with impeccable attention to details. The work she does has a reverence for the inherent beauty of natural materials, landscapes and she has thoughtfully incorporated elements of each into every projects.
Through an artistic eye and a curious spirit, she designs all kinds of spaces, from corporate environments to the most intimate of spaces. All are crafted with a holistic perspective and her unique compendium of skills.
WORKSHOP PROGRAMME STRUCTURE
10-10:10: INTRODUCTION – Velma
10:10-10:30: Workshop Facilitator's Presentation (inform, teach, techniques/benefits) - NURIA MUNOZ
10:30-10:40: BREAK-TAKE A BREATHER (OPTIONAL)
10:40- 11:00: Class interaction – Putting in Practice what you learn -ACTIVITY/ QUIZ- NURIA MUNOZ
11- 1115: Nurturing Body and Mind - VELMA
11:15- 11- 35: Where to start/Taking the Active path – Facilitator's Presentation - NURIA MUNOZ
11:35-1145: BREAK TAKE A BREATHER (OPTIONAL)
11:45-12: Overview / Q&A / Feedback
Anyone that books on a course or coaching programme, get a free eBook or a £25 voucher off any future course of their choice
Request a Free consultation https://naturespureloveltdscheduleyourslot.as.me/schedule.php
Book Your Course Today and Get a Free eBook
or a £25 voucher off any future course of Your Choice
Date and time
Location
Refund policy
Contact the organiser to request a refund.
Eventbrite's fee is nonrefundable.