Description
Health Careers Open Day 2019
College of Human and Health Sciences, Swansea University
DO YOU WANT TO CHANGE PEOPLE'S LIVES FOR THE BETTER?
Drop by our Health Careers Open Day to find out more about our nursing, maternity care, midwifery and healthcare science programmes.
It's your opportunity to:
meet our knowledgeable staff who still work in practice
hear about our state-of-the-art facilities, including our clinical practice suites
find out about future career prospects, qualified nurses, midwives and healthcare scientists have a starting salary of £23,023
Register your place today!
Get in touch
chhsmarketing@swansea.ac.uk
www.swansea.ac.uk/humanandhealthsciences/
---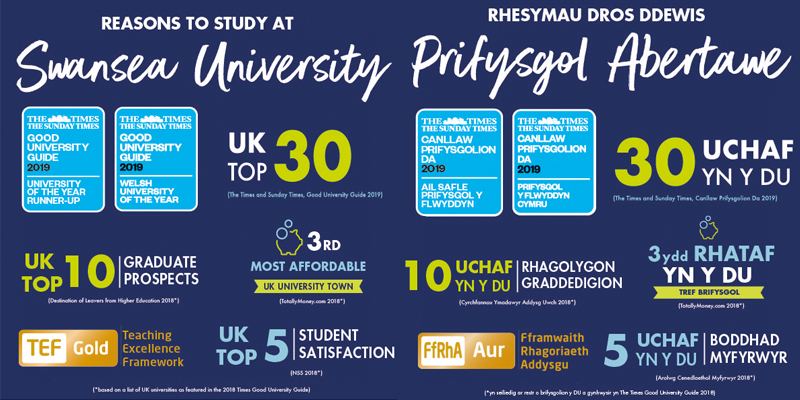 Diwrnod Agored Gyrfaoedd Iechyd 2019
Coleg y Gwyddorau Dynol ac Iechyd, Prifysgol Abertawe
HOFFECH CHI NEWID BYWYDAU POBL ER GWELL?
Galwch heibio i'n Diwrnod Agored Gyrfaoedd Iechyd i gael mwy o wybodaeth am ein rhaglenni nyrsio, gofal mamolaeth, bydwreigiaeth a gwyddoniaeth gofal iechyd.
Mae'n gyfle i chi:
dewch i gwrdd â'n staff gwybodus, nifer ohonynt sydd yn parhau i weithio mewn ymarfer
ewch am daith o amgylch ein cyfleusterau newydd, gan gynnwys ein swît ymarfer clinigol
dewch o hyd i fwy o wybodaeth am ein cyfleon gyrfa yn y dyfodol , nyrsys cymwysedig, bydwragedd a gwyddonwyr gofal iechyd gyda chyflog cychwynnol o£23,023
Cofresrtwch heddiw!

Cysylltu
chhsmarketing@swansea.ac.uk
Organiser of Health Careers Open Day 2019
The College of Human and Health Sciences draws together the disciplines of health, nursing, midwifery, social care, social policy and psychology. 
Our warm, welcoming staff with both professional and teaching qualifications, turn students in to highly employable graduates.  In a location with spectacular seaside scenery and reputable links with human and health science organisations, undergraduates will get a student experience that can't be rivalled.