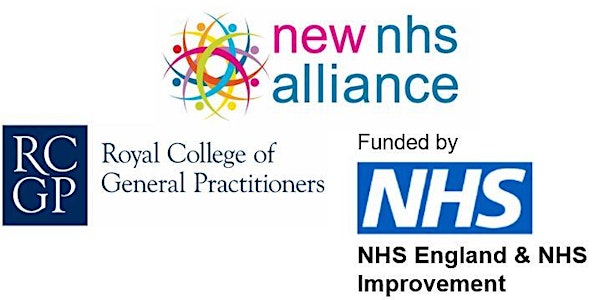 Health Creation: How can PCNs succeed in reducing health inequalities?
Event Information
Location
Kings House Conference Centre
Kings Church
Sydney Street
Manchester
M1 7HB
United Kingdom
Manchester Health Creation
About this event
"PCNs are for 'everybody' … GPs have got good medical knowledge but others have far more experience of communities" Delegate at NNHSA and RCGP event in July in London
With over 1 in 4 GP appointments nationally, and up to 50% in some locations, for non-medical matters it is now understood that GPs cannot be expected to address health inequalities alone.
Emerging Primary Care Networks (PCNs) will be expected to deliver 'locally agreed action to tackle health inequalities' by 2021. The good news is there are others who can help; because health is created in communities first and foremost and there are many potential partners to work with outside the surgery door.
This event is one of three taking place in early 2020 hosted by New NHS Alliance and the RCGP Health Inequalities Standing Group. The events start from the premise that GPs are necessary but not sufficient. They look at what Primary Care Networks (PCNs) can do to support better integration of their practices with community-based partners and how collaborative action can lead to greater success in reducing health inequalities.
The events are supported by NHS England and NHS Improvement and a range of partner organisations including: Health Foundation, Carnegie (UK) Trust, Power to Change, Accord Housing, Walsall Housing Group, Birmingham VCS, National Pharmacy Association, Royal College of Nursing, Queen's Nursing Institute, Institute for Health Visiting, Association of Directors of Public Health, Taskforce for Multiple Conditions and Local Government Association.
This Manchester event will focus on:
• Practical steps PCNs might take to increase success in reducing health inequalities with communities and local partners
• How PCNs fit into the broader context of public sector reform
• The skills PCNs require to enable practices to connect with communities and local partners
• How might kindness help through the transformation?
• Doing primary care with your community
The events build on an event that NNHSA and RCGP Health Inequalities Group jointly hosted in London in July 2019. Here is a link to a short report and video from that event: bit.ly/HEALTHCREATION
"To be successful, PCNs should aim to develop a culture and 'business as usual' approach of working in partnership with their local community, connecting with community assets and ensuring that the views and experiences of local people can influence all aspects of the design and delivery of care" - Olivia Butterworth, Head of Public Participation, NHS England and NHS Improvement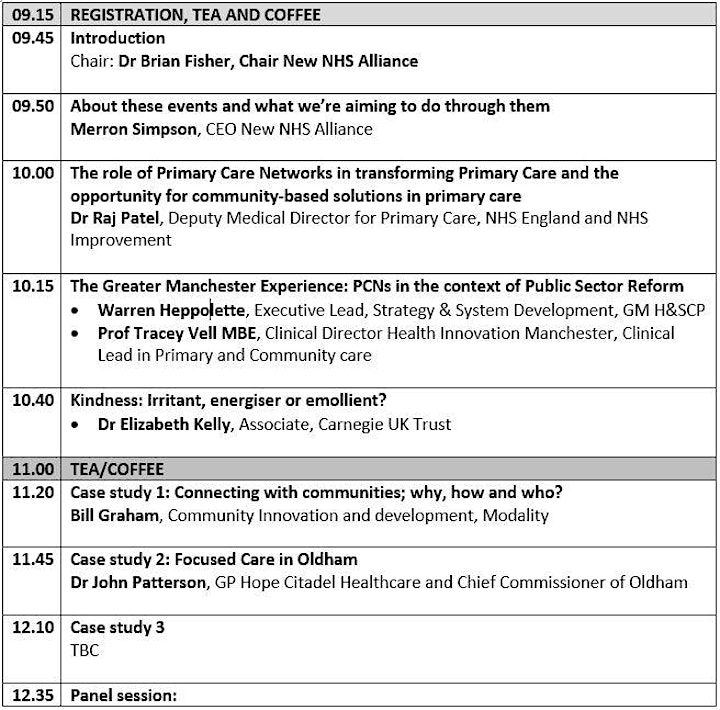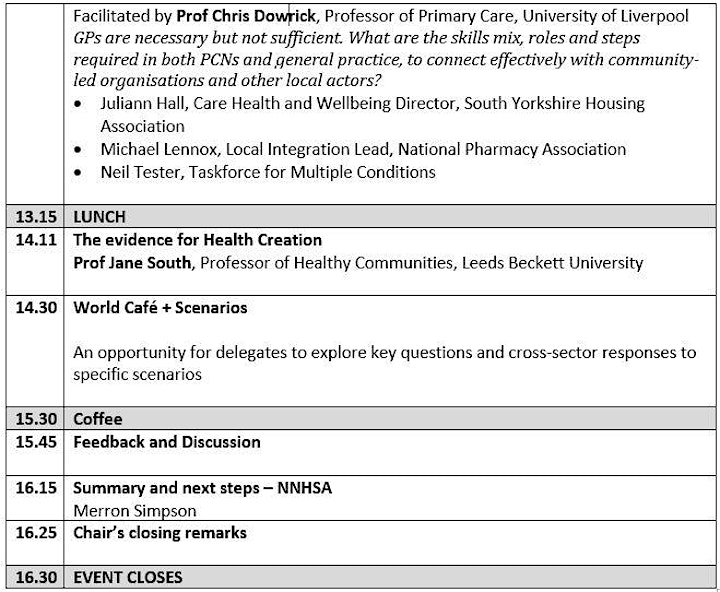 Date and time
Location
Kings House Conference Centre
Kings Church
Sydney Street
Manchester
M1 7HB
United Kingdom