About this Event
Karolinska Institute, KTH Royal Institute of Technology, and Crowdhelix are delighted to invite you to their Health Helix Event. The Health Helix is lead by KU Leuven.
This two-day meeting is a great opportunity to gather academia and businesses around common areas of interest. It is addressed at organisations specialised in Medicine and Digital health that are willing to collaborate and form consortia for Horizon 2020 calls.
This event is mainly, but not exclusively, intended for researchers and industry representatives.
Should you have any questions about the event, please contact Marine at events@crowdhelix.com
AGENDA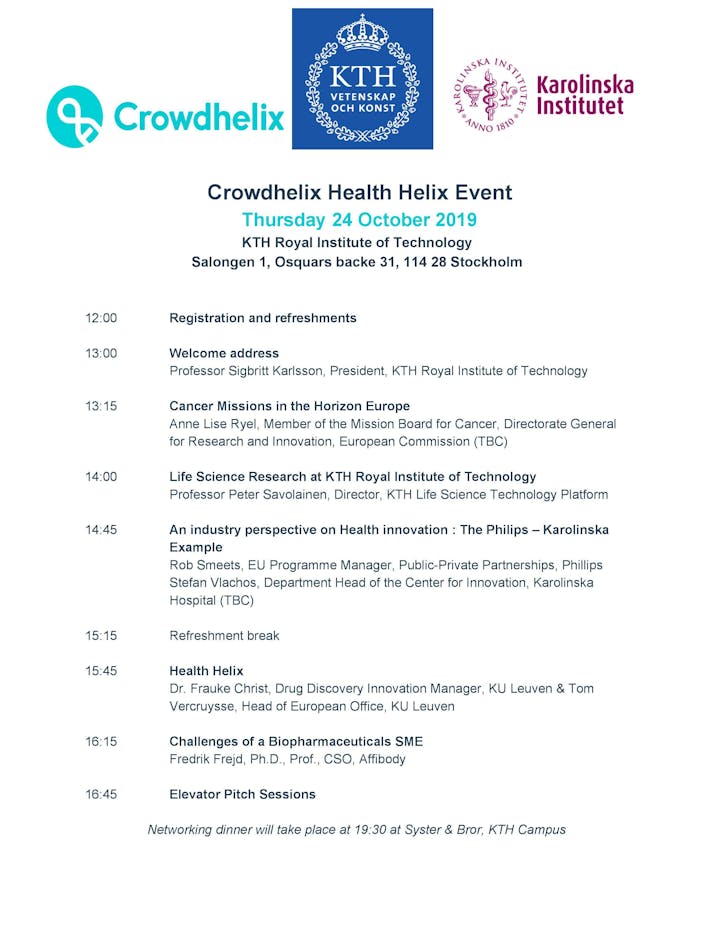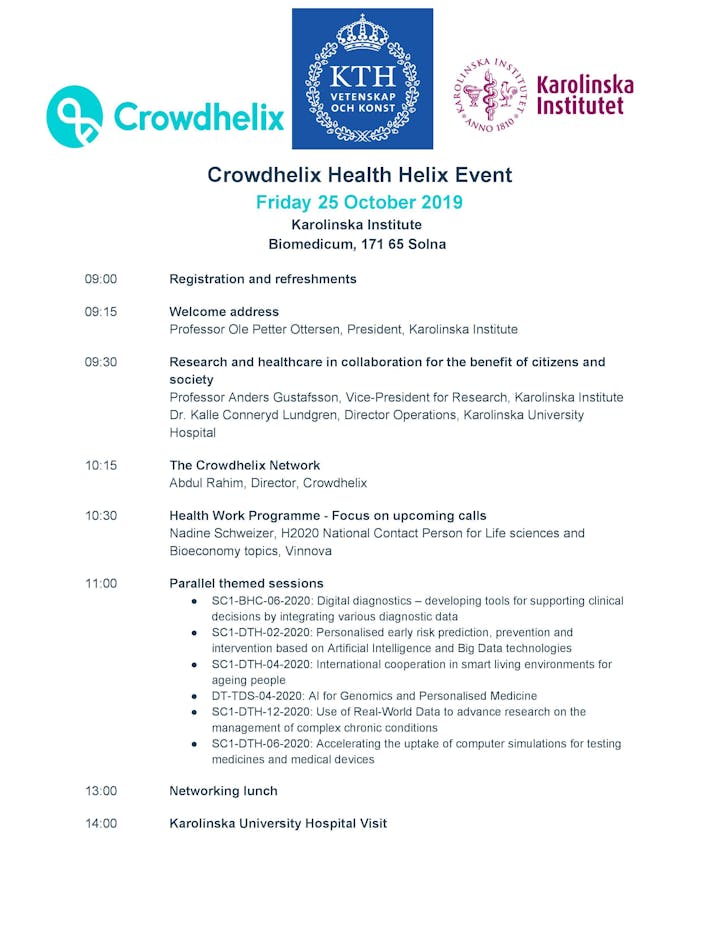 RESTAURANT
The dinner menu is set as follows, and is fully vegetarian :
STARTER Beetroot tartar served with mousse of goats cheese and roasted sunflower seeds
MAIN COURSE Vegetarian spring roll served with grilled portabello and a ginger and chili sauce
DESSERT Vanilla pannacotta served with berry coulis
Coffee
Our team will liaise with the restaurant to make sure your dietary requirements are duly taken into account.
Please note that dinner is courtesy of KTH Life Science Technology Platform.
TRAVEL INFORMATION
Airport transfer to/from Stockholm
Arlanda Express fast train from Arlanda airport to Stockholm central station
Flygbussarna airport bus shuttle from Arlanda airport to Stockholm city centre. To depart from Karolinska Institute (day 2), you can go to Bus stop Karolinska Sjukhuset Eugeniavägen , which is located about 5 minutes walk from the venue.
Tickets can be bought online or on the bus:
99 SEK (approx. €10) when you buy the ticket on the website or in the app.
119 SEK (approx. €12) when you buy the ticket on the bus. VISA, Mastercard, American Express, Diners Club, VISA Electron and Maestro are accepted. You cannot pay with cash on the bus.
Reaching KTH Royal Institute of Technology (day 1)
The closest station is named Tekniska Högskolan, which you can easily access by train, bus or underground. Once there, walk along Osquars backe to the KTH Library (BIBLIOTEKET). The venue is to the left when entering the library main entrance.
Reaching Karolinska Institute (day 2)
The closest bus stop is named Karolinska institutet Biomedicum, it is served by several bus lines. The venue is 5 minutes walk from the bus stop.
For further information
SL (Public Transportation website in English)
ACCOMMODATION
The two venues are located approximately 3.5 kilometres away from each other. You can find a list of hotels recommendations within the area below.
Elite Hotel Arcadia Stockholm
Location : 10 minutes walk from KTH Royal Institute of Technology
20 minutes from Karolinska Institute by bus
Elite Hotel Carolina Tower Stockholm
Location : 20 minutes from KTH Royal Institute of Technology by bus
3 minutes walk from Karolinska Institute
Elite Palace hotel
Location : 20 minutes from KTH Royal Institute of Technology by bus
15 minutes from Karolinska Institute by bus
First hotel Norrtull
Location : 25 minutes from KTH Royal Institute of Technology by bus
15 minutes from Karolinska Institute by bus
Photo (left) : Ulf Sirborn
Photo (right) : Jann Lipka