Location
International Conference & Banqueting Centre
5 Fox's Lane
Wolverhampton
WV1 1PA
United Kingdom
One-day Health, Safety & Environment Conference
About this event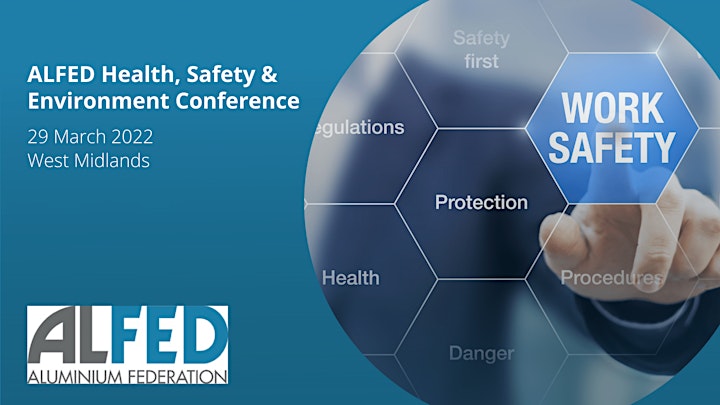 A free to attend one-day health, safety & environment conference with presentations on current issues and upcoming legislation.
It is anticipated this event will attract delegates representing most sectors of the UK aluminium industry. The event is an excellent networking opportunity for quality, health, safety & environment professionals and anyone interested in the H, S & E issues.
Where: ICB International Conference & Banqueting Centre, 5 Fox's Lane, Wolverhampton, WV1 1PA, West Midlands
Programme
09:15 Registration & Refreshments
10:00 Welcome
10:10 HSE Update - Martin Giles, HSE
10:30 Construction Design Management - Alastair Mitchell, HSE
11:00 Coffee Break and Networking
11:30 UK Best Available Techniques (BAT) - Oluwafemi Akinremi, DEFRA
11:55 Overview of Natural Resources Wales regulation and how Wales differs slightly from the rest of the UK - Jeremy Walters, Natural Resources Wales
12:20 Metal Working Fluids - Paul Smith, HSE
12:45 Lunch
13:45 Lisa Ramos, Inspirational Speaker: Lisa Ramos was involved in a forklift accident at work in 2006 and as a result of this, is now an above knee amputee. Lisa and her husband Dave offer a unique alternative to raising awareness of health & safety issues within the workplace, with their frank and honest account of her rehabilitation, and the long-term struggles that are part and parcel of adjusting to life, as a disabled person.
14:45 Coffee Break and Networking
15:15 Topic TBC - Alan Foster, Essential 6
15:35 Welding and Grinding: Improving worker health through better understanding the hazards and provision of personal protective equipment - Scott Blakelock and Theo Simon, 3M
15:55 Occupational Health & an Ageing Workforce - Ian Kendall, Croner
16:15 Closing Comments
16:30 End of Event
Reserve your exhibition space:
There is an opportunity for your company to secure an exhibition space enabling your company to promote your products and to network with delegates. There will be plenty of opportunities during the breaks for delegates to view the exhibits and discuss your products.
Space approx. 2m wide
Table and 2 chairs, with space behind it for a pull-up banner(s)
All refreshments including lunch for your representative(s)
Cost: £325.00 + vat per exhibition space
Exhibitors include:
3M
Chem Aqua
SGS United Kingdom Ltd
Stay Safe PPE
EDC Protection
Guardsman
Rent A Defib
Essential 6
Implexis Consulting
BSiF – British Safety Industry Federation
Reserve your space: Please email Margaret Lane at ALFED: mlane@alfed.org.uk
For any queries: Please contact Margaret Lane at ALFED on 0330 236 2800 or email mlane@alfed.org.uk