HEALTH TECH 2.0 - virtual conference about the future of health technology
Join WoW on January 28, 2021, for an all-day conference about the future of health and healthcare technology!
About this event
Health Tech 2.0 is a global virtual conference bringing together health tech leaders, innovators, founders, clinicians, influencers, and investors from around the world to discuss the future of healthcare technology.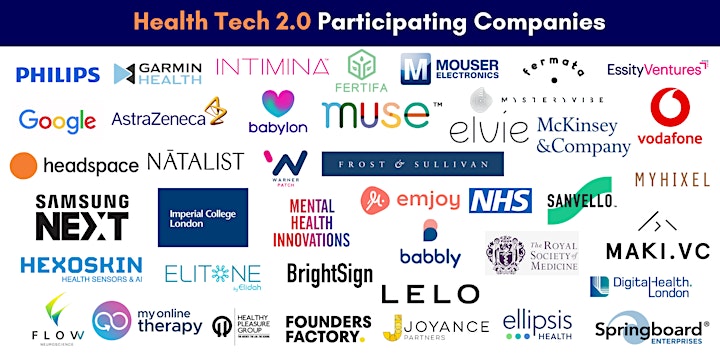 AGENDA
(*please keep in mind all time slots are GMT)
9am - Opening words by organising team
9:15am - The Cross-section of Beauty, Health, Science And Technology - Keynote talk by Raymon uit de Bulten, Director Startup Ventures at Philips Beauty
10am - Panel discussion 'Investing in Health Tech'
The digital health market is expected to reach $536 billion by 2025. And 2020 will be the largest funding year ever for digital health, spurred by 24 mega-deals (>$100 million) so far. Is there any untapped potential in this industry? The most and third-most funded value propositions so far this year are on-demand healthcare services and fitness and wellness. But what's the state of the market when it comes to new ideas and businesses? What's the next big thing to invest in in the healthcare industry?
Moderator: Jenny Thomas, Director of DigitalHealth.London
Amina Sugimoto, DrPH, founder and CEO of fermata Inc.
Neha Tanna, Investment Partner at Joyance Partners
Jonathan Machado, Investment Director at Samsung NEXT
Pauliina Martikainen, Investment Director at Maki.vc
11am - Panel discussion 'Transforming Healthcare With AI'
2020 was the year in which we witnessed the transformation of the healthcare system as we know it. With limited access to healthcare, the power of technology in healthcare became apparent more than ever. The adoption of health tech applications, products, and solutions just proved that people were ready for a new era in healthcare - the one that is driven by technology, that is more accessible and focused on prevention. But, has the doctor-patient relationship changed for good? Can AI in healthcare replace human care completely? How can AI help make healthcare even more accessible and affordable?
Moderator: Dr. Annabelle Painter, NHS doctor and Member of the Digital Health Council at Royal Society of Medicine
Rebecca Wray, Associate Director in Digital Health Oncology at AstraZeneca
Melissa Berthelot, CEO of WarnerPatch
Hajyra Ilyas, AI engineering Delivery Lead at Babylon Health
Hadeel Ayoub, founder of BrightSign
12pm - Panel discussion 'The Role of Technology In Creating Better Sexual Health'
In 2017, the size of the global sexual wellness market was over $26 billion and is forecasted to reach about $37.2 billion by 2025. But the true potential of this industry is, actually, much bigger - sextech feeds into mental health, fertility, and many other personal wellness and consumer healthcare categories. This session will explore the past, present, and future of sexual health and technology and look into upcoming trends in this growing industry.
Moderator: Dominnique Karetsos, co-founder and CEO of The Healthy Pleasure Group
Soumyadip Rakshit, co-founder and CEO of MysteryVibe
Andrea Oliver, co-founder and CEO of Emjoy
Patricia López Trabajo, founder and CEO of MYHIXEL
Sara Kranjčec Jukić, Global Brand Manager at LELO
1pm - 2pm - Lunch break
2pm - Panel discussion 'The Rise Of Innovation In the FemTech Space'
Once considered a niche market, FemTech is one of the fastest-growing health industries at the moment estimated to reach $50 billion by 2025. With the surge of innovations in fertility, menstrual health, sexual health, pregnancy, menopause, it is delivering next-generation solutions to female health issues that were neglected and under-researched for way too long. In this session, we will explore what's next for FemTech and why it's important to see FemTech as an industry that goes beyond just female (reproductive) health.
Moderator: Reenita Das, Transformational Health Partner and Senior Vice President at Frost & Sullivan
Tania Boler, founder and CEO of Elvie
Halle Tecco, founder and CEO of Natalist
Gloria Kolb, co-founder and CEO of Elidah
Marie-Laure Mahé, Vice President for E-Commerce, Marketing, Consumer Goods at Essity
3pm - Panel discussion 'Tech-Powered Solutions Paving The Way To Better Mental Health'
The overall number of people reporting mental health problems has been going up in recent years, and the global pandemic took a toll on the mental health of all of us. More Americans are turning to anti-anxiety and antidepressant medications as the coronavirus pandemic upends everyday life for many, a new study found, and demand for key antidepressants is threatening to exceed supply in the UK – where prescriptions have already more than doubled over the last decade. Investment into mental health technology has boomed, reaching £580 million in 2019. Luckily, with tech-powered products that we can access digitally, it's easier than ever now to ask for help, consultation, find relief, unwind, and relax.
Moderator: Laura Lovett, Managing Editor of MobiHealthNews
Jolawn Victor, Chief International Officer at Headspace
Daniel Mansson, founder and CEO of Flow Neuroscience
Dr. Monika Roots, Chief Medical Officer at Sanvello
Elettra Bianchi Dennerlein, founder and co-CEO at MyOnlineTherapy
4pm - Panel discussion 'The Future of Wearable Technology in Healthcare'
When it comes to proactive management of a healthy lifestyle, wearable technology products have been at the frontier of innovation for years now. From measuring our steps, how well we sleep, heart rate, body temperature, and much more, wearables can equip us with knowledge about our body and health-related habits. Growing demand for wearables has also resulted in insurers and companies supplying wearable health tech devices to their consumers and employees. So the question that comes naturally is - what's next for wearables in the healthcare industry?
Moderator: Parm Raeewal, Global Public Policy Manager at Vodafone
Ariel Garten, co-founder of Muse
Heloise Auger, Biomedical Researcher at Hexoskin
Mika Miyake, Business Development Manager at Garmin Health
Sara Cinnamon, Design Director at McKinsey
5pm - Panel discussion 'Patient Of The Future - Opportunities And Challenges'
The patient of today wears wearables to maintain a healthy lifestyle, tracks their health via apps, googles their symptoms, and sees their doctor virtually. How does that patient of the future look like? What will the doctor-patient relationship look like in the future and will the demand for a more personalized approach in healthcare be achievable?
Moderator: Dr. Saira Ghafur, Digital Health Lead at the Institute of Global Health Innovation, Imperial College London
Maryam Nabavi, co-founder and CEO of Babbly
Aashima Gupta, Director, Global Healthcare Solutions at Google
Maya Baratz Jordan, CEO and Founding Partner of Founders Factory New York
6pm - Panel discussion 'Breaking Down The Stigma and Misconceptions in Healthcare'
When a person is labeled by their illness, they are no longer seen as an individual but as part of a stereotyped group. Negative attitudes and beliefs toward this group create prejudice which leads to negative actions and discrimination. From stigmas and biases related to women's health to mental health and various disabilities, it's often caused by a lack of education as well as support. But, we can all agree that everyone has a role in creating a healthy community that supports recovery and social inclusion and reduces discrimination of these groups of people.
Moderator: Susan Solinsky, Chief Growth Officer at Ellipsis Health and Director of HITLAB's Women's Health Tech Initiative
Amy Millman, President at Springboard Enterprises
Danela Zagar, Global Brand Manager at Intimina
Victoria Hornby, CEO of Mental Health Innovations
Christina Nesheva, former Co-founder and Director of the Innovation Lab of ViiV Healthcare
7pm - Closing words by the organising team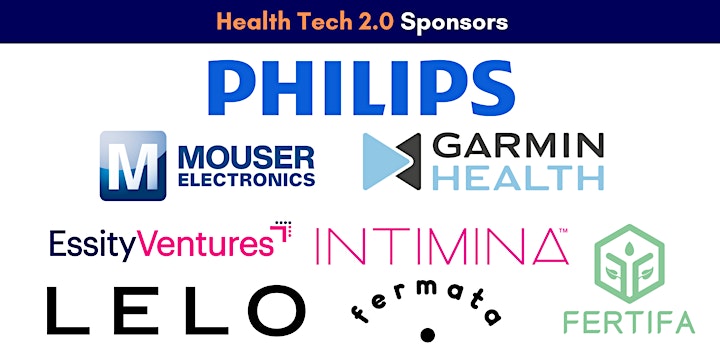 ABOUT OUR SPONSORS
Royal Philips is a leading health technology company focused on improving people's health and enabling better outcomes across the health continuum from healthy living and prevention, to diagnosis, treatment, and home care. Philips leverages advanced technology and deep clinical and consumer insights to deliver integrated solutions. Headquartered in the Netherlands, the company is a leader in diagnostic imaging, image-guided therapy, patient monitoring, and health informatics, as well as in consumer health and home care.
Mouser Electronics, a TTI and Berkshire Hathaway company, is an award-winning, authorized semiconductor and electronic component distributor focused on rapid New Product Introductions from its manufacturing partners for electronic design engineers and buyers. The global distributor's website, Mouser.com, is available in multiple languages and currencies and features more than five million products from over 1,100 manufacturer brands. Mouser offers 27 support locations around the world to provide best-in-class customer service and ships globally to over 630,000 customers in more than 223 countries/territories from its 70,000 sq. meters state-of-the-art facility south of Dallas, Texas.
Garmin is a global company that designs, manufactures and ships products worldwide. As a leading, worldwide provider of navigation, the company is committed to making superior products for automotive, aviation, marine, outdoor and sports that are an essential part of its customers' lives. Garmin's user-friendly products are not only sought after for their compelling design, superior quality and best value, but they also have innovative features that enhance the lives of our customers. Garmin has more than 14,500 associates in 65 offices worldwide.
Essity Ventures is a strategic initiative of Essity to lead the change towards a more digitally-advanced and sustainable health and hygiene ecosystem in collaboration with startups and entrepreneurs. Essity is a leading global hygiene and health company, improving people's well-being through its products and services with sales in approximately 150 countries under leading brands, such as Bodyform, Libresse, TENA, Lotus, Tempo, and Zewa.
LELO strives to grow out of the confines of a sex toy brand and into a self-care movement aimed at those who know that satisfaction transcends gender, sexual orientation, race, and age. LELO is offering the experience of ecstasy without shame, the pleasure of discovering all the wonders of one's body, thus facilitating their customers with confidence, that leads to a fulfilled intimate life. LELOi AB is the Swedish company behind LELO, where offices extend from Stockholm to San Jose, from Sydney to Shanghai.
fermata inc. is a community and start-up support ecosystem aimed to accelerate the access to knowledge and technologies developed for diversifying and liberating women's wellness. fermata's current work ranges from hosting events to build awareness within the Japanese market, providing product import and localisation support to foreign companies, and selling femtech products in both online and in-person stores.
Intimina is a Swedish brand that offers the first and only range of products dedicated exclusively to all aspects of women's intimate health. Its mission is to provide a comprehensive collection of products and information for women at every stage of life, from the first menstruation to beyond menopause. As a global brand available in major pharmacy chains, medical offices, and online, Intimina's vision is to make it easy for women, regardless of their age or location, to access reliable information and solutions for all their intimate health needs.
Fertifa is a London-based company named after its mission of providing "Fertility For All", and is one of the pioneers in this space in the U.K. (and Europe). Although very young, the company says it already collaborates with a number of partners bringing its services to more than 700,000 U.K. employees, and works directly with a portfolio of corporate clients that have employee bases ranging from a few hundred to over >10,000 each, and has a team of world-class healthcare professionals, employee benefits experts and fertility specialists.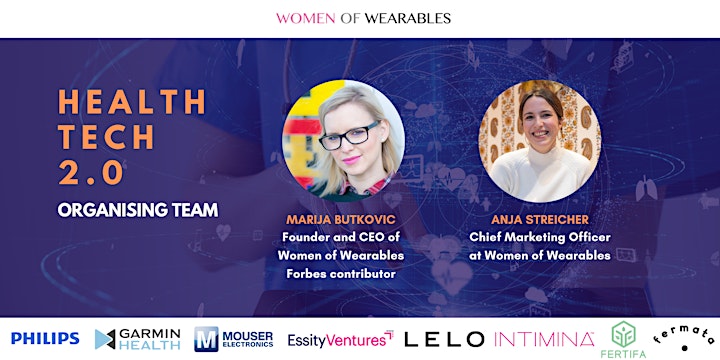 ABOUT WOMEN OF WEARABLES
Women of Wearables (WoW) is a leading global organisation supporting women and diversity in wearable tech, fashion tech, and IoT. With headquarters in London (UK) and more than 20,000 members located around the globe, WoW has become a global movement that supports women in emerging technologies through events, mentorship, educational programs, and collaboration with its network of local ambassadors and partners. Become a WoW member via the official website!
Date and time
Location
Refund policy
Organiser of HEALTH TECH 2.0 - virtual conference about the future of health technology
Women of Wearables (WoW) is a leading global organisation aiming to inspire, connect and support women and diverse founders and technologists in wearable tech, fashion tech, smart textiles, IoT, health tech and VR/AR.
With headquarters in London (UK) and more than 20,000 members located around the globe, WoW has become a global movement that supports its growing community through events, mentorship, educational programs and collaboration with its network of local collaborators and partners. Our members are startup founders, designers, technologists, industry experts, researchers, bloggers, journalists, investors and many more.
Explore WoW membership to learn from and connect with our community of entrepreneurs, designers, and technologists, leverage valuable resources and discover career opportunities!
Join the Women of Wearables Global meetup group!