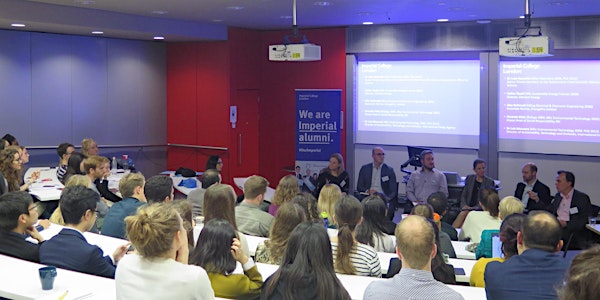 Healthcare Professional Interest Network: Is AI the end of Healthcare?
Location
Imperial College Business School
South Kensington Campus
Exhibition Road
London
SW7 2AZ
United Kingdom
Refund policy
Refunds up to 7 days before event
Description
*Registration for this event has now closed. Please email alumni@imperial.ac.uk if you have any questions*
Healthcare has always been a 'human' business. Can Artificial Intelligence (AI) be the quick fix to relieve the pressures on healthcare delivery? Will machines ever emulate the compassion, empathy and behaviours on which good healthcare depends?
To realise the potential of AI in healthcare, fundamental issues have to be addressed: who owns healthcare data, who is responsible for it and what does AI even mean? While the digital age might seem ubiquitous, we are only experiencing the start of it all.
Join our panel as they explore these and other aspects of AI in healthcare during this thought provoking discussion. Have your chance to voice your opinion, ask the challenging questions, and get involved in the conversation.
End the evening enjoying drinks and light bites in our networking hour.
Who will be speaking?
The panel will be chaired by Professor of Practice (Investigative Medicine), Nicola Strickland. Professor Strickland trained in Natural Sciences and Medicine at the University of Oxford. After gaining Membership of the Royal College of Physicians, she trained in Radiology at Hammersmith Hospital, and is now a Consultant Radiologist at Imperial College Healthcare NHS Trust in London. Her radiological specialist interests are chest and oncological body imaging, and imaging informatics. She was the Clinical Lead for imaging informatics at Imperial for 23 years. Professor Strickland is the immediate past President of the Royal College of Radiologists. She has held a number of other national and various international leadership roles, including being President of MIR, (Management in Radiology of the European Society of Radiology), President of EuroPACS (a European imaging informatics society), President of the Radiological Section of the Royal Society of Medicine, and Founder and Chairman of the Imaging Informatics Special Interest Group of the UK.
Dr Navin Ramachandran: Radiology Consultant at University College London Hospitals, Data Researcher and Healthcare Specialist at the IOTA Foundation

Dr Sunir Gohil: Clinical Artificial Intelligence Lead at Babylon Health
Andrew Latham: Associate at Capsticks LLP
Maxwell Flitton: Software Engineer for Monolith AI
Event format:
18.30 - 19.00 Registration and refreshments
19.00 - 19.55 Panel discussion
19.55 - 20.30 Discussion, Q&A, and audience voting
20.30 - 21.30 Networking and refreshments
The Imperial College London Healthcare Professional Interest Network (PIN) is led by a group of alumni volunteers. The Network aims to provide a forum for those with similar industry interests to come together and actively discuss topical challenges, share ideas, challenges and expertise, and in doing so enhance their professional development and connections.
Alumni can connect with the network via plexus, non-alumni can connect through the LinkedIn group.
---
We can offer refunds on cancelled ticket up to 7 days before the event. Unfortunately, we are unable to provide refunds later than that.
---
Your data
Imperial College London is registered as a controller (in respect of its processing of personal data) with the Information Commissioner's Office. The College processes personal data for a number of specified activities. These activities are used to support a full range of activities for our alumni and friends, and to ensure that the ways in which we communicate with you, such as sending out College publications, inviting you to events, or advising you about our alumni benefits and fundraising priorities, adhere to your chosen communication preferences.
The personal information that you provide will be treated confidentially and stored securely in accordance with UK data protection law and the College's own Data Protection Policy. The personal information that you provide may be shared with third parties, contracted by the College to assist with the administrative processes described, or as required by law. Any data processed on behalf of Imperial College London by a contracted third party will not be used by that third party for their own purposes. The College does not sell any of its data to third party organisations.
For further information see the Advancement Division's privacy policy.
To update your contact details and communication preferences, please follow this link