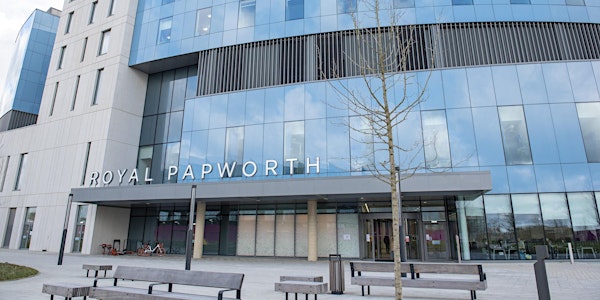 Healthcare support worker recruitment day - Saturday 18 June 2022
Location
Royal Papworth Hospital
Papworth Road
Trumpington
CB2 0AY
United Kingdom
Find out what being a healthcare support worker at Royal Papworth is all about and apply to join us
About this event
Are you interested in being part of the team at the UK's leading heart and lung hospital and want to work somewhere where you can make a real difference to people's lives?
As a healthcare support worker in the NHS, you'll work under the supervision of a healthcare professional, supporting them and helping patients on their journey back to full health. It's a hands-on role – one minute you could be taking blood and the next lending an ear to an anxious patient. But it's one of the most rewarding.
No previous health experience is necessary and the opportunities to progress are endless.
Come along to our healthcare support worker recruitment day on Saturday 18 June and you could walk away with a job offer, even if you do not have any previous experience. You will be able to find out more about the Healthcare Support Worker (Band 2) positions we have available and have an opportunity to speak with a variety of people who work here, from a variety of job roles and responsibilities. They will happily provide you with information and answer any questions you may have. If you like what you hear and decide you would like to join our team, you will be placed with one of our nursing recruitment team members, who are here to support and help you complete an application.
Our friendly and approachable team will guide you through the whole process. We even have a passionate healthcare support worker ambassador with us on the day who would be happy to speak with you.
Once you have completed a short test, it is on to the interview stage. That's right - application to interview all on the same day! You will have the potential to walk out with a job offer, all within a couple of hours.
At Royal Papworth, we value compassion, excellence and collaboration. You can be sure that you will have the support you need, the ability to work for a CQC rated 'outstanding' hospital and will be given the tools needed to develop and grow your career.
The event will take place in the outpatients department within our hospital. To attend, please complete a COVID-19 lateral flow test (LFT) in the 24-hours before your booking time, and only attend if it is negative. Please do not attend if you have any symptoms of COVID-19. Please note that you will be required to wear a face mask throughout the event unless exempt, in line with our hospital guidelines.
Please follow the below guidance carefully as regrettably we will be unable to offer you an interview without this:
We require either two forms of photo ID and one proof of address, or one form of photo ID and two proofs of address.
• You are required to provide evidence of Right to Work
• You are required to bring photographic ID – one of the following: current passport, driving licence, BRP or EU Identity card
• Proof of address eg council tax bill (for 2022/23), utility bill (in your name and current within 3 months), or original bank statement (current within 3 months).
• Excluded for proof of address – mobile phone bill, tenancy agreement (unless renting through council).
• If you are on a dependent visa; you must bring your passport, BRP and your partners BRP and passport.
Candidates must be 18 years old at time of interview or within 2-3 months and not require a visa. Unfortunately we are unable to offer sponsorship for those who require it at this time.
The day runs between 09:00 and 16:00 and is split into sessions so you can choose the best time for you.
If you have any questions about the event, please contact the nursing recruitment team:
Nursing recruitment team
07881 324414
papworth.nursing.recruitment@nhs.net