Description
We are holding our Annual General Meeting and a YOUR VOICE COUNTS event to celebrate the impact of local people's voices on health in our Borough.


Come along and:
participate in our panel discussion with key local health and care leaders on how local peoples voices have shaped services this year.

tell us your experience of health and care services.


You can find out how we have impacted on:
Homeless and substance misuse services

Young people's mental health services

Improving GP booking systems

Hospital outpatient services
The event is taking place on:
Thursday 12 September 5:30pm – 8:00pm
Room 5 Education Centre
Mile End Hospital
Of course, there will be some great food and a chance to network.
RSVP
We're also looking to appoint four new voluntary members to our Board of Trustees. This is an exciting opportunity to help Healthwatch Tower Hamlets be the credible, influential and independent voice for local residents in health and social care. Download a recruitment pack here Board Recruitment Pack or from our website. www.healthwatchtowerhamlets.co.uk or you can contact us on 020 8223 8922.


Deadline for completed applications is 12 am Friday 30 August 2019.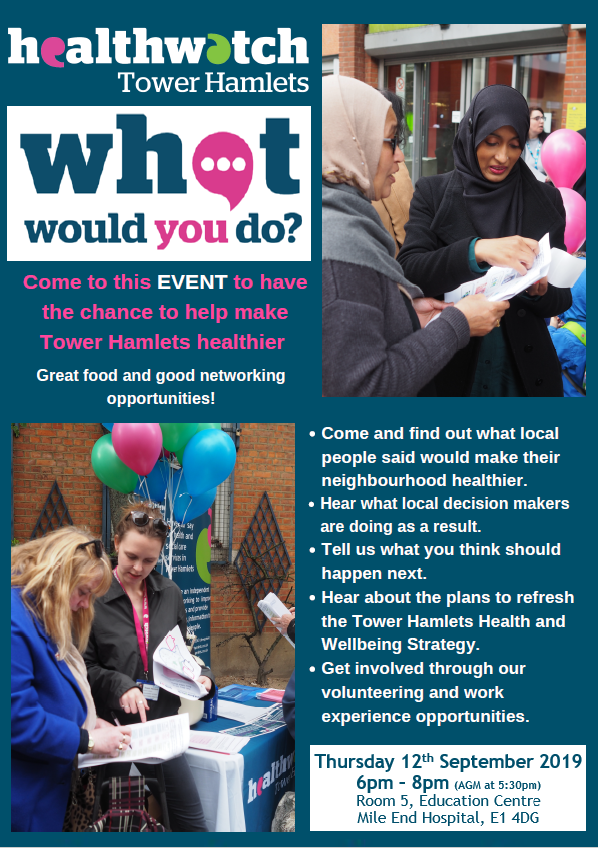 Please note that we will conduct our formal Healthwatch Tower Hamlets AGM at 5:30pm with the Your Voice Counts event starting at 6:00pm.
You are invited to attend both.
The AGM agenda will include:
Reports and accounts:
to receive and consider the accounts for the year ended March 2018 and the annual report of the charity. A copy of the 2018-19 Annual Report is available on our website.
Independent Examiners:
to appoint the Independent Examiners and set up the service fees.
Appointment of charity trustees:
to re-appoint trustees;

appoint new trustees.
Please let us know if you have any proposed resolutions. They should be sent to Dianne Barham (Company Secretary) dianne.barham@healthwatchtowerhamlets.co.uk by noon 31st August 2019.