Actions and Detail Panel
Healthy Cooking With Fish
Sun 8 January 2017, 17:00 – 19:00 GMT
Description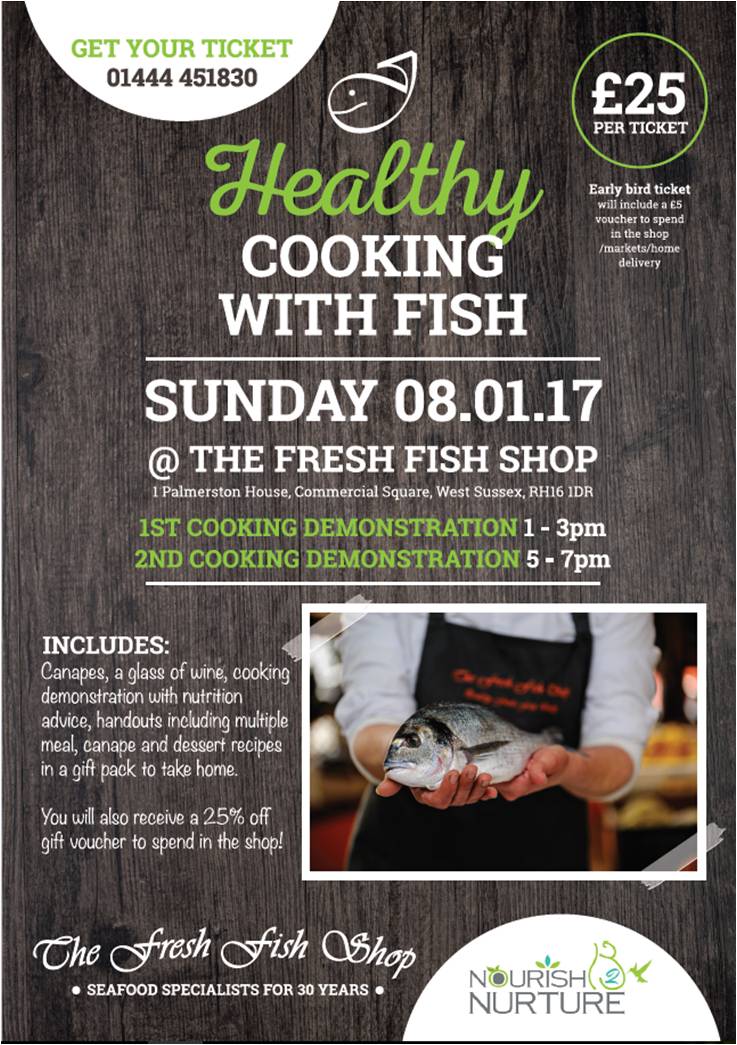 Our Cooking demos are back!
To kick start the New Year following a month of over indulgence, drinking and generally being a little naughty with our health, we are helping you through January by rebooting your cooking styles and techniques to focus on more healthy eating. We want to show you that just because you have your health in mind when cooking that it doesnt have to be boring, unexciting and bland.
With the right receipes you'll find that healthy cooking as as easy as fast food eating! particularly with fish.
Emily from Nourish to Nurture is a nutritionist with a wealth of knowledge on healthy eating and cooking. Emily will provide valuable information and will break taboos on what is healthy eating, she will walk us through each dish explaining why these particular dishes are healthy and why we should eat them! Hand outs will be prepared and handed out so that you can walk away empowered to kick start your year with a broad knowledge of just how to go about it.
Each cooking demo includes the following for your buck:
1) A selection of home made canapes
2) A glass of wine on your arrival and top up later on
3) A fully qualified chef to demonstrate 4 different recipes
4) tastings of each dish made
5) A recipe pack from the night
6) 15% off to spend in the shop within during the next 7 days
7) A quality evening with professionals to guide you through your home cooking experience from buying your fish to preparing, cooking and finally tasting your fish!
All a bargain at just £25 per ticket!