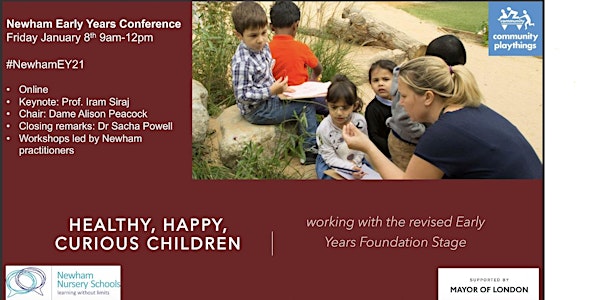 Healthy, happy, curious children; curriculum development & the revised EYFS
Newham Nursery Schools bring you our annual Early Years conference online this year; bringing you fantastic and relevant content remotely.
About this event
Using the revised Early Years Foundation Stage to develop a recovery curriculum, we will explore good practice in order to promote happy, healthy and curious children.
Dame Alison Peacock will deliver the opening address, alongside the Mayor for Newham, Rokhsana Fiaz.
Celebrated Professor of Child Development and Education, Iram Siraj will deliver a keynote entitled: 'Everything connects: linking movement play to social and cognitive development'.
There will also be an opportunity to select one from a range of exciting and innovating workshops to demonstrate and share excellent practice to give you some ideas to take back to your own settings.
Those who stay for the entire online session will be in the running to win some wonderful prizes in our end-of-conference raffle.
Sacha Powell, the CEO of The Froebel Trust, will close the conference, offering her own perspectives.