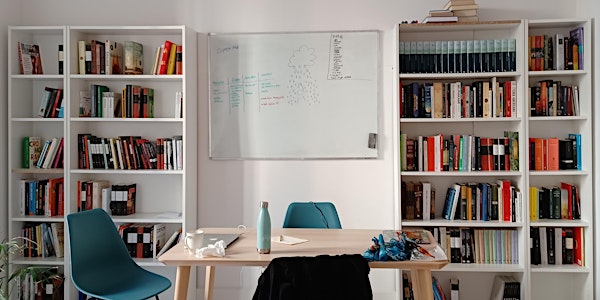 Healthy Virtual Writing Retreat, May 17th-19th
Refund policy
Contact the organiser to request a refund.
Eventbrite's fee is nonrefundable.
Joana Pais Zozimo builds and holds a distraction-free space and supports healthy working routines - you push your project ahead.
About this event
Do you have an urgent project to finish, but you have not even started?
Do you want to find more time to write, but something else always gets in the way?
Are you blocked and do email, cleaning or social media – anything else but writing?
Here's the good news:
A writing retreat helps you unblock, focus, and get stuff done.
Working in a group with timed sprints creates 100% accountability and gets you in the flow quickly.
Joining co-working sessions boosts your confidence and helps you build a support network beyond the meeting.
Join Joana Pais Zozimo, a qualified writing facilitator for
2.5-day healthy writing retreat with ample time to focus and to write like a PRO       
9 writing sessions, and more than     
10 hours of focused writing
BOOK YOUR PLACE!  
What have previous participants achieved?
✅ Finalised PhD manuscript
✅ Finished a chapter and two scenes in a novel
✅ Wrote first draft of a grant proposal
✅ Revised article for re-submission to journal
✅ Polished all references in the dissertation
✅ Wrote a short story
Feedback from earlier participants
"I have been so impressed with the virtual structured approach. It has helped me immeasurably at an incredibly difficult time."
"Love the community! It makes a difference to be able to vent, bounce ideas off each other and celebrate small victories together. "
"I particularly appreciated the friendly and calm manner in which Joana managed the retreat – keeping us well on track and helping ensure that we remained motivated and productive."
"I want to mention that I highly enjoyed this writing retreat! I learned a lot, and it was extremely useful. I could not recommend it more to all my PhD colleagues here at Nova SBE. Thank you! "
"Simple changes make big difference. So I hope all will have the courage to do the change that improve their work efficiency".
"I tremendously progressed in my writing. More importantly, my biggest achievement was to let go of the fear of writing some paragraphs which I was procrastinating for several weeks before the retreat. After writing them, I found out that it was not as difficult as I initially anticipated".
"It is a path to optimize our own productive 'bubble' and even works as a motivational 'bomb".
"Social writing has been especially helpful during the global pandemic while we are socially distancing. These sessions may be life-changing!"
The agenda
Day 1 (15.00-17.00)
15.00-15.20 Welcome and goal-setting for the healthy writing retreat
15.20 -15.30 Introduction to a healthy approach to writing
15.30-16.30 Silent writing session 1
16.30-17.00 Assessment; next steps
Day 2 (9.15-17.00)
9.15-9.30 Check-in & goal-setting for the writing retreat
9.30-11.00 Silent writing session 2
11.00-11.30 Morning healthy break
11.30-12.30 Silent writing session 3
12.30-14.00 Healthy tips and movement/lunch break
14.00-15.30 Silent writing session 4
15.30-16.00 Afternoon healthy break
16.00-16.45 Silent writing session 5
16.45-17.00 Taking stock and next steps
Day 3 (9.15-16.30)
9.15-9.30 Check-in & goal-setting for the day
9.30-11.00 Silent writing session 6
11.00-11.30 Morning healthy break
11.30-12.30 Silent writing session 7
12.30-14.00 Movement/lunch break
14.00-15.00 Silent writing session 8
15.00 -15.15 Quick break
15.15-16.15 Silent writing session 9
16.15-16.30 Taking stock, outputs, feedback & rewarding plans
Notes on agenda and timings
All times are UK/PT, GMT; please adjust for your timezone.
All sessions take place on Zoom.
We'll sometimes use breakout rooms so writers have the opportunity to discuss their writing in pairs or small groups.
Price
43£ - 85£ (plus Eventbrite processing fee)
What if I can't stay the whole time?
We understand that retreating from home is not without challenge, and if you need to miss a session or duck out early, that's perfectly ok. Session 1 on day one is recorded so that you can view it in your own time if you can't come.
What if there are no spaces left?
• Send us an email to be put on the waiting list.
• Check out the upcoming retreats at Writing on the Go.
Cancelation Policy
• You can cancel your booking up and receive a full refund (minus the Eventbrite processing fee) up until 5 days before the retreat starts.
• If you'd like to transfer your booking to another person, you may do so up to 48 hours prior to start. Send an email to sort out the details.
Questions?
Please contact us at info@writingonthego.com.
Who runs this event?
This event is run by Joana Pais Zozimo from Writing on the Go. We are a group of professionals, entrepreneurs, academic writers and creative writers who are trained facilitators and have run virtual writing and co-working sessions for many years.