Healthy You Healthy Business Wellbeing Summit with the Health Hub Academy, Sponsor Ministry of Furniture & Headlined by Andrea Byrne of ITV
About this Event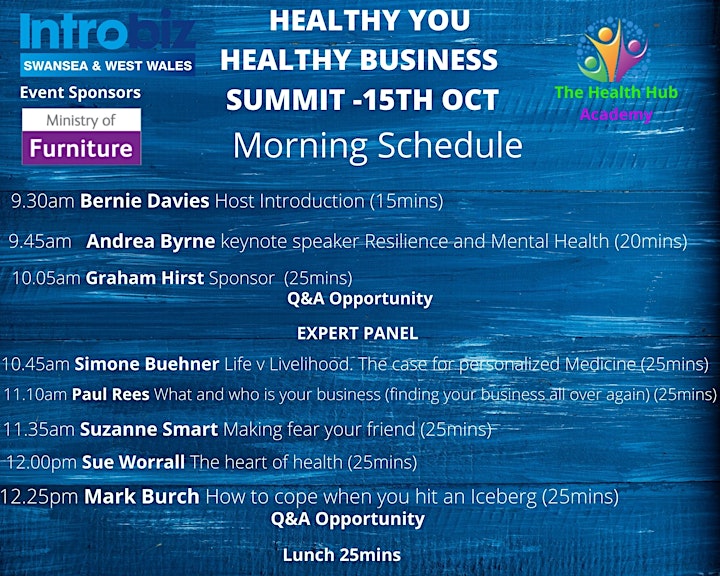 Health and Wellbeing has always been dear to Bernie Davies' heart. For over 14 years Bernie's son has battled mental health challenges.
Andrea Byrne has had a difficult journey with infertility and has now come out the other side as set out in her Bio below. She therefore jumped at the opportunity to open this Summit and share her experiences with us with the hope of inspiring and encouraging those of us who are still struggling.
Sue Worrall has been a champion for nutrition and wellbeing for many years. When Bernie approached her with the idea to bring together experts in the many and varying aspects of mental and emotional health and wellbeing, she could bot pass up the opportunity.
ABOUT OUR SPEAKERS
KEYNOTE SPEAKER ANDREA BYRNE:
Andrea Byrne is one of the faces of ITV News. She anchors the BAFTA award-winning daily news programme Wales at Six as well as ITV's national bulletins. This has included ITV Weekend News, Lunchtime News, Evening News and News at Ten. Prince Harry and David Cameron are among the many high-profile names she has interviewed. Andrea also presents the current affairs programme Wales This Week and writes a regular column on motherhood for Cardiff Life magazine. She is an Ambassador for 'Women in Wales' and 'The Duke of Edinburgh's Award Scheme' and a Trustee for the organ donation charity, 'Believe'. Andrea is married to Wales and Lions legend Lee Byrne. Recently, they spoke publicly about their long fertility journey to have their daughter, Jemima. She is passionate about wellbeing and pioneered the introduction of Mental Health First Aiders in ITV's newsrooms. Away from the newsroom, she is keen yogi-and a novice stand-up paddle-boarder!
Simone J Buehner is a Senior Associate of the Royal Society of Medicine and Director of 360 Health Consultancy Ltd. She left the corporate world in 2001 to follow her passion for natural health care following the tragic stillbirth of her first child. Having always been in perfect health, Simone sought answers beyond conventional medicine who offered a diagnosis of 'it's just one of those things'. Since that time, Simone has completed a four-year degree in Traditional Chinese Medicine, post-graduate studies in herbal medicine, functional medicine and nutrition.
Suzanne Smart is an Abuse Trauma Release Coach. She works with clients who have been subjected to abuse, specialising in narcissism and microaggressions. Her P.O.S.I.T.I.V.E I.M.P.R.I.N.T .programme empowers her clients to reverse the negative impact of abuse by erasing the guilt, anger, frustration and shame that holds them back and to accept the sparkle back into their lives, allowing them to once again trust themselves, trust others and trust in the regenerative process that comes with self-knowledge. Suzanne knows the depths of despair and self-loathing that comes from being the subject of abuse after years of being made to believe she was 'no good to anyone,' leading to burn-out from trying to prove her worth, reaching for perfection. It was only after a back injury, which left her immobile for 6 months and needing to learn to do basic motor skills again, like feeding herself and walking, that she used her skills, began researching and formed the foundation of her coaching practice. Suzanne now uses those skills to free others from their mental prisons and achieve their goals.
Emma Jay- in her own words: I am a Lifestyle Coach, specialising in stress. I help businesses maintain a healthy workforce with my Lifeshaper workshops, health MOT days and 121 coaching for those needing extra support. I also work privately in small groups and 121 helping stressed out professionals identify, manage and reduce the stress in their lives through hormone balance, mindset, exercise and nutrition coaching.
A full list of the Speakers and their Biographies are below!