Description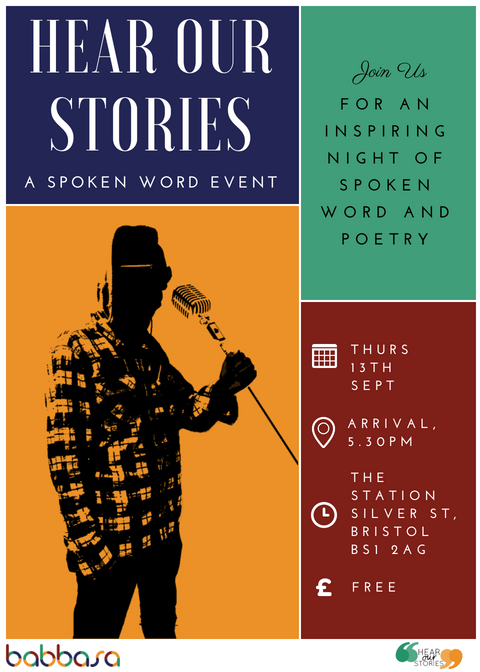 Join Babbasa for an inspiring evening of Spoken Word and Poetry!
In celebration of our 5th anniversary, Babbasa is launching a year-long campaign of activities and case studies to share the stories of young people, staff members, mentors, advisors and volunteers that we have engaged along the way.
We invite you to join us for our first #HearOurStories activity; a youth-led 'Spoken Word & Poetry' event - featuring some of Bristol's most talented emerging young artists including:
Whizzdom
Whizzdom freestyles on his thoughts and feelings, raising awareness of mental health in the hood. He looks at ownership, ideas building, and growth, asking the question: 'What's next?'
Philosophy of Mo
While most people try to change the world through politics, music or journalism, Mo wants his impact to be changing how people think. Using the medium of Spoken Word, Mo delivers his philosophy on success and self-development
DATE:
Thursday September 13th
TIME:
5.30pm - 7.00pm
LOCATION:
The Station, Silver Street, Bristol, BS1 2AG
PRICE:
Free, donations accepted
Don't miss out! Register now for a night that promises to leave you inspired and entertained!